A Civil Rights Movement for Corporations? Inside the 400-Year Struggle
UCLA Law Professor Adam Winkler on his new book We the Corporations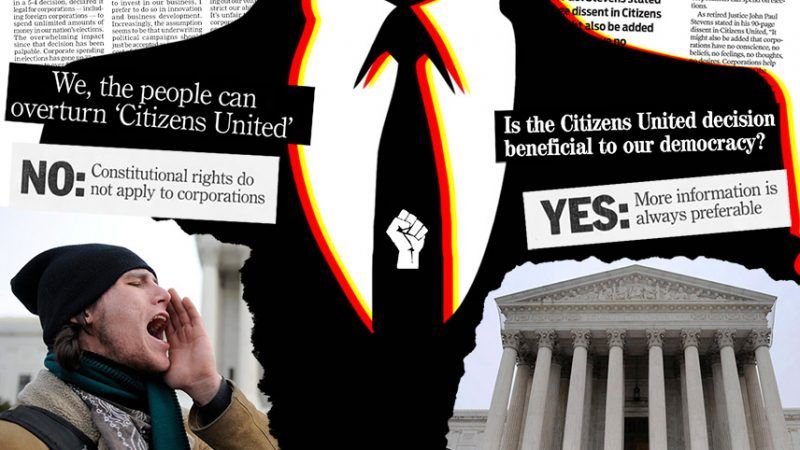 "The movement and struggle to win rights for corporations," says UCLA Law School Professor Adam Winkler, is "one of the least well-known yet most successful civil rights movements in American history."
An important chapter in that history came in 2010, when the Supreme Court ruled it unconstitutional to keep corporations from spending money on political ads right before an election. Many liberal advocacy groups were outraged over Citizens United v. Federal Election Commission. Last year, U.S. Senators Tom Udall (D–N.M.) and Martin Heinrich (D–N.M.) introduced a constitutional amendment that would overturn the decision.
In a new book, We the Corporations: How American Businesses Won Their Civil Rights, Winkler challenges the conventional wisdom about Citizens United. He complicates the narrative about America's founding, too.
Interview by Paul Detrick. Edited by Detrick. Shot by Zach Weismuller and Alexis Garcia.
"Aourourou," by Blue Dot Sessions, is licensed under a Creative Commons Attribution license (https://creativecommons.org/licenses/by/4.0/)
Source: http://freemusicarchive.org/music/Blue_Dot_Sessions/Azalai/Aourourou
Artist: https://www.sessions.blue/
"Toothless Slope," by Blue Dot Sessions, is licensed under a Creative Commons Attribution license (https://creativecommons.org/licenses/by/4.0/)
Source: http://freemusicarchive.org/music/Blue_Dot_Sessions/Azalai/Toothless_Slope
Artist: https://www.sessions.blue/
Photo of Supreme Court: credit, Jonathan Ernst/Reuters/Newscom
Photo of crowd outside Supreme Court: credit, Jonathan Ernst/Reuters/Newscom
Photo of protest sign: credit, Bill Clark/CQ Roll Call/Newscom
Photo of protesters yelling: credit, Jonathan Ernst/Reuters/Newscom
Photo of arrest: credit, Jonathan Ernst/Reuters/Newscom