Forget Speech Codes, Trigger Warnings: These Students Protest FOR "Peace, Love, Liberty" (Podcast)
Students for Liberty's LibertyCon is bringing 1,500 students from all over the world to D.C. on March 2-4. Wolf von Laer explains the group's message and strategy.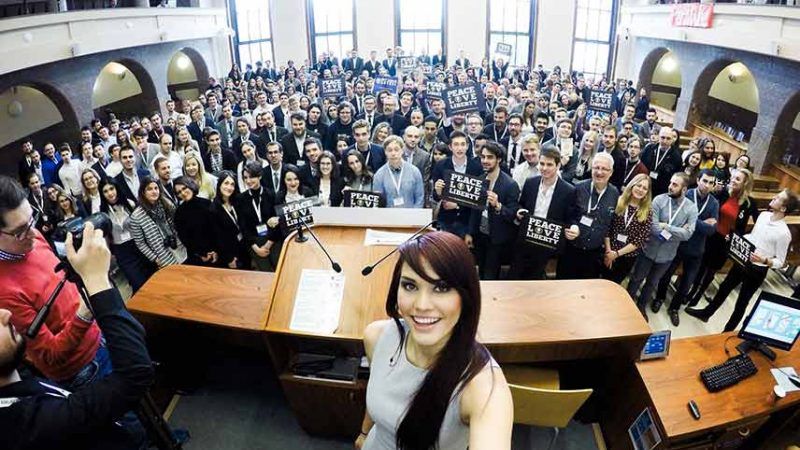 While some college kids are calling for speech codes, trigger warnings, and safe spaces, Students For Liberty, a group with chapters in 110 countries and on hundreds of campuses worldwide, is agitating for "Peace, Love, and Liberty. On March 2-4, over 1,500 attendees from all over the globe will meet in Washington, D.C. for LibertyCon, SFL's annual meeting.
The keynote speakers include YouTube host Dave Rubin, Whole Foods co-founder and "conscious capitalism" guru John Mackey, Overstock.com head and bitcoin visionary Patrick Byrne, and Reason editors Nick Gillespie, Katherine Mangu-Ward, Peter Suderman, and Matt Welch. Economist Bryan Caplan will debate Pulitzer-winner Chris Hedges on capitalism vs. socialism, Cato's Alex Nowratesh will debate immigration with restrictionist Philip B. Haney, and investor Peter Schiff will debate Sterlin Lujan about bitcoin and cryptocurrencies.
Established in 2008, Students for Liberty is the leading organization working to educate, empower, and train the next generation of libertarian leaders who are in interested in maximizing individual autonomy and minimizing coercive policies that reduce free expression, lifestyle freedom, and economic rights.
Reason's Nick Gillespie spoke with SFL leader Wolf von Laer about the upcoming conference, what his group hopes to achieve in the coming year, and the top issues for freedom-minded students in the United States and abroad.
Audio production by Ian Keyser.
To register for LibertyCon, check out the program, and get more information about the event, go here.
Subscribe, rate, and review the Reason Podcast at iTunes. Listen at SoundCloud below:
Don't miss a single Reason podcast! (Archive here.)