Meet the Texas Lawmaker Fighting Trump on Civil Asset Forfeiture
Konni Burton has emerged as the state's fiercest opponent of civil asset forfeiture.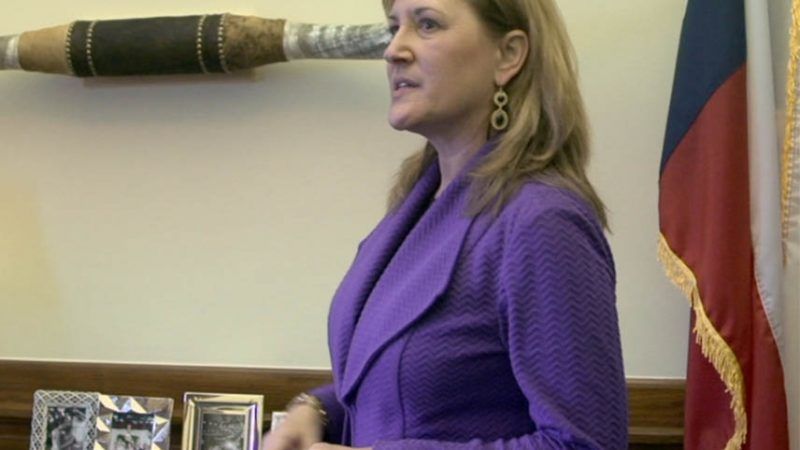 When the White House hosted a meeting of sheriffs from across the country last February, President Donald Trump joked about destroying the career of a Texas state senator who supported reforms to civil asset forfeiture laws—a controversial practice where police can seize cash and property of people suspected—but in most cases never convicted or charged with a crime.
Though Trump's comments were meant to support police, they've had the opposite of their intended impact—it's re-energized the push for reform.
Texas state senator Konni Burton was one of many local lawmakers outraged by Trump's comments. She's a tea party leader from the Dallas-Fort Worth area who also happens to be pro-life and pro-borders. Burton isn't the unnamed state senator Trump offered to destroy, but she's emerged as the state's fiercest opponent of civil asset forfeiture.
"When you give law enforcement the ability to take your property without a conviction that's big government," Burton says.
Last December, Burton filed legislation that would repeal civil asset forfeiture in the state and replace it with criminal asset forfeiture.
"Police can still seize property that they think has been involved in a crime," says Burton, "but for them to keep it … you have to be convicted of a crime."
Texas has tried for years to reform civil asset forfeiture laws after horror stories began to emerge about the practice.
One of the most horrifying cases occurred in 2005, when cops seized $10,000 from Javier Gonzales who was driving from Austin to the border town of Brownsville to make funeral arrangements for his dying aunt. The cops didn't find any drugs or contraband in his car, but they pressured Gonzales to sign away his rights to the cash under the threat of a felony money laundering charge.
Gonzales took the case to court and eventually won his money back in April of 2008.
And in 2012 the ACLU settled a class action lawsuit against the city of Tenaha where cops illegally seized nearly $3 million from traffic stops involving mostly Black and Latino drivers. Victims were told that they could either sign their cash over to the city or go to jail.
Cases like this have earned Texas a D+ from the Institute for Justice for forfeiture laws. Data from the libertarian legal organization shows that the state takes in an average of $41.6 million dollars a year to local law enforcement agencies as a result of these seizures.
Burton's bill has bipartisan support, but it faces an uphill battle in the Texas legislature where it's faced opposition from "tough on crime" lawmakers and law enforcement agencies. Burton says her legislation isn"t about stopping police from doing their job, but protecting the property rights of all Texans.
"Everybody is ready for this to be reformed," Burton says. "You know it's just upside down and antithetical to what our country should stand for."
Produced by Alexis Garcia. Camera by Paul Detrick, Austin Bragg, and Meredith Bragg. Music by the Unicorn Heads.
Lightless Dawn by Kevin MacLeod is licensed under a Creative Commons Attribution license (https://creativecommons.org/licenses/by/4.0/) Source: http://incompetech.com/music/royalty-free/index.html?isrc=USUAN1100655 Artist: http://incompetech.com/
Be Inspired by Podington Bear is licensed under a Attribution-NonCommercial 3.0 International License (http://freemusicarchive.org/music/Podington_Bear/Strummed/BeInspired).
________
Subscribe to our YouTube channel.