Paris Agreement Climate Change
The Progressive Left Devours Its Own [Reason Podcast]
Nick Gillespie, Andrew Heaton, Katherine Mangu-Ward, & Matt Welch on terrorism, climate change, Bill Maher, Kathy Griffin, Evergreen, and more.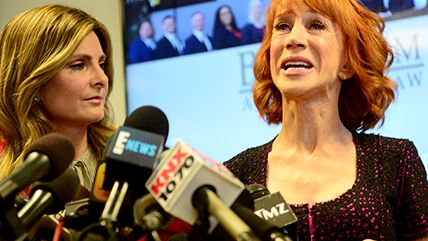 "What we're witnessing now is the progressive left eating its own," says Reason's Nick Gillespie. "They've gotten everything they want in terms of political correctness from the right, and now they're going after Bernie Sanders' supporters."
On today's podcast, Gillespie joins Andrew Heaton, Katherine Mangu-Ward, and Matt Welch to discuss topics in the news, including the responses to the London terrorist attack; the Trump administration's decision to pull out of the Paris climate accord; the fallout from Bill Maher's use of the n-word; Kathy Griffin's picture with Trump's severed, bloodied head (and claim that he had successfully destroyed her career); and the meltdown at Evergreen State College after activists asked white students and faculty to leave campus for the school's annual "Day of Absence."
"The incident at Evergreen is a perfect example of how a lack of understanding of the difference between negative liberty and positive liberty puts you into a weird political place," says Mangu-Ward. "'I should be allowed to do what I want as long as I don't hurt other people,' is not the same thing as saying, 'other people have to do what I want.'"
Produced by Ian Keyser.
Mentioned in the podcast
Reason Science Correspondent Ron Bailey on why the Paris Agreement was never a "treaty"
Nick Gillespie's Q&A with Bjorn Lomborg on why the U.S. was right to withdraw.
Video of the student takeover at Evergreen State College
Subscribe, rate, and review the Reason Podcast at iTunes. Listen at SoundCloud below:
Don't miss a single Reason podcast! (Archive here.)
Photo credit: Los Angeles Daily News/ZUMA Press/Newscom