If You Can Work from Anywhere and Want To Travel Everywhere, Become a Digital Nomad (Reason Podcast)
Meet two women who are "workationing" their way around the world and spending less money than if they stayed home.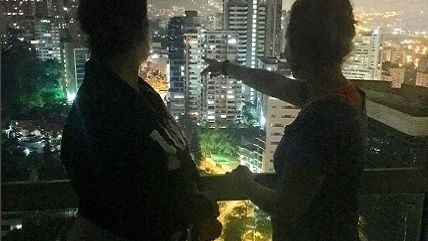 How do you untether your life and work from anywhere?
After World War I, Americans looking for a thrill decamped to Europe, where the living was easy and cheap. During the 1960s, hippies fled the cities and went back to the garden. After the collapse of communism, people poured into Eastern Europe, looking for the next great scene. In the 21st century, this wanderlust and cool-hunting is being kept alive by "digital nomads," people who can work from anywhere and want to travel everywhere. Digital nomads roam the globe, living in exotic, cool places for pennies on the dollars while telecommuting to their day jobs.
In the newest Reason podcast, Nick Gillespie talks with Kari DePhillips, a Free State Project participant and owner of the digital PR agency The Content Factory, and Kelly Chase, her friend and colleague. Together, they're living abroad for a year, each month in a different spectacular location, working from the road and actually spending less money than if they had stayed put in their American homes (New Hampshire and Ohio, respectively). They call their experiment "workationing" and in the latest Reason podcast, they explain the logistics of how they're pulling off an adventure that will lead to places as far-flung as Puerto Rico; Sofia, Bulgaria; Amsterdam; Spain; California; and (probably) Iceland.
Their website, Workationing, documents how it all works via blog entries, photos, videos and podcasts. It also explains how you can do it too, if that's what floats your boat. For DePhillips, becoming a digital nomad is an extension of the intentional community she found in the Free State Project (FSP) and, before that, being a self-described "Deadhead for Ron Paul" in 2007 and 2008. "I want to live not just with intentionality, but with integrity," explains DePhillips about her attraction to FSP. "If you really believe in limited government and personal freedom and you see that there's a group of people congregating to make that happen…how can you not be a part of that?…Getting into the digital nomad community, I find so much of the same sentiments…Do you own yourself? How do you engineeer the best life for yourself that suits your needs and desires and wants and goals in the best way possible? For me right now, living as a digital nomad is the best way possible to achieve that freedom and flexibility."
Subscribe to the Reason podcast at iTunes and never miss an episode! Or click below to listen now at SoundCloud.
Don't miss a single Reason podcast! Subscribe, rate, and review!
Subscribe to our video channel at iTunes.
Subscribe to our YouTube channel.
Subscribe to the print edition for just $15 a year!