Why Clinton Cash: The Graphic Novel Topped the Charts and Got Millennials' Attention
Comics artist Brett Smith (Avengers, Hulk, Guardians of the Galaxy) says Hillary and Bill Clinton's corruption needs to be seen to be fully appreciated.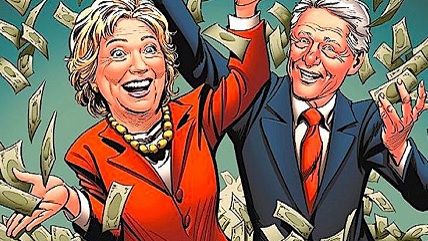 Comic-book artist Brett Smith has drawn some of the biggest names in the Marvel and DC universes—The Hulk, Batman, Superman, Wolverine, Thor, and others—but Bill and Hillary Clinton top his list of all-time supervillains.
In August, Smith and comics writer Chuck Dixon (he helped create Batman's nemesis Bane, among many other characters) published Clinton Cash: The Graphic Novel, which is based on Peter Schweizer's expose of the Clinton Family Foundation and Hillary Clinton's actions as secretary of state. Like its inspiration, Clinton Cash: The Graphic Novel rocketed to the top of The New York Times' best-seller list, a success that Smith attributes to the humorous, four-color depiction of just how awful he says the Clintons really are.
In a wide-ranging conversation with Reason's Nick Gillespie, Smith explains the convoluted ways he says the Clinton Foundation funneled money to the former—and likely future—First Family of America; why he thinks Donald Trump is more than a neo-protectionist xenophobe; and what it's like to be conservative-with-libertarian tendencies in a creative field like graphic illustration.
Smith also expounds upon the concept of "political punks" whom he says evoke the brash anti-establishmentarianism of the music scene of the late '70s in today's political scene. Ann Coulter, Greg Gutfeld, Clint Eastwood, and Vice co-founder Gavin McInnes, says Smith, personify the type. Political Punks is also the name of a podcast that he co-hosts with writer Lisa De Pasquale (I appeared on Political Punks in January of this year. Listen to the episode here).
Listen to the Reason podcast with Brett Smith by clicking below. Follow him on Twitter here.
Subscribe, rate, and review us at iTunes (scroll down for links).
Subscribe to our audio podcast at iTunes.
Subscribe to our video channel at iTunes.
Subscribe to our YouTube channel.