California Legislature Passes Slew of YIMBY Reforms
Two bills approved by the Legislature this week will make it easier to build affordable housing on church land and in coastal areas.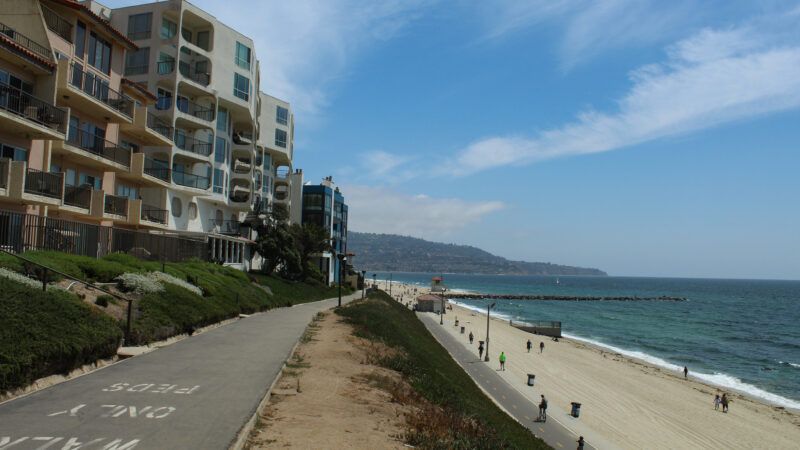 (Angel La Canfora/Dreamstime.com)
The California Legislature is rounding out its session by giving final approval to two bills that eliminate regulatory constraints on building housing on church lands and in cities falling behind on their state-set housing production goals.
On Monday, the state Senate gave final approval to S.B. 4, requiring local governments to approve affordable housing projects on land owned by religious institutions and non-profit colleges, even if their zoning codes wouldn't usually allow it.
Passing "Yes in God's Backyard" (YIGBY) legislation, a play on"Yes In My Backyard" (YIMBY), has been a long-running priority for many of the state's churches, who are often eager to develop housing on their land as part of their religious mission and as a means of financially supporting their operations in the face of dwindling church attendance.
Any number of laws can stop church-sponsored housing projects, however, from exclusively commercial zoning of church land to laws requiring a minimum number of parking spots per inch of pew space.
S.B. 4 allows churches and other religious organizations to build housing, even if their land isn't zoned for residential uses. They could also build apartment buildings on land they own in lower-density residential neighborhoods.
The bill also makes church housing projects "by right." That means local governments can't force them to undergo endless environmental review. Opponents of church housing projects would also lose their ability under state environmental law to sue local governments that approve housing on church land.
S.B. 4 stops well short of authorizing religious organizations to go on a laissez-faire building boom.
Any new housing made legal by the bill would have to be offered at below-market rates to lower- and moderate-income residents. Developers would generally have to pay prevailing wages to construction workers. The new housing would also have to come with at least one parking space per unit unless other state or local laws dictated a lesser minimum standard. S.B. 4 projects also couldn't be built in industrial zones or near active oil wells. (There are a lot of those in Los Angeles.) The list goes on.
Nevertheless, a new study from U.C. Berkeley's Terner Center for Housing Innovation found that S.B. 4 could open up about 170,00 acres of land for housing development.
"California has a deep housing shortage, and we need every available tool to create the housing we so desperately need," said state Sen. Scott Wiener (D–Calif.), the bill's author, when he first introduced S.B. 4 last year. "Let's make it easier for these nonprofits to build these critically needed homes."
Another of Wiener's bills, S.B. 423, also passed the Senate on Monday: S.B. 423 is essentially a rehash of S.B. 35, a temporary 2017 law that similarly requires local governments behind on their state-set housing goals to give by-right approval to new housing projects (secular or religious) that comply with local zoning laws. S.B. 35 has been used to entitle 18,000 units of mostly subsidized, affordable housing between 2018 and 2021.
The law streamlines approvals for mixed-income and market-rate developments as well. But the requirement that developers using S.B. 35 streamlining pay union-level wages—which can raise construction costs by 10 percent or more—has seen few market-rate developers take advantage of the law.
The major innovation of S.B. 423 is that it extends the streamlining provisions of S.B. 35 to California's coastal areas, where the powerful California Coastal Commission usually has the final say over what gets built. The commission, with a long history of opposing coastal development, initially came out hard against S.B. 423. Amendments that exempted land closest to the beach saw the CCC drop its opposition last month. Wiener's office estimates that S.B. 423 will streamline development on 250,000 acres of coastal land.
From a free market perspective, it's hardly ideal that both S.B. 4 and S.B. 423 streamline the development of primarily subsidized affordable housing.
It's certainly not the best policy for maximizing housing supply. Market-rate housing is usually easier to build, as it doesn't have to compete for a fixed pot of government subsidies—most of which come with cost-increasing strings attached. Bills that do little (or nothing) to open land to market-rate builders and market-rate-chasing capital leave unbuilt housing on the table.
An exclusive focus on streamlining the development of subsidized housing also distorts land markets by displacing market-rate builders from sites they would have otherwise snatched up.
Indeed, with S.B. 4, that's intentional.
"One of the chief obstacles to affordable housing development is that affordable housing developers must compete against market-rate developments for land. SB 4 opens tens of thousands of acres that affordable housing developers will have exclusive access to," reads an email from Wiener's office announcing the bill's passage.
The more market-rate housing has to settle for second-best land, the more economy-wide efficiency suffers.
Still, California does suffer from a shortage of housing generally. The state will build more housing with S.B. 4 and S.B. 423 in effect. At a minimum, they'll provide evidence that removing regulatory barriers can unleash a lot of badly needed housing.
Both bills will now go to Gov. Gavin Newsom for signing.