Don't Tread on Jaiden! School District Learns Its Lesson
The 12-year-old boy kicked out of class for sporting a Gadsden flag patch is back in school.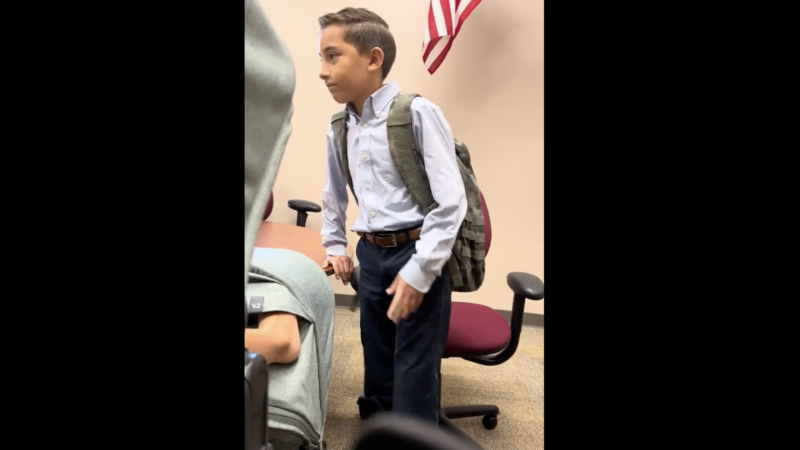 Jaiden, the 12-year-old boy who was kicked out of class for wearing a Gadsden flag patch on his backpack, is back in school with his constitutional rights restored.
"The Vanguard School recognizes the Gadsden flag and its place in history," wrote the school's board of directors in a statement. "At this time, the Vanguard School Board and the District have informed the student's family that he may attend school with the Gadsden flag patch visible on his backpack."
A video of the student and his mother arguing with officials went viral on social media earlier this week. The Vanguard School—a charter school overseen by Harrison School District 2 in Colorado Springs, Colorado—had initially maintained that the "Don't tread on me" rattlesnake was a racist symbol associated with slavery and the slave trade. Jaiden's mother objected, patiently explaining that the Gadsden flag's origins can be traced to the Revolutionary War; its warning was directed at British tyranny, though subsequent freedom movements have adopted the flag for various causes.
In the face of overwhelming criticism—including from Colorado Gov. Jared Polis (D)—the school district conceded its mistake and reversed course. Libertas Institute President Connor Boyack, who first publicized Jaiden's predicament, reported on Tuesday that Jaiden was back at school and free to display the Gadsden flag.
Jaiden should sell this and monetize his new fame ???? pic.twitter.com/YjKjpKRAny

— Connor Boyack ???? (@cboyack) August 30, 2023
This is welcome news. Young people should not automatically lose their free expression rights when they set foot in school, and there's no reason whatsoever to think that Jaiden's Gadsden flag backpack was disruptive in the classroom. Hopefully, school officials everywhere are paying attention: Don't tread on kids.