Government Continues To Deny Its Role in Adderall Shortage
While schoolchildren go without needed medication, government agencies shirk responsibility by blaming manufacturers.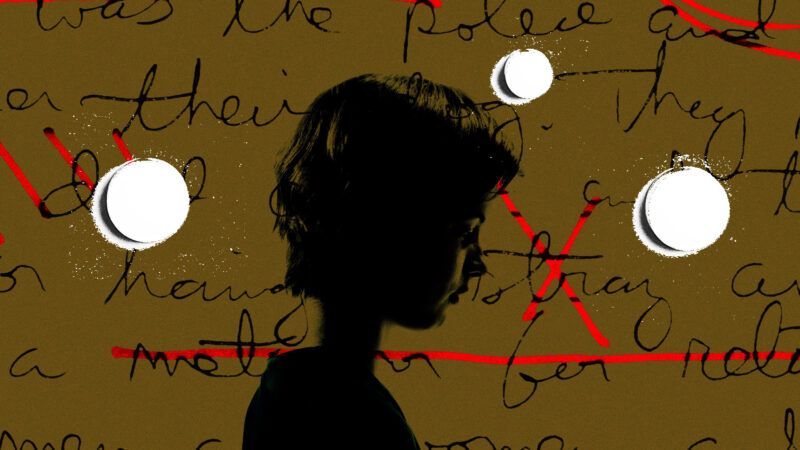 (Illustration: Lex Villena; Anna Shvets)
In October 2022, the Food and Drug Administration (FDA) announced a shortage of amphetamine mixed salts, the active ingredient in Adderall. At the time, the FDA indicated that the shortage could last until March 2023.
But the shortage has persisted into August. Now, as students start a new school year, many of them will be forced to go without an essential medication, and government agencies continue to deny their own role in the shortage.
A prescription stimulant, Adderall is primarily used to treat attention-deficit/hyperactivity disorder (ADHD), which can cause inattentiveness, hyperactivity, and impulsiveness. Symptoms can range from mild to severe, and it can result in "impairment in social, academic or occupational functioning," according to the American Psychiatric Association's Diagnostic and Statistical Manual of Mental Disorders. Last week, The New York Times detailed the struggles of parents and children who are unable to access necessary medication.
The shortage has even affected alternative medications. Takeda Pharmaceuticals, manufacturer of Adderall competitor Vyvanse, announced in June that it was "experiencing low inventory of Vyvanse capsules due to a manufacturing delay compounded by increased demand," which it expected to persist into September for certain dosages. Michael Ganio, senior director of pharmacy practice and quality for the American Society of Health-System Pharmacists, told PBS NewsHour in July that medicines like Ritalin and Concerta have only been "intermittently available" during the Adderall shortage.
When it first announced the shortage last year, the FDA blamed "ongoing intermittent manufacturing delays" at Teva Pharmaceuticals, the largest manufacturer of both name-brand and generic Adderall. But as Reason detailed at the time, the government also played a role in the shortage.
During the COVID-19 pandemic, the Drug Enforcement Administration (DEA) allowed physicians to prescribe controlled substances via telehealth appointments; at the same time, parents began noticing symptoms of inattentiveness in their kids who were stuck at home attending school over Zoom. As a result, ADHD diagnoses soared among children. Adults were not immune, either: The number of Adderall prescriptions among patients aged 22–44 increased 15.1 percent between 2020 and 2021, more than twice the rate of increase from the year before. (Adderall can also be used to treat eating disorders and narcolepsy.)
The DEA is empowered by federal law to set annual production quotas for all Schedule II narcotics, including amphetamines. Once it sets the quotas, companies apply for a piece of the total and are forbidden from manufacturing more than their allotment. Despite seeing a sharp increase in prescriptions for ADHD treatment, and in spite of an FDA-reported shortage, the DEA kept the same 2022 levels for its 2023 amphetamine quotas.
Earlier this month, the FDA and DEA put out a joint statement to address the continuing shortage. The statement noted that "for amphetamine medications, in 2022, manufacturers did not produce the full amount" allowed under the quotas. While the agencies "cannot require a pharmaceutical company to make a drug, make more of a drug, or change the distribution of a drug," they nonetheless "called on manufacturers to confirm they are working to increase production to meet their allotted quota amount."
But there's more to the story than manufacturer supply. State and local governments sued the three largest pharmaceutical distributors and Johnson & Johnson over claims that the companies had contributed to opioid abuse and deaths. In February 2022, the companies settled for $26 billion and cracked down on potentially suspicious orders of controlled substances from independent pharmacies. As a result, many pharmacies were limited in the drugs they were able to order; some were banned altogether.
So on the one hand, the DEA declined to raise the limits in 2023 that would allow manufacturers to make more Adderall, even in the face of a declared shortage. Meanwhile, a lawsuit filed by state and local governments caused pharmaceutical distributors to cut off the supply of drugs like Adderall to pharmacies across the country. And now, as the new school year begins, countless students will be without needed medication that would help their classroom achievement.