Brickbats: August/September 2023
News of politicians, police, and bureaucrats behaving badly from around the world.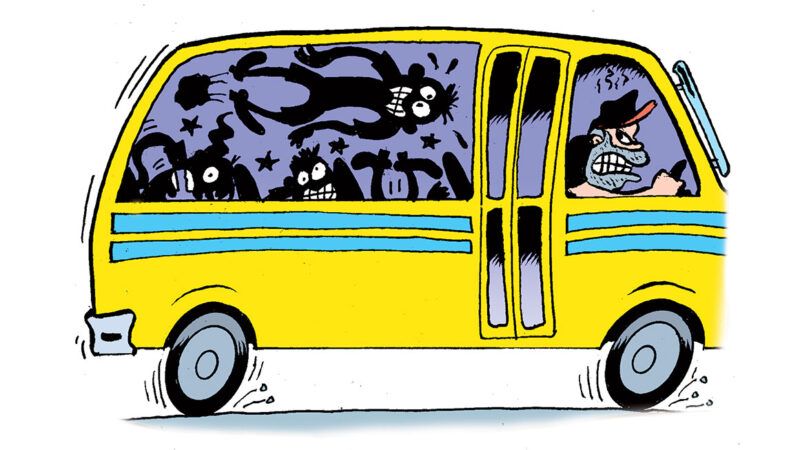 (Illustration: Peter Bagge)
A school bus driver in Douglas County, Colorado, has been charged with 30 misdemeanor counts of child abuse after abruptly stopping his bus, causing the elementary school students onboard to crash into the seats in front of them. Brian Fitzgerald reportedly told school officials he was trying to "educate" and "control" the child passengers.
A Washington, D.C., law that took effect this year bans the use of gas-powered leaf blowers. The law, which carries a fine of up to $500, exempts the use of leaf blowers on federal property.
Yessenia Garcia called police in Scottsdale, Arizona, to report that her car had been vandalized while she was in a bar. Officers instead treated her as a suspect in a hit-and-run accident that had been reported nearby. When she asked for an attorney, bodycam video shows, an officer told her she was not entitled to one because she was under investigation. They then arrested her for possession of drug paraphernalia, two counts of driving under the influence, and failure to stop at the scene of an accident causing injury or death. Security video showed her car was parked at the time of the hit-and-run. The charges were eventually dropped, and the city council unanimously agreed to pay $200,000 to settle a wrongful arrest lawsuit.
An employee at Carriage Hills Elementary School in Lawton, Oklahoma, has been charged with assault and battery for hitting a student with a dodgeball. He hit the student three times with the ball, including once on the face. The employee told police the student threw the ball at him and another employee, so he threw the ball at the student. The student claimed the ball bounced off another student and hit the employee.
The British government has proposed authorizing police to seize knives from individuals if they suspect the knives could be used in crime. It would also increase the number of types of prohibited "zombie knives"—ornate knives inspired by zombie movies and TV shows. The law currently bans knives that have words or markings indicating they might be used for violence; the new proposal would allow such knives to be banned even without such markings or writing.
The state of Missouri named an interstate overpass in Wentzville for U.S. Marine Lance Cpl. Jared Schmitz, who was killed in a suicide bombing during the 2021 American withdrawal from Afghanistan. Then his parents received a $3,200 bill for the new signs. State lawmakers are now considering legislation that would stop billing families of military members and first responders for whom roads and bridges are named.
Cities across Australia are enacting—and enforcing—curfews on cats, hoping to cut down on the number of songbirds and other wildlife that cats kill. In Adelaide, for instance, it's illegal for a cat to leave its owner's property unaccompanied between 8 p.m. and 7 a.m.
In Scotland, the ruling Scottish National Party has proposed a law that would allow local councils to charge double their normal tax rates on second homes, of which there are about 70,000. The proposed law could also increase tax rates on those who rent out their homes.