Democrats Propose Eliminating Student Loan Interest
The plan's supporters say it won't push costs onto taxpayers.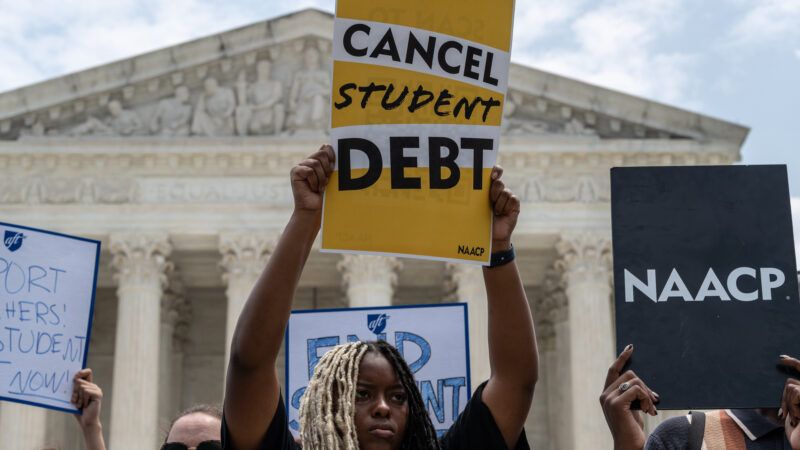 (Alejandro Alvarez/Sipa USA/Newscom)
A group of congressional Democrats has introduced legislation to eliminate interest rates on all current federal student loans—and cap interest rates of future loans at 4 percent. The plan further sets aside student loan payments in a trust fund, which the bill's sponsors say will allow the plan to be funded without offsetting costs onto taxpayers.
While the full text of the Student Loan Interest Elimination Act has not yet been published, a fact sheet of the bill published by Rep. Joe Courtney (D–Conn.) notes that the bill would "refinance the interest rate of all existing federal student loans to zero percent and cap interest rates for future borrowers," adding that "the interest rates for future student loan borrowers will be based on a sliding scale determined by financial need."
Currently, interest on federal student loans is used to pay for the cost of running the program. However, the fact sheet says that the bill would direct the Education Department to create a trust fund that would provide funding for the federal student loan program without offsetting costs onto taxpayers.
"Student loan borrowers will make payments on their principal balance and these funds will be put into the Trust Fund. The Trustees overseeing this fund would invest payments from student loan borrowers into a variety of bonds, including municipal bonds and Treasury bonds," reads the fact sheet. "The returns on those investments would fund the costs of operating the student loan program—saving taxpayers from fronting the bill while saving borrowers from higher interest rates and student loan interest capitalization."
"The Student Loan Interest Elimination Act is a strategic way to deliver student debt relief to Americans most in need. For many, the interest on student loans is more than was originally borrowed," said Rep. Jahana Hayes (D–Conn.), one of the bill's co-sponsors in a Thursday press release. "This legislation will save tax-payer dollars while also addressing the student loan crisis in this country."
The approach is the latest—and most moderate—move by Democrats to reduce the amount paid back by student loan borrowers. Unlike other Democrat-led student loan proposals—most notably, President Joe Biden's recently defeated $400 billion student loan forgiveness plan—this latest bill doesn't propose foisting its costs onto taxpayers.
While the proposal is a welcome change after a year of fierce support for incredibly expensive student loan reforms, its worth noting that the Student Loan Interest Elimination Act attempts to alleviate a problem caused by the government getting involved in the student loan business to begin with. It's long been accepted that the federal student loan program has driven up the cost of college. If Democrats really want to reduce students' debt burden, they should probably start by cutting back the federal student loan program.