Trucking Company on the Hook for $700 Million Federal Loan Files for Bankruptcy
Reason reported last month that with less than two years left on its loan, Yellow Corporation owed more than it originally borrowed and had repaid only $230 in principal.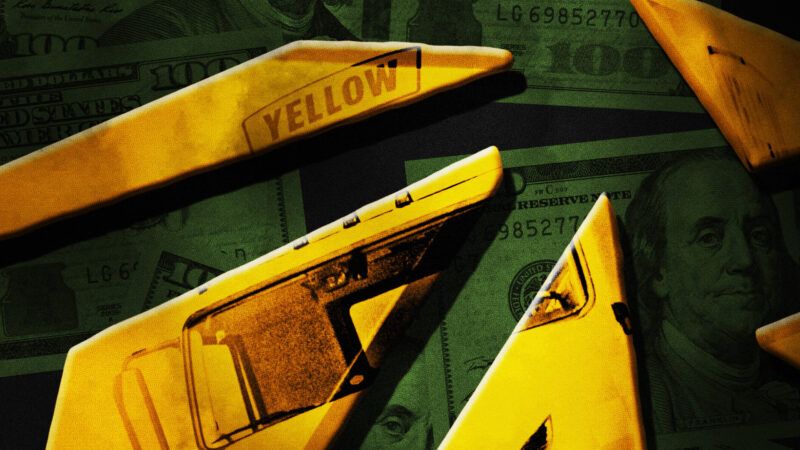 (Illustration: Lex Villena)
Last month, Reason wrote about Yellow Corporation (formerly YRC Worldwide), a long-haul trucking company in dire financial straits. The company took a $700 million federal loan under laws passed to address the COVID-19 pandemic in 2020, in exchange for the government taking a 29 percent stake in the company.
Now, Yellow is expected to file for bankruptcy and employees are apparently being terminated, effective immediately.
A Yellow Corporation employee, who spoke on the condition of anonymity, tells Reason that according to a Friday conference call with Chief Information Officer Annlea Rumfola, all employees would be laid off but could expect severance. Rumfola did not respond to an email requesting comment before this article's publication; a Yellow spokesperson also did not respond to a voicemail or email requesting comment. (A company official says that employees "are also being provided necessary documents in an alternative format.")
The employee shared with Reason an internal human resources document dated July 27. The document goes over the steps that terminated employees can take in order to receive final paychecks, including "accrued but unused paid time off," and how to qualify for severance pay. The amount of severance offered ranges from two weeks of pay for employees with up to nine years of service all the way up to 13 weeks of pay for executives ranked "Vice President or Above."
The document also stipulates that in order to qualify for severance pay, employees must log in and sign a "Severance Agreement…by 12:00PM on your last day of employment," which would be today. But according to the Yellow Corporation employee, as of 12:30 p.m. Central Standard Time (Yellow Corporation is headquartered in Overland Park, Kansas), many employees were unable to log in. According to chat logs shared with Reason, one employee notes, "The offboarding documentation states that severance agreement must be signed by 12:00 PM, yet dozens of people still can't sign in yet." Another says, "I am not getting the reset email and the help desk is on hold so I am locked out." Another offers, "I'm sure it'll take a moment whetever [sic] HR is left to get everyone's account set up correctly."
One employee complains, "Thank you Teamster[s] for ruin[ing] our lives." Yellow has been involved in a contract dispute with the International Brotherhood of Teamsters trucking union, accusing the union of blocking modernization efforts "essential to the Company's survival" unless workers received sufficient pay raises. Earlier this week, the Teamsters union indicated it would be willing to accept an earlier offer from Yellow that the union had previously rejected.
But Yellow's issues involved more than just the Teamsters. As Reason wrote in June, Yellow took on a $700 million federal loan in 2020, intended to prop up businesses affected by the COVID-19 pandemic. But Yellow had lost $104 million the previous year. The money for the loan came from a separate fund established solely for companies deemed essential to national security. The Trump administration pushed the loan through on the basis of Yellow's status as a transportation partner for the Department of Defense and the Department of Homeland Security, even though at the time the Justice Department was investigating allegations that Yellow had intentionally inflated its shipment weights in order to overcharge the government. (The company settled the case for $6.85 million in March 2022.)
A May 2023 audit by the Office of the Special Inspector General for Pandemic Recovery determined that the loan was made without sufficient safeguards. It further revealed that on its loan set to mature in September 2024, Yellow owed $729.2 million and had paid only $230 on the principal balance. After this article's publication, a company official emailed to say, "The company has paid $59.6 [million] in cash interest payments."
UPDATE: This article has been updated to include comments from a company official.