UCLA Declined To Hire a Professor After Students Denounced His Mild DEI Criticism
"We are adamant that the hiring committee...not extend a job offer to Dr. Yoel Inbar," reads the petition.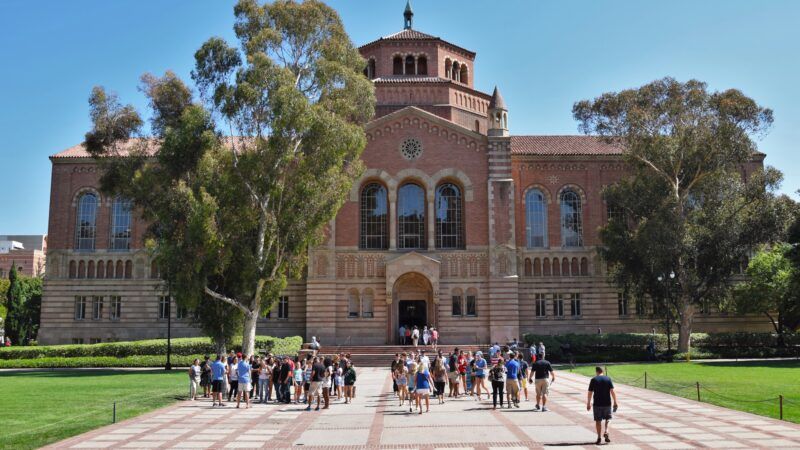 Yoel Inbar is an associate professor of psychology at the University of Toronto. He was slated to join the University of California at Los Angeles as a tenured professor of psychology, but the offer failed to materialize after 66 students signed a petition urging the administration not to hire him.
The students' issue with Inbar? In an episode of his podcast Two Psychologists Four Beers, Inbar mildly criticized diversity, equity, and inclusion (DEI) statements as used by university administrations to screen potential hires. He described DEI statements as compelled speech and empty "value signaling."
"It is not clear what good they do," said Inbar.
His comments were quoted in the student petition, which essentially confirms the very criticism Inbar was making of DEI statements: The students appear to take the view that opposition to DEI statements should in fact be grounds for nonemployment.
"Given the express priority of our university to consider DEI efforts and experiences in the faculty search and hiring process, we are adamant that the hiring committee enforce UCLA's Equity, Diversity, and Inclusion Office message," the petition concludes, "by electing to not extend a job offer to Dr. Yoel Inbar."
Dozens of psych students signed this letter demanding UCLA not hire Dr. Yoel Inbar. After that, he didn't get the job offer he was almost certainly going to receive.

His main offense: expressing skepticism about DEI statements. In his words, "It is not clear what good they do." pic.twitter.com/piV6BwXUvh

— John Sailer (@JohnDSailer) June 28, 2023
According to The Chronicle of Higher Education, Inbar had sought to move to UCLA after his partner accepted a position there. Partner hires are very common at universities in cases where both spouses work in academia; institutions will often try to find two placements at once. Things seemed to be on track for Inbar until earlier this year, after his views on DEI became known to students.
Whether the student petition caused the administration to back away from the hiring is unclear; UCLA did not respond to a request for comment. The Foundation for Individual Rights and Expression (FIRE) has attempted to obtain records relating to the hiring committee's deliberations, but UCLA repeatedly delayed—and ultimately blocked—that move.
Alex Morey, director of campus rights advocacy at FIRE, tells Reason that FIRE is drafting an appeal and will try again.
"Universities need to be places where the brightest minds can be free to inquire about the most important issues facing society," says Morey. "When university administrators say only one type of view is allowed, they're no longer really a university."
When reached for comment, Inbar said that he had spoken out about the controversy during a recent appearance on the Very Bad Wizards podcast.
UCLA is a public university, and its students and faculty members are entitled to robust free expression rights. Educational institutions must not refuse to hire people merely because a handful of extremely progressive students are perturbed by incongruous opinions. This is the exact critique of DEI pledges: They tend to harm the pursuit of actual diversity—of intellectual heterogeneity—by forcing members of campus to affirm a toxically narrow-minded worldview.