Brickbats: July 2023
News of politicians, police, and bureaucrats behaving badly from around the world.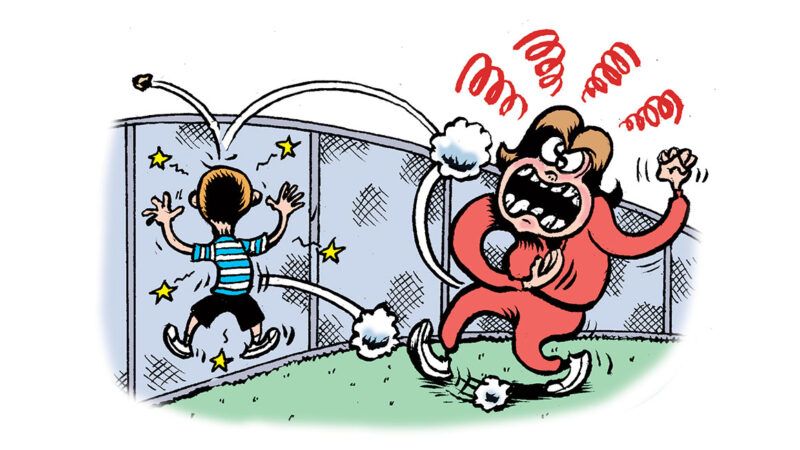 (Illustrations: Peter Bagge)
Police in Iowa have charged Erin Michelle Aalfs, a former teacher at Moravia Elementary School, with two counts of simple assault and one count of interference with official acts causing serious injury. Police said Aalfs kicked and threw rocks at a preschool student and tossed the student toward a chain-link fence on the playground during school hours. A sheriff's deputy then allegedly sustained injuries while attempting to arrest Aalfs, who resigned sometime after the incident.
A woman in northern France has been charged with "insulting the president of the republic" after calling French President Emmanuel Macron "filth" on Facebook. She faces a fine of up to 12,000 euros ($13,250) if found guilty.
After his father died in 2018, the Social Security Administration declared Jaxen Dyson dead despite only sharing a last name with his father. Jaxen's mother thought she cleared up the confusion, even getting a letter from the agency saying he was alive. Then when she tried to file her taxes last year, the IRS wouldn't let her claim Jaxen as a dependent because government records show he is dead. Each agency blames the other for the mistake.
A judge has vacated the conviction of Sheldon Thomas, who spent 18 years in prison for murder. Thomas was arrested after New York City police officers showed a witness a photo of another man with the same name and she identified him. She later identified Thomas in a lineup, meaning she identified two different men as the suspect. An
investigation found that the detectives knew there were two men with the same name but were intent on arresting Thomas and used the identification of the other man as a pretext.
Dozens of businesses in San Francisco's Chinatown have been threatened with fines for gates and awnings that have been in place for decades. Why, after all these years, have city building inspectors taken notice of these alleged code violations? They say they have received a rash of anonymous reports about them. City awning permits can cost up to
$3,000.
A new waste collection law floated by the British government could require households to have up to seven different waste and recycling bins. Britons are already required to separate glass, metal, plastic, and paper and cardboard for recycling, in addition to household garbage. The new law would also require local councils to collect food waste and garden waste.
Agents from the FBI and the Department of Defense barged into a sleeping Delta Air Lines pilot's hotel room, handcuffed him, placed him in the room's shower, and interrogated him for 45 minutes before realizing they had the wrong man. In a statement, the FBI said the agents were conducting a training exercise and were supposed to stage a mock interrogation of a Defense Department employee who would be deployed overseas. The agents apparently went to the wrong hotel room.
The British government has proposed a bill that would make it illegal for men to whistle or make a pass at women on the street. The Protection from Sex-Based Harassment in Public Bill will make it illegal to cause "intentional harassment, alarm or distress" to a person in public based on their sex. Those found guilty of violating the law face up to two years in prison.