For $6.5 Million, Durham Report Finds FBI Didn't Have Solid Dirt on Trump and Russia
Plus: Reexamining the roots of qualified immunity, who's really hurt by business regulations, and more...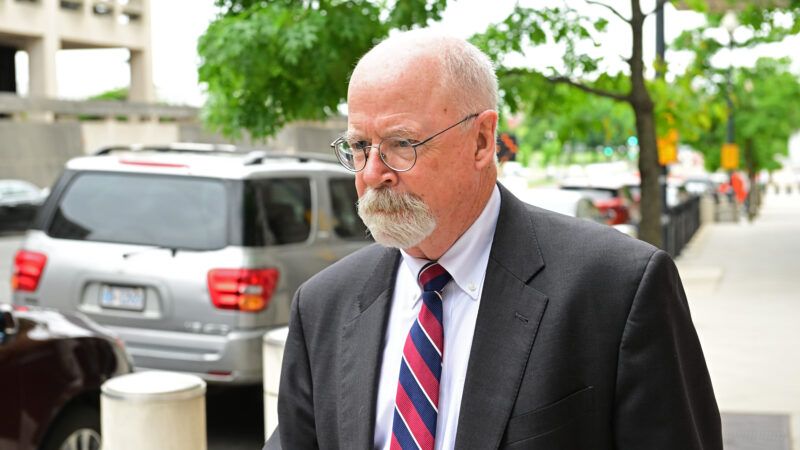 (Ron Sachs - CNP / MEGA / Newscom)
The FBI should never have launched its probe into possible collusion between former President Donald Trump's 2016 campaign and Russia, according to Special Counsel John Durham. The FBI's investigation was hastily opened "based on raw, unanalyzed, and uncorroborated intelligence" and "senior FBI personnel displayed a serious lack of analytical rigor towards the information that they received, especially information received from politically affiliated persons and entities," wrote Durham in a report on the investigation he was appointed by former Attorney General William Barr to lead.
Ultimately, the FBI failed to act with "appropriate objectivity or restraint in pursuing allegations of collusion or conspiracy between a U.S. political campaign and a foreign power," concluded Durham in his 316-page report, which was released Monday.
For libertarians, there's something psychically satisfying about seeing anyone in power criticize the FBI. And certainly, the hype over Trump-Russia collusion was misguided, as were a lot of government antics surrounding it.
However, Durham's lengthy and expensive investigation was also misguided. According to Trump and his allies, Durham was hot on the trail of the "crime of the century" (as Trump told Fox News last year) and would reveal a massive conspiracy between the FBI and Hillary Clinton's campaign.
Durham was officially "authorized to investigate whether any federal official, employee, or any other person or entity violated the law in connection with the intelligence, counter-intelligence, or law-enforcement activities directed at the 2016 presidential campaigns, individuals associated with those campaigns, and individuals associated with the administration of President Donald J. Trump," per the appointment order. The ensuing investigation "was broad and extensive," according to Durham's new report. It included "more than 480 interviews," the review of "more than one million documents consisting of more than six million pages," the serving of "more than 190 subpoenas under the auspices of grand juries," the execution of seven search warrants, and the obtaining of "five orders for communications records."
After four years of investigation and more than $6.5 million in taxpayer money spent, Durham failed to uncover any evidence of major wrongdoing.
The only successful criminal charges were against an FBI lawyer, Kevin Clinesmith, who pleaded guilty to altering an email used to get a surveillance warrant on Trump campaign aide Carter Page and wound up sentenced to 12 months of probation.
The two criminal trials his investigation yielded—against Clinton campaign lawyer Michael Sussmann and Trump-Russia dossier source Igor Danchenko—both ended with not-guilty findings.
The conclusion of the investigation did not yield any new charges.
"The evidence gathered was not sufficient to prove at trial that any FBI personnel intentionally violated any criminal statutes in relation to the transmittal of the Steele reports" nor that "any FBI personnel intentionally lied during their interviews," Durham writes at one point in the new report. The investigation "was unable to establish that any government officials acted with a criminal intent to violate the law, as opposed to mere negligence or recklessness," he states at another.
After everything, Durham does not recommend widescale changes in FBI enforcement policy.
Durham's scathing indictment of the initial Trump-Russia probe may be correct. But that doesn't make his report a valuable use of taxpayer money. Plenty of people in power drew similar conclusions previously, without all of the additional time and expense.
In fact, the report itself mirrors much of the commentary. It's much more detailed and consumed far more (taxpayer-funded) resources, but it's only somewhat of an exaggeration to say that it's not much more than a 316-page op-ed with a huge price tag.
Ultimately, the Durham report represents one more entry in a sad, symbiotically conspiratorial, paranoid juncture in American politics. Democrats spent years convincing themselves of an elaborate Trump-Russia conspiracy and, when given the opportunity, used the levers of government to try and prove it even when the evidence wasn't there. Republicans rightfully repudiated this.
But they didn't stop there, instead concocting a broad-based and elaborate conspiracy involving the Clinton campaign, Robert Mueller, and the "Deep State." And given the opportunity to use government power to try and prove this equally nonsensical conspiracy, they took it. On both sides, there was bad behavior and sketchy dealings, to be sure. Both the Mueller and Durham investigations revealed that. But nothing uncovered the elaborate fantasies of evil and massive corruption that either side concocted.
---
FREE MINDS
Is the Supreme Court's "entire qualified immunity jurisprudence … based on a mistake"? Judge Don R. Willett of the U.S. Court of Appeals for the 5th Circuit suggested as much in a recent opinion. The case involved a Texas inmate who was hurt when the ceiling collapsed in a barn he was working in. He sued. The 5th Circuit said the doctrine of qualified immunity—which shields police and other authorities from a lot of civil liability for violating rights and causing harm—barred his claims against the Texas Department of Criminal Justice and prison staff.
But in a separate concurring opinion, Willett raised the idea that our whole understanding of qualified immunity law might be mistaken. Willett pointed to "game-changing arguments" in a February 2023 California Law Review article ("Qualified Immunity's Flawed Foundation").
The paper points out, uncontroversially, that in 1871 Congress passed a law allowing lawsuits against state officials who violate constitutional rights. But the Supreme Court has held that this law didn't override existing immunity protections for authorities.
"The doctrine of qualified immunity is based on that premise," explains New York Times reporter Adam Liptak:
But the premise is wrong, Alexander A. Reinert, a professor at the Benjamin N. Cardozo School of Law, wrote in the article, "Qualified Immunity's Flawed Foundation," published in The California Law Review.

Between 1871, when the law was enacted, and 1874, when a government official produced the first compilation of federal laws, Professor Reinert wrote, 16 words of the original law went missing. Those words, Professor Reinert wrote, showed that Congress had indeed overridden existing immunities.

Judge Willett considered the implications of the finding.

"What if the Reconstruction Congress had explicitly stated — right there in the original statutory text — that it was nullifying all common-law defenses against Section 1983 actions?" Judge Willett asked. "That is, what if Congress's literal language unequivocally negated the original interpretive premise for qualified immunity?"

The original version of the law, the one that was enacted in 1871, said state officials who subject "any person within the jurisdiction of the United States to the deprivation of any rights, privileges or immunities secured by the Constitution of the United States, shall, any such law, statute, ordinance, regulation, custom or usage of the state to the contrary notwithstanding, be liable to the party injured in any action at law, suit in equity, or other proper proceeding for redress."

The words in italics, for reasons lost to history, were omitted from the first compilation of federal laws in 1874, which was prepared by a government official called "the reviser of the federal statutes."

"The reviser's error, whether one of omission or commission, has never been corrected," Judge Willett wrote.
---
FREE MARKETS
Regulatory explosion has harmed small businesses. A recent paper from the London Business School's Shikhar Singla finds that "the total economy-wide cost of regulations since 1970 has increased by almost 1 trillion dollars" in the U.S. and the biggest portion of this cost comes from environmental regulations. The paper also notes that "there has been a massive increase in regulation since the late 1990s."
Small businesses bear disproportionate costs from regulatory compliance. "An average small firm faces an average of $9,093 per employee in our sample period compared to $5,246 for a large firm," Singla writes. In addition, "while large firms are opposed to regulations in general, they push for the passage of regulations that have an adverse impact on small firms," he found.
The regulatory burden increased by an estimated $1 Trillion between 1970 and 2018, much of it due to environmental regs.

This has often been helpful to big business - it keeps out competition. https://t.co/lD17R09vwb

— Russ Greene (@GreenPlusAnE) May 15, 2023
---
QUICK HITS
•  The Supreme Court will hear a case concerning South Carolina's congressional redistricting plan.
• The European Union approved Microsoft's bid to buy the video game company Activision Blizzard. Meanwhile, Microsoft is still fighting for approval in the U.S., where Federal Trade Commission chair Lina Khan "has made the challenging of mergers a central part of her plan to rein in the tech giants," notes The New York Times. "The F.T.C. sued to block Microsoft's purchase of Activision in December, arguing that the deal would harm consumers and lure gamers away from rivals."
• The Verge explores the troubling privacy implications of online age verification schemes.
• Martha Stewart, 81, just became the oldest Sports Illustrated swimsuit issue cover model in history:

At 81, Martha Stewart becomes the oldest model in history to cover Sports Illustrated Swimsuit. pic.twitter.com/TMzoiLPbno

— Pop Base (@PopBase) May 15, 2023
• But of course:
New York has spent $64 million and counting on its COVID passport app that Cuomo originally said would cost $2.5 million.https://t.co/tBhSKk4mla

— Phil Kerpen (@kerpen) May 15, 2023