A Big Issue in Paraguay's Elections Was…Taiwan?
The voters opted to keep the country's ties with the island—a remarkable choice, given that China has become South America's top trading partner.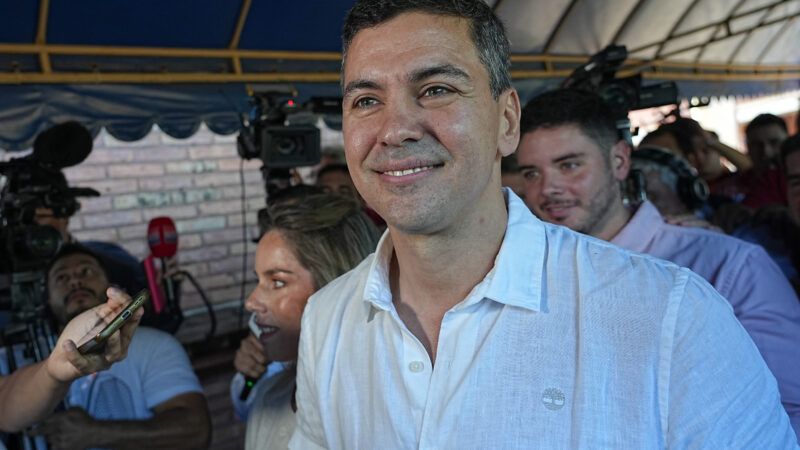 (Wang Tiancong / Xinhua News Agency/Newscom)
If you drove through Asunción, Paraguay, before the 2020 pandemic, heading east from the city center you would have come across the Chiang Kai Shek School. It was a rare sight in Latin America prior to its COVID-induced closure: an institution that paid homage to the nationalist leader of Mainland China, who also served as Taiwan's first president at the head of a government-in-exile. Paraguay, in fact, is the only South American country that officially recognizes Taiwan's independence from communist China. (In Central America, Guatemala and Belize do so as well.)
The Taiwan issue became contentious during the recent presidential election, in which the left-wing candidate, Efraín Alegre, vowed to cut ties with the island in order to open trade with China. Alegre, however, lost by a 16-point margin to Santiago Peña of the ruling—and historically pro-Taiwan—Colorado Party.
Paraguayan voters' continued choice to uphold ties with Taiwan is remarkable given that China has become South America's top trading partner. Since around 2000, China's investment onslaught has been both relentless and sophisticated, as Chinese companies do business not only with national governments, but also increasingly with regional leaders.
In 2022, for instance, a Bloomberg report highlighted how "Chinese technology and money have helped build one of Latin America's largest solar energy plants" in Jujuy, a remote province in northwest Argentina that borders Chile and Bolivia. In recent years, Jujuy's top government officials have built close ties with Chinese investors and China's export-import bank, which offered the province a 3 percent interest rate on a $330 million loan, a significant discount compared to European or North American alternatives. China has executed similar deals at the regional level across Latin America, thus "going local to expand and strengthen its financial grip," according to Bloomberg.
Since Paraguay's main exports are soybeans and beef (apart from electricity), the opportunity cost of refusing to pursue more active trade with China has been considerable. In 2022, the Financial Times reported that current President Mario Abdo Benítez, also from the Colorado Party, demanded $1 billion in investment from Taiwan as he came under pressure from soy and cattle industry leaders, who have been eager to export to China. Paraguay's foreign ministry promptly denied that Abdo Benítez had made such a quid pro quo demand to Taipei. In the weeks leading up to last Sunday's presidential election, the campaign in Paraguay drew global media attention since the future of the Taiwan alliance seemed to be at stake.
The diplomatic status quo seems safe for now, but is it a matter of time before Paraguay drifts into China's growing sphere of influence? Since 1957, Paraguay has reaped concrete benefits from its support for Taiwan, as have the other countries that still recognize its sovereignty. According to scholars Johanna Mendelson Forman and Susana Moreira, Taiwan nurtures its ties with its allies through high-level official visits, military assistance and training, and medical as well as technical assistance in the wake of natural disasters. Most effectively, however, Taipei has applied a "dollar diplomacy" strategy that, in Paraguay's case, included a $20 million grant to build a new building for Congress in Asunción.  
Federico Rabino, who heads the Fernando de la Mora Institute in Paraguay, a free market think tank, points to the hundreds of Paraguayan students who receive scholarships each year to study in Taiwan. Taipei, tells Reason, "unyieldingly applies its soft power to maintain its diplomatic relations with Paraguay." Scholars Tom Long and Francisco Urdinez argue that Paraguay "uses its diplomatic recognition policy for status seeking," thus gaining intangible and material benefits "that offset the macroeconomic opportunity cost of foregone Chinese investment, aid and credit." 
In strictly material terms, however, skeptics may doubt whether the perks of Taiwan's soft power really outweigh the lost opportunity of greater access to China's consumer market of 900 million people, which is the world's largest. According to Daniel Duarte, a Paraguayan journalist and analyst, Taiwan has enjoyed Paraguay's support because it has been the highest bidder in public works and other projects that political leaders can turn into votes. "As the export lobby increases its pressure in order to gain access to the Chinese market, the price of that support rises. It remains to be seen whether Taiwan will be willing to pay it."
But could there be a quixotic, even atavistic instinct at play? Strictly speaking, the Paraguay-Taiwan link is a Cold War relic. Alfredo Stroessner, the fiercely anti-communist and brutally repressive autocrat who ruled Paraguay from 1954 to 1989, first recognized Taiwan three years after delivering the coup d'état that brought him to power. As the Cold War came to an end, the coup that toppled Stroessner—delivered by one of his closest longtime allies among the military top brass—ushered in a democratic republic, albeit one in which candidates from Stroessner's Colorado Party have won all presidential elections save one since 1989. Incidentally, the winner of the 2018 election, Abdo Benítez, is the son of Stroessner's private secretary and, in 2006, served as a pallbearer in the strongman's funeral.
In one sense, Paraguay's support for Taiwan can be seen within the context of the ruling party's anti-communist continuum. It was, after all, only in 1999 that the Paraguayan government recognized the Castro regime in Cuba. But it might well be that, as Duarte suggests, there is less ideology involved than politicians' self-interest. 
Could the fate of the Chiang Kai Shek School offer a clue about the future of Paraguay-Taiwan relations? In June 2020, the Asunción news channel C9N reported on Instagram that parents and students were protesting the school's abrupt closure outside the Taiwanese embassy. After operating for 35 years, they had learned via a WhatsApp message that the institution was shutting down due to insurmountable economic troubles.