Will Ohio Kill The Death Penalty?
Recent efforts from the governor, the attorney general, and state legislators suggest the state is moving away from capital punishment.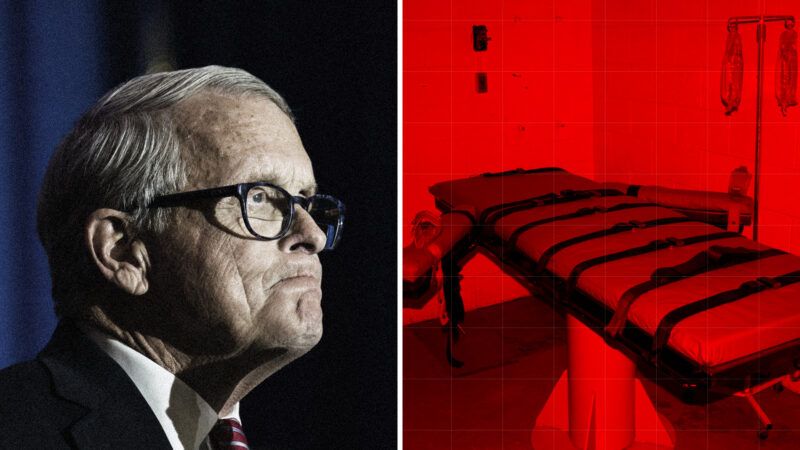 (Jintak Han/ZUMAPRESS/Newscom, Conchasdiver)
Capital punishment could soon be on its way out of Ohio. Recent efforts from the governor, the attorney general, and state legislators suggest the state is moving away from the practice.
Ohio's last execution was in 2018. Republican Gov. Mike DeWine has been slowly phasing out executions since he was elected. In 2019, he rescheduled an execution, citing fears "that the use of a particular drug that we would announce that would be used in [an execution] protocol might result in that particular drug company cutting off the state of Ohio." In 2020, DeWine declared an "unofficial moratorium" on the death penalty because of the difficulties in obtaining the necessary drugs to carry out a lethal injection execution "without endangering other Ohioans." And last week, he granted reprieves of execution for three death-row prisoners—extending each of their execution dates by over three years. 
Even DeWine's Attorney General Dave Yost seems dissatisfied with the current status quo, which leaves death-row prisoners in legal limbo. On March 31, Yost released a 421-page report on capital punishment in the state, which levied considerable criticism against Ohio's "broken," expensive, and ineffective system. 
"It is a system that is not fairly, equally or promptly enforced, and because of that it invites distrust and disrespect for the rule of law," reads the report's executive summary. "The extra cost of imposing the death penalty on the 128 inmates currently on Death Row might range between $128 million to $384 million. That's a stunning amount of money to spend on a program that doesn't achieve its purpose."
The report notes that the system "satisfies nobody." It reads, "Those who oppose the death penalty want it abolished altogether, not ticking away like a time bomb that might or might not explode. Those who support the death penalty want it to be fair, timely and effective. Neither side is getting what it wants while the state goes on pointlessly burning though [sic] enormous taxpayer resources."
Three days prior to the report's release, a group of a dozen bipartisan legislators introduced a bill that aims to abolish the state's death penalty altogether. If the legislation is passed, Ohio would become the 24th state to formally ban the death penalty.
"The death penalty, as it is applied today, devalues the dignity of human life," state Sen. Michele Reynolds (R–Canal Winchester) said at a press conference announcing the bill last month. "Human life should not be a bargaining chip. What we do with a human life should not be based on where you live, what race you are or your socioeconomic status."