Here's Why the State Department Is Taking Months To Renew Your Passport
COVID-era problems are partially to blame, but so are outdated government practices.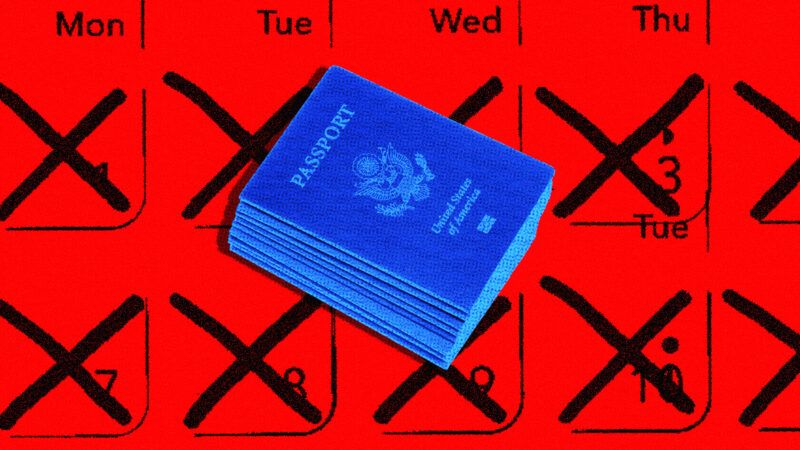 (Illustration: Lex Villena, DPST)
With international travel finally rebounding from COVID-era lows, Americans are renewing their passports in huge numbers. But thanks to delays at the State Department, many are finding that their documents won't be ready in time for summer vacations. As of March 24, routine processing was taking 10 to 13 weeks, while expedited processing was taking seven to nine weeks.
Pandemic-era problems have helped cause previous and current backlogs. Once COVID-19 and government restrictions hit, most State Department employees began teleworking and couldn't process passport applications at home for security reasons. "Almost 1.8 million applications that were in the pipeline just sat there for three months," reported The Washington Post. Many State Department employees were let go or reassigned to other duties after pandemic travel restrictions caused passport demand to crater.
It has since rebounded. In FY 2022, the State Department issued nearly 22 million passports, a record high. It's now receiving half a million passport applications every week, up 30 percent from the same time last year, per The New York Times. And wait times have ballooned accordingly.
In a March budget hearing, Secretary of State Antony Blinken named another important factor behind the current delays: archaic processing practices. "There's no reason, frankly, that someone who already has a passport and just needs to renew it shouldn't be able to do that online and not have to come into a passport center with all the resources that requires," he said.
The current methods of renewing passports are indeed time-intensive and outdated. Most passport holders can do so by mail, which involves printing out forms, filling them out, enclosing photographs (which must be up to State Department snuff), sending in the old passport, and paying up via check or money order. Some applicants—first-timers and those whose passports were lost or stolen, for instance—have to go down a more annoying route, standing in line at a physical passport acceptance facility. For more urgent needs, applicants must visit one of the State Department's passport agencies and centers, of which there are only 26 (good luck if you live pretty much anywhere in the nation's interior).
Physical paperwork takes a long time for applicants to fill out and for State Department agents to process, and relying on in-person centers takes up government manpower that isn't wholly necessary. Online renewal should be a no-brainer.
The State Department finally started moving in that direction last year. It launched a limited pilot program for travelers to renew their passports online, first open to federal employees and contractors and then expanded to a small number of the general public. The State Department paused the rollout in March to "introduce improvements based on customer feedback," saying it plans to relaunch online renewals later this year. "We expect that 65 percent of renewal customers for passports will be able to do so online once this program is fully up and running," said Blinken.
But travelers will have to wait for that relief. What's more, the limited program was riddled with problems: It was glitchy, processing times were just as bad as with the traditional mail-in method, and some of the 500,000 people who applied online were forced to cancel trips with no clarity as to when they'd receive their passports. It was just as expensive as the mail-in method, too. No doubt, a private company would've launched a streamlined website far sooner than the State Department, incentivized to spend its money and time efficiently and keep customers happy. Unfortunately, the State Department faces no such competition, and its customers are there by need rather than by choice.
When President Joe Biden called for an online passport renewal system in 2021, he said that "every interaction between the Federal Government and the public…should be seen as an opportunity for the Government to save an individual's time." But renewing your passport is still just like the bulk of interactions between the federal government and the public: more time-consuming, expensive, and irritating than it needs to be.