Leaker of Ukraine Intelligence Was Reportedly a Gun Enthusiast Trying To Impress His Discord Friends
Plus: New developments in the Texas abortion drug ruling, fallout from the Riley Gaines event at SFSU, and more...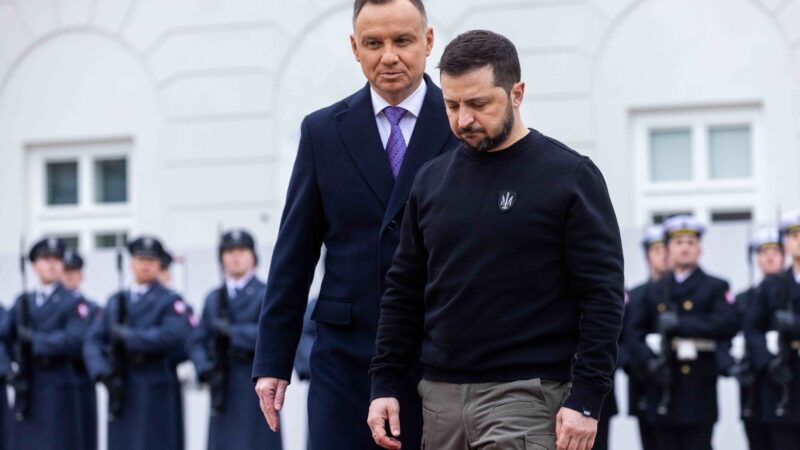 New clues shed light on the identity of the person responsible for the leak of 100 U.S. intelligence documents relating to the Russia-Ukraine war, the Middle East, China, and more. The leaker is a military man in his mid-20s whose primary motivation for sharing the documents was to impress an online group of young men who share his interest in guns, military gear, and video games, according to The Washington Post.
The Post interviewed a fellow participant—a teenage boy—in the Discord server where the documents first appeared. The teenage boy said the leaker goes by the name OG, which is internet slang for "original gangster." OG was revered as a hero by this online community; he would often share transcripts of confusing and jargon-heavy intelligent reports, annotating them with his own comments, which skewed toward a radical anti-government perspective. The Post reported:
OG told the group he toiled for hours writing up the classified documents to share with his companions in the Discord server he controlled. The gathering spot had been a pandemic refuge, particularly for teen gamers locked in their houses and cut off from their real-world friends. The members swapped memes, offensive jokes and idle chitchat. They watched movies together, joked around and prayed. But OG also lectured them about world affairs and secretive government operations. He wanted to "keep us in the loop," the member said, and seemed to think that his insider knowledge would offer the others protection from the troubled world around them.

"He's a smart person. He knew what he was doing when he posted these documents, of course. These weren't accidental leaks of any kind," the member said.
When interest in the transcripts began to wane, OG decided to publish images of the actual documents.
Late last year, a peeved OG fired off a message to all the members of the server. He had spent nearly an hour every day writing up "these long and drawn-out posts in which he'd often add annotations and explanations for stuff that we normal citizens would not understand," the member said. His would-be pupils were more interested in YouTube videos about battle gear.

"He got upset, and he said on multiple occasions, if you guys aren't going to interact with them, I'm going to stop sending them."
The teenager interviewed by the Post says he knows OG's real identity, and the paper was able to review a video of OG at a shooting range. The teenager expects he will be contacted by law enforcement but vows not to give up OG because "he was my best friend."
Assuming that these details are accurate, they present a nonpolitical rationale for the leak. Some have suspected that the ideology of the leaker may have been either pro-Russian or pro-Ukraine; the intelligence lays bare the weakness of the Ukrainian military position, and its publication may have been intended either to provoke more sympathy for Ukraine or to bolster a realist view of Russia's likely eventual victory. But if the Post report is accurate, then it seems that the leaker's motivations were much more personal: He wanted to impress his internet buddies.
---
FREE MINDS
The Foundation for Individual Rights and Expression (FIRE) has sent a letter to San Francisco State University that demands stronger action to protect free speech on campus in the wake of a conservative student event that went off the rails. That event was hosted by Turning Point USA and featured Riley Gaines, a former college athlete who has spoken out against transgender women competing in women's sports. A mob of protesters heckled Gaines and eventually trapped her in a room for three hours. She says that a man in a dress physically hit her, and neither the police nor the university administration did anything to swiftly resolve the situation.
FIRE's letter criticizes SFSU for wrongly stating that "the First Amendment was honored" during the event:
Your assertion that "the First Amendment was honored" during this event
does not track with the video footage that clearly showed uncontrolled and substantial disruption during Gaines' presentation not only in the hallway (audible inside the room), but also inside the room as protestors repeatedly interrupted her speech. We call on the university to investigate what led to last week's appalling display and respond accordingly to ensure it never happens again.

As you must know, the First Amendment requires public universities like SFSU to protect student groups' free speech rights by making good faith efforts to address disruptions to expressive events as they occur. Failure to properly address such disruptions ratifies an unconstitutional "heckler's veto" and will only incentivize more threats to students' freedom of speech and deter them from hosting potentially controversial speakers on campus. When those opposed to speakers or their message target such events for disruption, educational institutions must respond with "bona fide efforts" to protect expressive rights.
In a statement to Reason, SFSU's administration had maintained that the disruptions did not occur until after Gaines had finished speaking. According to FIRE's account, this is plainly untrue.
---
FREE MARKETS
An appeals court has partially blocked the Texas ruling that invalidated approval of the abortion drug mifepristone. According to The New York Times:
A federal appeals court ruled late Wednesday that the abortion pill mifepristone could remain available, but the judges blocked the drug from being sent to patients through the mail and rolled back other steps the government had taken to ease access in recent years.

In its order, a three-judge panel for the Fifth Circuit partly overruled Judge Matthew J. Kacsmaryk of the Northern District of Texas, who last week declared that the Food and Drug Administration's approval of mifepristone in 2000 was not valid, in essence saying that the drug should be pulled from the market.

The appellate court said its ruling would hold until the full case was heard on its merits.

In its order, the appellate panel said the F.D.A.'s approval of mifepristone could stand because too much time had passed for the plaintiffs, a consortium of groups and doctors opposed to abortion, to challenge that decision. The court also seemed to take into account the government's view that removing a long-approved drug from the market would have "significant public consequences."
The court did rule, however, that changes made by the FDA in 2016 could be subject to judicial review.
---
QUICK HITS
• Sen. Dianne Feinstein (D–Calif.) is giving up her seat on the Judiciary Committee as fellow Democrats call for her resignation.
• Republican Florida Gov. Ron DeSantis is seeking a six-week abortion ban.
• In the wake of NPR leaving Twitter over its "government-funded" designation, some are calling to defund it.
• North Dakota is banning transgender girls and women from participating on female sports teams.
• Millennials, rejoice: A Harry Potter television show is in the works.