DeSantis Signs Bill Banning Rent Control, Preempting Local Zoning Restrictions
The new law would allow developers to build housing on commercially zoned lots provided they include affordable units.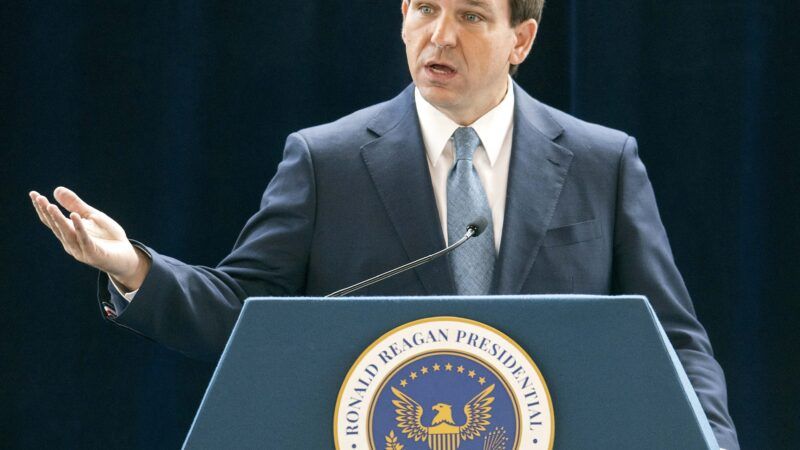 (Brian Cahn/ZUMAPRESS/Newscom)
Florida Gov. Ron DeSantis, a Republican, has signed into law a new housing package that bans local governments from adopting rent control and cracks down on their ability to shoot down housing projects that contain affordable units.
The main provisions of the Live Local Act include funding increases and tax credits worth $711 million for a variety of the state's affordable housing programs. This includes sales tax relief on purchases of building materials; downpayment assistance for cops, teachers, military personnel, and other "hometown heroes" buying their first home; and more funding for affordable housing construction.
"This legislation provides record support for Florida's workforce and their families to help them live where they work, while also providing historic support for our military communities and the families living near military bases," said DeSantis.
In addition to new funding, the new law also includes some deregulatory policies.
It would require local governments to approve multifamily developments on commercial and mixed-use zoned properties without forcing builders to go through discretionary rezoning amendments.
In addition to these expedited approvals, these projects would also get relief from local height and density restrictions. They can be either three stories high or as tall as the tallest allowable commercial or residential development within one mile of the project site.
This regulatory relief would be available to projects where 40 percent of the units are offered at below-market rates to people making 120 percent of the area median income (AMI). Those affordable units could be offered at market rates after 30 years.
These kinds of inclusionary zoning policies typically act as a tax on new development, raising prices for market-rate units and reducing the construction of affected projects.
It's tough to say how strict Florida's policy will be.
Requiring that 40 percent of units be below-market-rate units is quite high. But a 120 percent AMI income threshold allows for much higher rents than most inclusionary zoning policies, which typically require housing be affordable for those making 80 percent or less of the AMI.
Also, developers would have to opt into these affordability requirements. A market-rate developer could still take their chances getting a property rezoned under the existing system. The worst these affordability requirements would do is make the expedited approvals and zoning relief ineffective.
That makes it less burdensome than "mandatory" inclusionary zoning policies that impose affordability requirements regardless of any benefits a developer has opted to receive.
Builders have praised the zoning reform measures.
"This legislation will increase and improve availability of affordable housing," said Brian Bullock, president of Tampa Bay Builders Association, in an email. "This new law changes zoning laws and allows the home building and development communities to assist in growing desperately needed affordable housing stock."
The law also fully prohibits local governments from adopting rent control.
Florida law already makes it really difficult for localities to regulate rents. They can only do so upon a finding that there's a "housing emergency which is so grave as to constitute a serious menace to the general public."  That's a pretty high standard. The emergency caps can't last longer than a year. They also have to be passed by both the local county or city commission and voters via referendum.
Nevertheless, both officials and voters in Orange County, Florida, approved a rent control initiative in 2022. Litigation from trade associations representing property owners stopped it from going into effect. Now, the option is completely off the table.
DeSantis' signing of the bill is notable given his administration's past opposition to local zoning reforms.
The state's Department of Economic Opportunity (DEO) sued to stop a 2022 Gainesville ordinance allowing four-unit homes on residential land from going into effect. The reform itself was locally unpopular and the first act of a new Gainesville City Commission in January 2023 was to repeal the previous commission's upzoning.
The DEO lawsuit argued that Gainesville was being overly reliant on the "invisible hand" of the market to provide affordable housing, something only inclusionary zoning can do.
One provision of the bill DeSantis signed does make it more difficult to build affordable housing. The new law partially undoes a 2019 reform that allowed localities to expedite approvals of projects including affordable units on residential, commercial, or industrial land, even if the project isn't consistent with a local comprehensive plan or other state or local laws. Now, those expedited approvals are only available to projects on commercial or industrial land.