Sen. Rand Paul: 'Dr. Fauci Is Disingenuous. He Is Conflicted.'
The Kentucky Republican also expressed disappointment that Congress has not repealed the war on terror authorization of military force.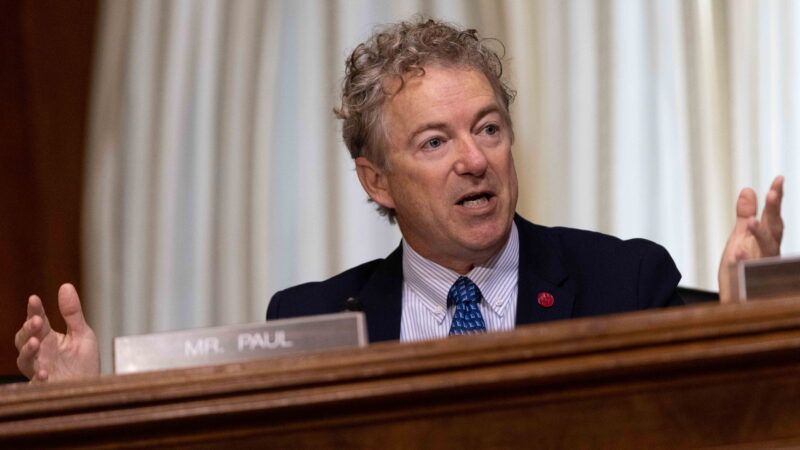 Sen. Rand Paul (R–Ky.) responded to the recent criticism he received from former White House coronavirus czar Anthony Fauci. In a new documentary, Fauci accused Paul of misrepresenting the science on U.S.-funded gain-of-function research, which Fauci says could not have caused the COVID-19 pandemic.
Paul disagreed.
"He's arguing a straw man argument," said Paul in an interview on Rising, the show I host for The Hill. "We have never argued that anything that's been published by the Wuhan lab became COVID-19. What we are arguing is that the lab in Wuhan has over 100 coronaviruses that they have manipulated in a lab and have not published."
Federal health advisers have not been sufficiently forthcoming about the extent of the grants authorized by the National Institute of Health (NIH) for research in Wuhan, China, according to Paul.
"Dr. Fauci is disingenuous. He is conflicted," said Paul. "The reason he is conflicted is that if this came from a lab that he funded, he shares culpability. He's been trying to cover this up from the beginning. There's a great deal of information that from January of 2020, in the early days, a cover-up began, and it continued for Fauci's entire term in office."
Paul also expressed frustration that the Senate did not act on his amendment to repeal the 2001 authorization of military force that undergirds the war on terror. The vote failed Wednesday night.
"The bill before us will repeal the Iraqi resolution, the one that says we are authorized to fight against Saddam Hussein's Iraq," said Paul. "The absurdity is that war's been over for 20 years, that resolution is very specific to Hussein, and we still can't get some of these neocons to vote for it."
To stop the United States' forever wars, Congress must repeal the "forever authorizations," added Paul.
Watch the full interview below.