Prison Deaths Spiked by Almost 50 Percent During Early Months of COVID-19 Pandemic
Plus: ACLU urges Congress not to bank TikTok, a backdoor way to subsidize childcare, and more...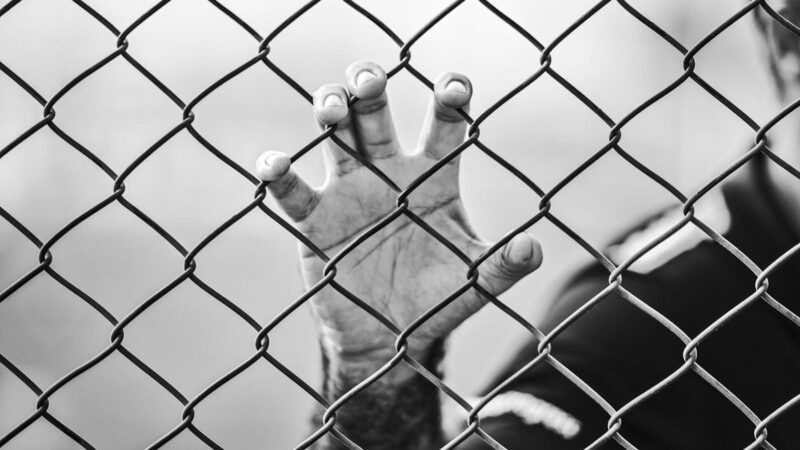 New data highlights just how deadly U.S. prisons became during the early months of the COVID-19 pandemic. Across the U.S., prison deaths spiked by almost 50 percent in 2020, jumping to 6,182 deaths from 4,240 the year before.
"The U.S. has seen a significant, continual increase in deaths in prisons over the past two decades, but never before have the country's prisons seen such a steep increase year-to-year," according to the University of California, Los Angeles Law Behind Bars Data Project.
The project obtained information on 2019 and 2020 prison deaths from 49 states and the federal government. (New Mexico's Bureau of Prisons did not provide data.) It collected 2021 death data from 28 states.
Forty-three states saw an increase in prison deaths in 2020. And in six states—Alaska, Michigan, Montana, New Jersey, North Dakota, and Rhode Island—the number of prison deaths more than doubled.
In Michigan prisons, there were 131 more deaths in custody in 2020 than in 2019, despite the state's overall prison population declining by 8 percent. Texas had 253 more prison deaths in 2020 than in 2019, and Florida 190 more prison deaths.
"American prisons are deadly but obscure places," said Aaron Littman, a UCLA Law professor and acting director of the Behind Bars Data Project. "Our carceral mortality database provides a tragic accounting of the many lives lost in prison in recent years."
High rates of death in prison also continued into 2021, the project's data suggests.
The Behind Bars Data Project is an attempt to fill in information that is now lacking from government data:
We release this database as the federal government has failed to reliably and transparently collect data on deaths in custody and effectively ceased its own reporting of these data, abdicating a Congressionally-mandated responsibility of the U.S. Department of Justice (DOJ) since 2000.

Since the beginning of the pandemic, the UCLA Law Behind Bars Data Project has collected data from carceral agencies to document the impact of COVID on incarcerated people. However, COVID case rates and related deaths reported by carceral agencies do not reveal the full impact of the pandemic on incarcerated people. Due to inadequate and opaque testing regimens, a large and uncertain number of infections went unidentified, and at least some deaths were not properly attributed to COVID 1 2 3 4. Moreover, as the project has documented, many state prison systems have become less transparent over the course of the pandemic. Twenty-one state prison agencies no longer post data on the state of COVID in their facilities at all. These agencies were responsible for the health and welfare of over 380,000 incarcerated individuals in 2020. Finally, COVID data do not reflect deaths that were immediately caused by something other than a COVID infection but occurred in prisons where medical and security staff were overwhelmed or depleted by the pandemic.
In 2020, U.S. prisons saw 1,942 more deaths in custody than they did in 2019 (an increase of 46 percent). That amounts to 47 deaths in custody per 10,000 incarcerated people.
The 2020 spike in prison deaths came "even as the country's prison population declined to about 1.3 million from more than 1.4 million," noted the The New York Times. It "was more than twice the increase in the United States overall, and even exceeded estimates of the percentage increase at nursing homes, among the hardest-hit sectors nationwide."
In 2001, there were just 3,170 deaths in a U.S. prison population of more than 1.4 million.
You can find all of the Behind Bars Data Project's prison death data on GitHub.
---
FREE MINDS
ACLU urges Congress not to ban TikTok. The American Civil Liberties Union (ACLU) is pushing back against a Congressional proposal to ban the popular video app TikTok. "This vague and overbroad legislation would violate the First Amendment rights of millions of Americans who use TikTok to communicate, gather information, and express themselves daily," wrote the ACLU in a letter to the House Foreign Affairs Committee. 
The group urged members to vote no on HR 1153, the legislation meant to ban TikTok that could also have much more broad-reaching consequences. "In a purported attempt to protect the data of U.S. persons from Chinese government acquisition, this legislation will instead limit Americans' political discussion, artistic expression, free exchange of ideas — and even prevent people from posting cute animal videos and memes," said the ACLU letter:
While the ACLU's opposition today rests on free speech harms, we note that with more time to review this legislation, we anticipate finding other sweeping implications.

[…] Provisions of this bill are vague and overbroad. For example, Section 201 tasks the President with determining if a foreign entity deals in software that is "subject to the jurisdiction" of China "or otherwise subject to the influence of China," and that "may be facilitating" a long list of activities by the Chinese government. If the president determines that the entity meets those criteria, the president is required to impose sanctions. Unfortunately, it would be impossible for the average person to know what the term "subject to the influence of China" means, and the term is not defined in the legislation. Would an entity be under the influence of China if the CEO's sister had
moved there, or married a Chinese person? Would an entity be under the influence of China if the CEO regularly travels there for leisure?

Likewise, Section 102 would result in the Secretary of the Treasury banning U.S. residents from engaging with any entity that "may" transfer sensitive personal data to an entity that is "subject to the jurisdiction" of, or "subject to the influence" of China. The phrase "may" is every bit as subjective as the term "subject to the influence of China." How likely should a company be to transfer sensitive information in order to meet this criteria? One percent? Sixty percent? It's worth noting that "sensitive personal information" includes "data relating to the physical, mental, or psychological health condition of an individual." Thus, sharing a video where a student explains their sadness at being the victim of bullying, or one where someone discusses their battle with an autoimmune disease could well be covered. Ultimately, this legislation is written in such a way that it will stifle speech otherwise protected by the First Amendment.

This legislation would also create an exception to the historic and invaluable Berman Amendment, which — for the past 35 years — has removed the president's authority to regulate or ban the import or export of "informational materials, including but not limited to, publications, films, posters, phonograph records, photographs … artworks, and news wire feeds" and later electronic media. Congress enacted the Berman Amendment because it was concerned about how the International Emergency Economic Powers Act (IEEPA), which enables the president to impose sanctions on trade with hostile nations, could impact American access to works that would be protected if created in the United States, no matter where that speech originated. This bill's exemption creates a slippery slope for further carve outs of the Berman Amendment that could erode its protections, and leave U.S. residents without some of their favorite international books, movies, and artwork.
ACLU senior policy counsel Jenna Leventoff summed it up thusly:
Congress must not censor entire platforms and strip Americans of their constitutional right to freedom of speech and expression. Whether we're discussing the news of the day, live streaming protests, or ​​even watching cat videos, we have a right to use TikTok and other platforms to exchange our thoughts, ideas, and opinions with people around the country and around the world.
---
FREE MARKETS
A proposal to subsidize semiconductor manufacture is being used as a backdoor way to subsidize childcare, too. New rules expected to come from the Commerce Department today "will effectively force recipients of the new federal semiconductor subsidies" to guarantee childcare for workers, reported Reason's Eric Boehm.
One big problem with this plan is that it circumvents normal procedure. "If Congress believes it is in the best interest of the country to increase federal subsidies for child care, it ought to pass a law that does that," suggested Boehm:
Doing so would allow for a comprehensive debate about the costs involved, the government regulations that inhibit the availability of care, and the best ways to ensure that American families can afford whatever level of child care they might desire.

It should go without saying that the CHIPS and Science Act of 2022 is not that bill. This new rule seems to be an entirely post hoc construction by the Commerce Department, which is responsible for implementing the law and seems vaguely aware that affordable child care is a problem keeping some workers out of the labor force.

That's a real issue, but Rube Goldberg-ing new mandates into an expensive and misguided industrial policy is no way to make social policy. Well-intentioned or not, the Commerce Department's repurposing of the CHIPS Act isn't going to make child care any more affordable or available for the vast majority of workers.
The New York Times first reported on the Commerce Department's rules, noting that "the Commerce requirement would represent a relatively small step toward Mr. Biden's much larger, and as-yet unfulfilled, child care ambitions."
---
QUICK HITS
• Knoxville police have released video of their encounter with a 60-year-old woman who died while being taken to jail. "Throughout the interaction, the officers frequently yell at Edwards," notes the Knoxville News Sentinel. "Edwards repeatedly tells officers and staff she can't breathe or stand, but they respond by telling her she … is fine." The Knox County District Attorney's Office said this week that Edwards died of a stroke.
• The Biden administration is making it harder to be prescribed some medications via video appointments. "The proposed change would also make obtaining necessary—even life-saving—drugs more difficult, especially for those living in rural areas," writes Reason's Emma Camp.
• "The Supreme Court seemed poised on Monday to limit the scope of a federal law that adds two years of prison time to sentences for a variety of felonies if the defendant engaged in identity theft in the process," writes New York Times legal reporter Adam Liptak.
• A picture has surfaced of Tennessee Gov. Bill Lee—who is set to sign an anti-drag bill—dressed in drag in high school.
• Reason Editor-at-Large Nick Gillespie talks to the authors of Superabundance: The Story of Population Growth, Innovation, and Human Flourishing on an Infinitely Bountiful Planet about why population doomsayers were wrong.