The FDA Will Let the Soy Boys Have Their Milk
Plus: Google blocks news to Canadian users in advance of pending media law, Arizona considers zoning reform bill, and more...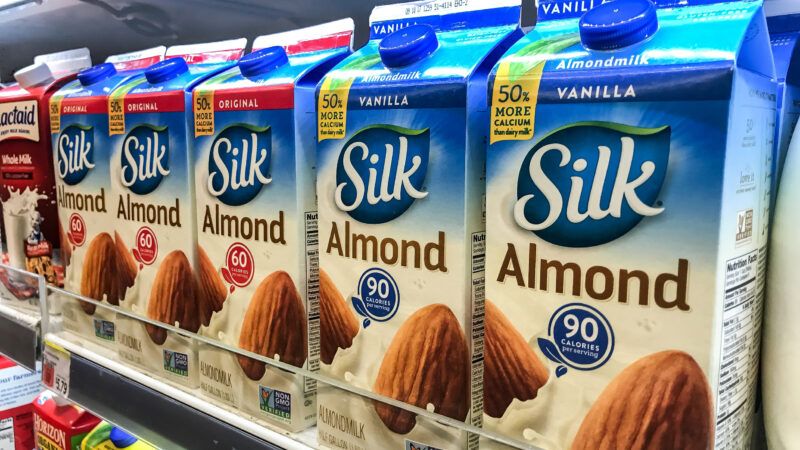 (Roman Tiraspolsky/Dreamstime.com)
The Biden administration will let the soy boys have their milk. On Wednesday, the Food and Drug Administration (FDA) released new draft regulatory guidance that would allow makers of almond, soy, pea, walnut, and more "plant-based milk alternative" (PBMA) products to keep calling their products milk.
The agency is, however, encouraging these milk alternative companies to voluntarily include information on their labels explaining the nutritional differences between their products and cow milk.
"The FDA determined that consumers generally understand that PBMA do not contain milk and choose to purchase PBMA because they are not milk," reads the FDA's draft guidance. "However, many consumers may not be aware of the nutritional differences between milk and PBMA products."
In a more normal world, one would think consumers could be trusted to understand all on their own that almond milk comes from almonds and not cows.
But as nondairy milk products have grown more and more popular, the dairy industry and elected politicians from dairy-producing states have pushed for regulations that would ensure the words almond and milk don't appear on the same label.
For a time, it seemed like the FDA might actually cow to their demands.
Back in 2018, the agency invited requests for information on how to label these products, with an eye toward cracking down on "misleading" product descriptions.
"An almond doesn't lactate," FDA Commissioner Scott Gottlieb quipped at the time.
In Congress, Sens. Tammy Baldwin (D–Wis.) and Jim Risch (R–Idaho) have pushed the DAIRY PRIDE Act to ban the use of milk, yogurt, and cheese on labels of nondairy products.
The FDA's skepticism of consumers' ability to understand the difference between dairy and nondairy milks seemingly spilled over into the Biden administration. This past summer, Wired reported that the agency appeared "poised" to issue stronger labeling rules.
Current FDA Commissioner Robert Califf said in Senate testimony last year that consumers aren't "very equipped to deal with what's the nutritional value of non-dairy milk alternatives."
Given this history, the new draft guidance released by the FDA is a lot less bad than it could have been. Soy milk can continue to be called soy milk, regardless of how much lactation went into making the product.
The dairy industry has expressed disappointment with the new guidance.
"It falls short of ending the decades-old problem of misleading plant-based labeling using dairy terminology," said the National Milk Producers Federation in a statement. "The decision to permit such beverages to continue inappropriately using dairy terminology violates FDA's own standards of identity, which clearly define dairy terms as animal-based products."
The Good Food Institute, which advocates for the whole range of alt foods, likewise expressed some disappointment. It gave a statement to NPR saying that direct nutritional comparisons to cow milk are unnecessary, given that product labels already have to list nutritional facts.
The FDA suggested that alt-milk products come with labels saying things like "contains lower amounts of Vitamin D and calcium than milk."
Defenders of oat and almond milk in Congress have noted in the past that these kinds of nutritional comparisons are not currently required of dairy milks from other animals.
"[The] FDA has not previously asked producers to disclose other wide variations in nutritional components—including among milks derived from different animals. Goat milk, for example, has less folate, zinc, riboflavin and vitamin B12 than cow milk. Buffalo milk has twice as much saturated fat as cow milk, as well as considerably more calcium," wrote Sen. Cory Booker (D–N.J.), Sen. Mike Lee (R–Utah), Rep. Julia Brownley (D–Calif.), and Rep. Nancy Mace (R–S.C.) in a 2022 letter to the Biden administration.
For now, the FDA's guidance about making nutritional comparisons on labels is voluntary.
Product label regulations might seem like a minor issue. But for companies trying to sell trepidatious consumers on innovative foods, the freedom to brand their products how they wish is crucial. Fewer people would be reaping the added utility of almond milk if regulators had insisted it be called "nut juice."
Stricter labeling rules could have ended this nascent industry. Dairy producers obviously think so. That's why they're pushing for rules that require competitors to call their products something a lot more off-putting.
The FDA's decision on nondairy milks could be a sign that it will likewise take a relatively hands-off approach to how other makers of alt foods, like plant-based burgers and cultivated meats, can label their products.
---
FREE MINDS
Google is blocking Canadian users from viewing news content in advance of a proposed law requiring tech companies to compensate media outlets for linking to their articles. This "test" of restricting content will affect 4 percent of randomly chosen Canadian Google users and will run for five weeks, according to the company.
It's being done in response to the pending Online News Act, which the Associated Press reports will "require digital giants such as Google and Meta, which owns Facebook, to negotiate deals that would compensate Canadian media companies for republishing their content on their platforms."
The bill was passed by Canada's lower house of Parliament last year and is now being considered by the country's Senate.
A similar standoff played out in Australia when that country's government forced tech companies to negotiate rates with media companies for linking to their content. Google and Meta at first blocked news links entirely but eventually caved and started signing deals with publishers.
---
FREE MARKETS
Arizona is considering a bill that would liberate developers to build more, denser housing. Working its way through the legislature right now is Senate Bill 1117, which would force cities to allow duplexes, triplexes, and smaller lot sizes. It would also allow larger multifamily buildings in commercial areas and near rail stops.
The bill managed to pass one committee thus far with bipartisan support. But it's being opposed by local governments and Democratic Gov. Katie Hobbs. Similar state-level zoning reforms have been passed in California, Oregon, and Maine.
Arizona has proven a magnet for Californians fleeing high housing costs for years now. It saw a large influx of people during the pandemic. Liberalizing restrictions on new housing would allow the state to accommodate its growing population without the price hikes that have bedeviled the more strictly regulated states its residents fled from.
---
QUICK HITS
• The Pentagon issued a memo instructing servicemembers to avoid eating poppy seed bagels and other poppy seed–containing foods as they might cause them to fail drug tests.
• Rep. Barbara Lee (D–Calif.) famously cast the one dissenting vote against the 2001 Authorization for the Use of Military Force (AUMF) that empowered the U.S. to go to war in Afghanistan (and a lot of other places, it would turn out). She's now being protested by anti-war activists for supporting continued U.S. funding of the war in Ukraine.
• The U.S. Supreme Court declines to hear a legal challenge to the National Security Agency's warrantless spying program.
• The New York Times uncovers the existence of a whole city at the southern tip of Florida.
• Conservative pundit Jesse Kelly suggests the smooth, bloodless revision of European national borders over the past 1,000 years is proof of concept for an American "national divorce."
"National divorce is such a stupid, online concept."

This is why I love history. Here's a map of Europe from the year 1000 and then one from the year 2000. The break up and realignment of nations is the entire history of the world.

"Too online". Yeah. Someone is. Read a book. pic.twitter.com/ZTlsxOqVKL

— Jesse Kelly (@JesseKellyDC) February 21, 2023
Chinese local governments are cutting health benefits to try to cope with the staggering costs of the country's "zero-COVID" policy.