Oregon Becomes First State to Ditch Single-Family Zoning
State lawmakers end the legislative sessions by passing a bill that will allow for denser housing construction across the state.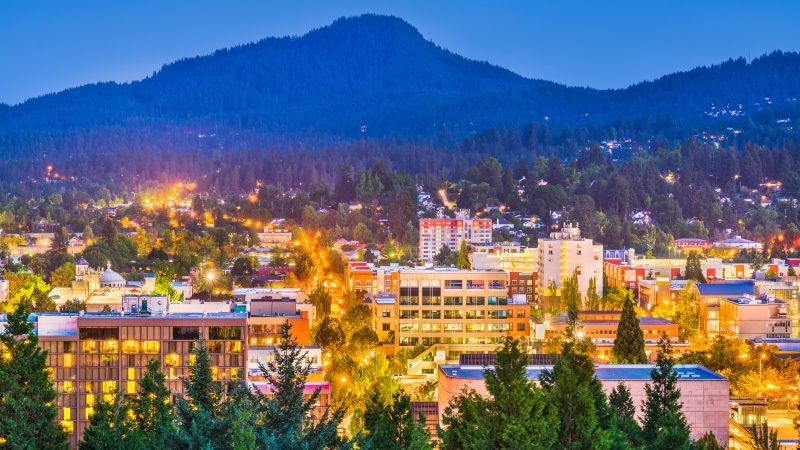 (Sean Pavone/Dreamstime.com)
The Oregon Legislature has passed a bill that largely bans single-family zoning statewide. It's a notable win for zoning reform advocates.
On Sunday, the Oregon Senate passed HB 2001 by a 17-9 vote, with Republicans and Democrats lining up on both sides of the bill. The Oregon House approved its version of the bill two weeks ago in a similarly bipartisan 43-16 vote.
HB 2001 legalizes the development of duplexes on residential land currently zoned for single-family housing in all communities with a population of 10,000 or more. The bill also allows for the construction of "missing middle" housing—a term which refers to three- and four-unit homes—on single-family-zoned land in cities of 25,000 or more.
The bill is intended to arrest mounting rents and home prices by easing restrictions on the supply of new housing.
"This bill will increase housing choice and the supply of more affordable housing in high opportunity areas in Oregon. It is another important part of addressing our housing crisis," said House Speaker Tina Kotek (D–Portland), the bill's sponsor, in written testimony.
"Statewide, we have a shortfall of over 150,000 homes, and we're currently only adding one home per three new households," wrote Madeline Kovacs of the Sightline Institute, a think tank, saying that HB 2001 would allow for more affordable housing development.
The legislation attracted opposition from the Oregon League of Cities, which worried about the loss of local control, as well as from some realtors and homeowners who expressed concern that runaway development would reduce home values and put undue strain on infrastructure and public services.
The notion that cities can tackle their affordability problems by loosening restrictions on new development is gaining currency with policymakers around the country.
In December 2018, for example, the Minneapolis City Council passed an ordinance allowing for the construction of duplexes and three-unit homes citywide. In March, Seattle upzoned 27 neighborhoods to allow for denser residential and commercial development.
At the national level, both Republicans and Democrats have proposed that federal housing grants be issued on the condition that cities and states loosen their restrictions on housing development. In late June, President Donald Trump created a new council that will look to pare back federal regulations that increase housing costs.
In other places, efforts at reform have proven more slow going. The California Legislature stalled a bill earlier this year that would have broadly legalized "missing middle" housing statewide, and would also have allowed for the construction of apartments near bus and rail lines where only single-family housing is currently permitted.
And while the HB 2001 legislation in Oregon will allow for the construction of more housing within cities, it does nothing to peel back the state's strict urban growth boundaries, which prevent residential development on the urban periphery.
A January report from the Cascade Policy Institute, a free market think tank, found that these urban growth boundaries were a major contributor to the state's housing affordability problems.
That the Oregon Legislature is removing some restrictions on the development of new housing is a win for both property rights and housing affordability. Regrettably, the bill leaves other restrictions untouched. That makes Oregon's overall attempt at housing reform a decidedly mixed bag.