FTC Investigating, but Not Thwarting, Amazon Acquisition of One Medical
Since the Federal Trade Commission didn't sue in time, the deal went through. But will FTC Chair Lina Khan keep trying to attack Amazon for its bigness?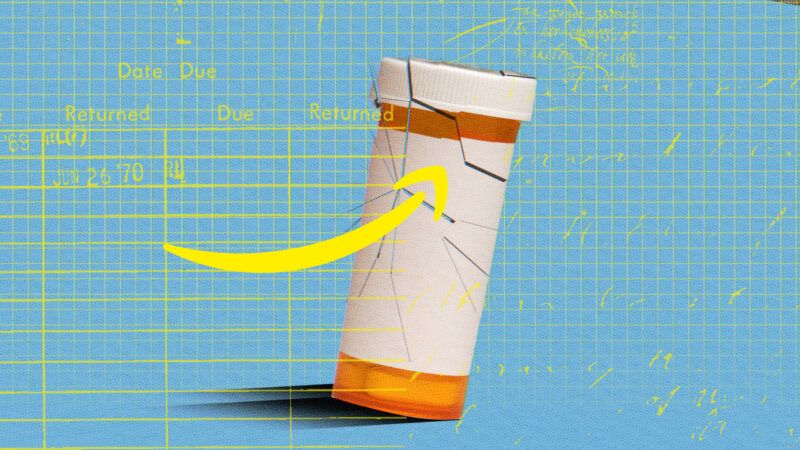 (Illustration: Lex Villena; Feverpitched )
Yesterday Amazon closed its $3.9 billion deal to acquire the parent company of concierge health care provider One Medical without being halted by the Federal Trade Commission (FTC), which failed to sue in time to block the deal. The agency says it will continue investigating the transaction.
"The commission will continue to look at possible harms to competition created by this merger as well as possible harms to consumers that may result from Amazon's control and use of sensitive consumer health information held by One Medical," said FTC spokesman Douglas Farrar earlier this week.
Though Amazon's previous forays into health care disruption have been unsuccessful—hybrid telehealth/in-person provider Amazon Care flatlined three years after starting, as did Haven, a joint venture between Amazon, JPMorgan Chase, and Berkshire Hathaway—One Medical is more tried and true, with an existing customer base of nearly 800,000. Its selling proposition is that it provides same-day and next-day appointments; in-app prescription renewals; in-app messaging with your doctor; aesthetically pleasing and centrally located offices; and appointments that actually start on time. (I used to be a customer, and can attest to the fact that appointments really did start on time, even in busy New York City.)
Last month, Amazon announced that it has ventured into providing commonly used prescription drugs—think Wellbutrin and Lipitor, but generic—with RxPass, which charges a flat rate of $5 per month for unlimited medicines (which one must have a prescription for, of course), available to Prime members and fulfilled through Amazon Pharmacy.
But the FTC "plans to issue a letter to the companies warning them that the investigation remains open despite the expiration of the statutory deadline for the antitrust review," said people familiar with the agency's decision, according to Bloomberg's Leah Nylen.
FTC Chair Lina Khan is, after all, one of Amazon's biggest critics. "The current framework in antitrust—specifically its pegging competition to 'consumer welfare,' defined as short-term price effects—is unequipped to capture the architecture of market power in the modern economy," wrote Khan back in 2017 in The Yale Law Journal. "We cannot cognize the potential harms to competition posed by Amazon's dominance if we measure competition primarily through price and output."
"Current doctrine underappreciates the risk of predatory pricing and how integration across distinct business lines may prove anticompetitive," she continued.
Though the FTC similarly chose not to block Amazon's acquisition of film production company Metro-Goldwyn-Mayer in 2022, it issued a pre-consummation warning letter, which "alert merging parties that their transactions remain under investigation," according to the agency. (Meanwhile, antitrust regulators in the European Union handily approved the deal, citing little overlap between Amazon and MGM.)
Some regulator concerns may well be fair: Will Amazon use people's private health data to target them with certain products or incorporate a customer's information in any way when giving recommendations by algorithm? But other concerns seem couched primarily in the company's sheer bigness and Khan's existing, perhaps disproportional, animus toward Amazon.
"Business experts note that by making shipping free, Prime 'successfully strips out paying for … the leading consumer burden of online shopping.' Moreover, the annual fee drives customers to increase their Amazon purchases in order to maximize the return on their investment," wrote Khan in 2017. "As a result, Amazon Prime users are both more likely to buy on its platform and less likely to shop elsewhere." Much of Khan's anti-Amazon argument seems to criticize the company for having successfully scaled (taking losses for a damn long time, in pursuit of growth), and now for having ventured into multiple industries, but she infrequently admits that the reason people use Amazon is because it's convenient and they want to, not that they were coerced into it by a nefarious Jeff Bezos.
Khan sees "antitrust as an all-purpose tool for reining in perceived corporate malfeasance and correcting marketplace outcomes" she dislikes, wrote Reason's Elizabeth Nolan Brown in 2021. Though it's good that the FTC under Khan has not halted this particular transaction, the agency's continued investigation into Amazon does not augur well for customers—particularly those who might welcome a One Medical subscription discount (which they can now get), the cheap filling of prescriptions, and medical care that's increasingly streamlined and efficient.
But fear not, just because the FTC hasn't stuck its fingers too far into this deal yet doesn't mean it's not busy: The agency is also looking into Amazon's possible acquisition of the maker of the Roomba vacuum, in an effort to protect unsuspecting consumers from those little crumb-suckers.