Zoning Crackdown Puts Animal Rescue Operation at Risk of Closing
Fairytale Farm Animal Sanctuary's work caring for abandoned and disabled animals is imperiled by a demand from the Winston-Salem city government that the nonprofit stop hosting on-site fundraisers and volunteer events.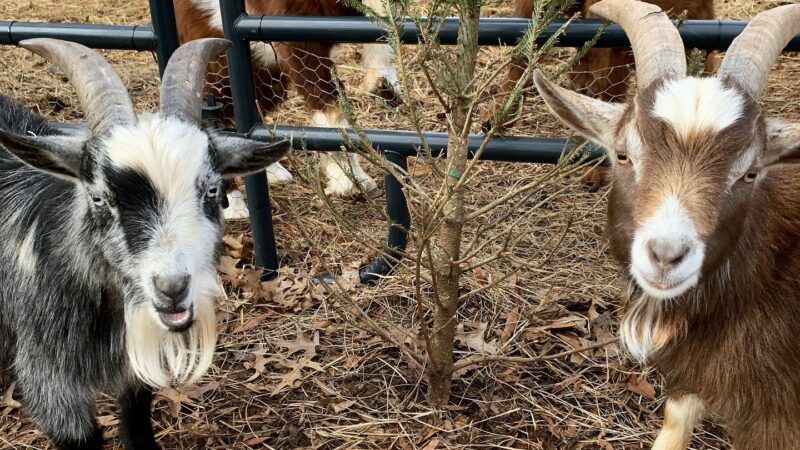 (Fairytale Farm Sanctuary/Facebook)
A North Carolina woman's animal sanctuary is at risk of shutting down after local zoning officials said she'd no longer be able to host fundraisers and volunteer events on her property.
Since mid-2021, Kimberly Dunckel has run the nonprofit Fairytale Farm Animal Sanctuary on the four-acre property in Winston-Salem where she lives with her husband and two children. The sanctuary takes in old, injured, and abandoned animals, often from nearby farms, that would otherwise be euthanized.
The sanctuary got started when a friend asked if Dunckel would take in a rabbit she couldn't take care of. Doing a little bit of research, Dunckel discovered that there weren't local operations that took in disabled or neglected animals that weren't dogs or cats.
She took in the rabbit and soon enough was accepting more animals with nowhere else to go. Today, her sanctuary cares for sheep, rabbits, two mini donkeys, ducks, a turkey, goats (four of which use wheelchairs or prosthetic limbs), and one former livestock guardian dog that had lost its hearing and its job.
The growing operation soon outstripped Dunckel and her husband's ability to fund it themselves. So they started hosting fundraising events that doubled as an opportunity for people to spend time with the animals.
These included hay rides, volunteer day trips, and even a "sleep with sheep" event where people came and camped out with the sheep.
"If you live in a more urban area, you're not typically sleeping outside with animals right by you," she says. "People see it as something different to do and something more connected to nature."
While the community took to these events, they soon proved a problem with the city government.
Problems started in November 2022 when Dunckel received a visit from animal control officers responding to an anonymous complaint. Dunckel says they found no problems at the farm and even as [asked?] her if she could take in other rescued animals they were trying to place.
But the visit from one city department kicked off another from zoning enforcement officers with Winston-Salem's Planning and Development Services Department in January. In in-person conversations and follow-up emails, department staff informed Dunckel that an animal sanctuary wasn't allowed on her residentially zoned property and its operation would have to stop.
This took Dunckel by surprise. Before purchasing the property, she had confirmed with the city that she'd be allowed to have animals there. She even registered it as a farm with the U.S. Department of Agriculture to take advantage of state laws protecting the right to farm.
The planning department's instructions that she shut down the sanctuary set off a confusing back-and-forth between Dunckel and the city. The former kept asking what she was being told she couldn't do on her property while the latter offered shifting or unclear explanations.
In a January 20 email, a code enforcement officer told Dunckel that she "would not be able to run/operate an animal rescue/sanctuary, have events such as Sip & See, offer camping/glamping, etc."
Dunckel took that to mean that she would not be allowed to even have animals on her property, period. Shortly thereafter, she started an online petition to try and save her sanctuary.
But she says that the city's story started to change as her story got picked up by the local press. "Every time there is a news interview, we learn something new," she says.
In follow-up emails sent in early February, the planning department's director, Chris Murphy, told Dunckel that she was allowed to keep animals on her property, but that the events and fundraisers would have to stop. Events tied to the animal sanctuary, he said, were considered commercial activity that wasn't allowed in a residential zone.
In those emails, Murphy concedes that the line between permissible private gatherings and events connected to the sanctuary was unclear.
"Zoning is multi-layered and nuanced yes, you can camp out on your own property. Your friends can come over and you can enjoy each other's company—have a cookout, have a bonfire, have a sleepover, have a dinner party," wrote Murphy.
But, he said, while a private sleepover was allowed, things like her "sleep with sheep" event connected to the animal sanctuary were not allowed. Murphy also warned her against trying to redefine prohibited events connected to her sanctuary to permitted, private events held for friends.
"Simply stating that 'we are going to begin having these events for our "friends"' isn't enough to overcome the fact that the events would truly be for and on the behalf of the animal rescue operation," he wrote.
Murphy said that Dunckel could apply for a rezoning of her property to a commercial zone, but that it was improbable that that request would be approved. Her area was planned residential and changing just one property to a commercial zone would likely be considered illegal "spot zoning."
Dunckel says that without the ability to do events, her animal sanctuary is financially imperiled.
Feed, hay, vet bills, animal prosthetics, and everything else Fairytale Farm's animals require are expensive. Fundraising events brought in about 90 percent of the sanctuary's revenue. Doing off-site events could make up some of the gap, but those would also be much less of a draw without the animals.
Ultimately, Dunckel says that the financial hit from losing on-site events isn't impossible to overcome. But the sanctuary is losing more than just money. A big part of their mission was hosting guests and volunteers to interact and care for the animals.
"It wasn't just an animal rescue," says Dunckel. "That was the most important part. A very close second was the human element."
She tells the story of a time the farm hosted a day visit from an organization that cared for disabled adults.
As that trip was wrapping up, Dunckel recalls that one of the visitors said his favorite part was "seeing all these animals because they're different but that they still find a way to be happy."
Losing the ability to have events and create moments like that, she says, would be a real loss.
Fairytale Farm has not been officially cited by the city yet. A code enforcement officer tells Reason the department's standard practice is to correct violations before any citations or fines are issued. But if Fairytale Farm doesn't stop doing events or continues to violate the zoning code, it could be at risk of daily fines of $100.
Dunckel says that she'll continue exploring her legal options to allow events on her property. She's also considered moving the operation to another property, but they're not in a financial position to do that at the moment.
"We're going to keep fighting the battle with the city as long as we can," she says. "We're going to keep fighting it to try and make a change."