Washington, D.C., Banned Bird E-Scooters: 'Arbitrary and Capricious,' Says Company
The company scored 445 points on the city's checklist—one fewer point than a company that did receive a permit.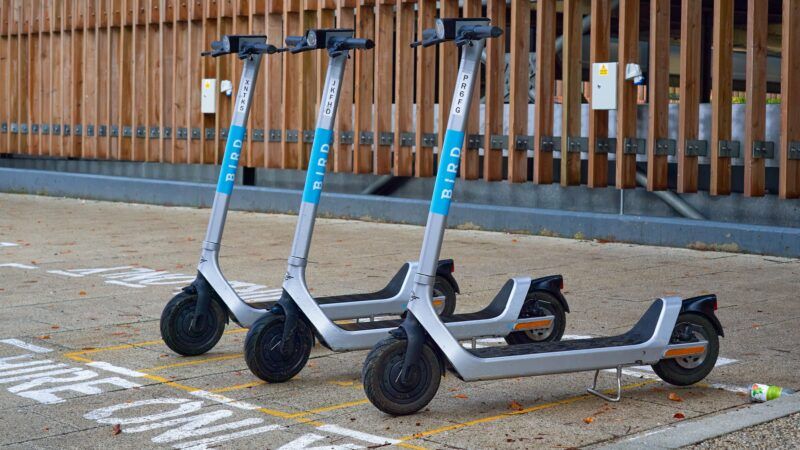 Bird is one of several electronic scooter companies operating in Washington, D.C. The e-scooters are incredibly convenient for traveling around town; millions of rides are taken each year. But as of January 1, the Bird scooters have all disappeared from city sidewalks.
The reason for this has since become clear: The District Department of Transportation (DDOT) did not renew Bird's permit to operate. The company is fighting the decision, and has filed a petition with the D.C. Superior Court.
Indeed, the city's move to block Bird scooters seems extremely erratic. The DDOT renewed the permits of three other companies—Lime, Lyft, and Spin—and issued one for a newer entrant, VeoRide. The city had previously announced plans to allow up to five e-scooter companies to operate within the city, and thus it would seem there is room for Bird, too.
City officials ranked the five companies on a variety of criteria, including sustainability, safety, and equity. Bird came in fifth place, receiving 445 total points, and was not renewed. This was just one fewer point than the fourth-place finisher, which was renewed. It's hard to understand why Bird's nearly identical score did not qualify.
Moreover, Bird claims in its petition that the officials who scored the company clearly erred, awarding the company zero points in certain categories where the lowest possible score was one.
"There is room in the regulations for five operators and we are confident that if scored accurately, our application would make Bird eligible for a permit, benefiting riders and our logistics partners in D.C.," said Maggie Hoffman, vice president of city growth and strategy at Bird, to DCist. "We're filing this complaint because DDOT's arbitrary and capricious decisions will harm District residents who rely on Bird."
Arbitrary and capricious seem like accurate descriptions of the transportation authority's behavior. I say this as a Washington, D.C., resident and a frequent rider of e-scooters. (Disclaimer: I have participated in numerous promotions to receive free rides, specifically from Bird.) The differences between Birds, Limes, Lyfts, and Spins are slight, having to do with the locking mechanisms, areas where geo-fencing kicks in, and the literal look and design of the scooters. There's clearly no justification for concluding that the Birds are a unique public menace. The city isn't even pretending there's some big difference with Bird—the company's score was just one point off.
The DDOT should do the right thing: Free Bird, right now.