Trump and His Lawyer Fined Nearly $1 Million Over 'Frivolous' Suit Against Clinton, Comey, and Democrats
Plus: Criminalizing light projections onto buildings, immaculate disinflation?, and more...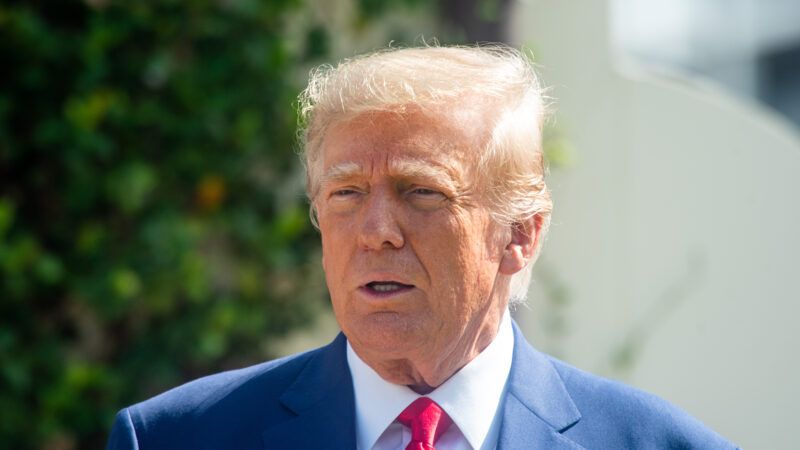 (Orit Ben-Ezzer/ZUMAPRESS/Newscom)
Former President Donald Trump and his lawyers must pay almost $1 million in sanctions after filing a "completely frivolous" lawsuit against Hillary Clinton and the Democratic Party. In a Thursday ruling, the U.S. District Court for the Southern District of Florida ordered Trump and his lead attorney, Alina Habba of Habba Madaio & Associates, to pay $937,989.39.
The ruling stems from a lawsuit filed by Trump in March 2022. Trump's suit accused Clinton, the Democratic Party, the Democratic National Committee, former FBI Director James Comey, and a number of others of a racketeering "plot" against him. Clinton and the others had "maliciously conspired to weave a false narrative that their Republican opponent, Donald J. Trump, was colluding with a hostile foreign sovereignty" during the 2016 election, it said.
"This case should never have been brought," wrote Judge Donald M. Middlebrooks in yesterday's decision. "Its inadequacy as a legal claim was evident from the start. No reasonable lawyer would have filed it. Intended for a political purpose, none of the counts of the amended complaint stated a cognizable legal claim."

He went on to call Trump's complaint "completely frivolous, both factually and legally … brought in bad faith for an improper purpose,"  "a hodgepodge of disconnected, often immaterial events, followed by an implausible conclusion," and "a deliberate attempt to harass; to tell a story without regard to facts."

"A continuing pattern of misuse of the courts by Mr. Trump and his lawyers undermines the rule of law, portrays judges as partisans, and diverts resources from those who have suffered actual legal harm," wrote Middlebrooks, who dismissed the suit last September and had already granted one motion for sanctions from a defendant in the suit. That motion, granted last November, was brought by Charles Dolan. The motion for sanctions Middlebrooks just ruled on was brought by 18 other defendants that had been named in Trump's lawsuit.
To demonstrate this "pattern of misuse of the courts," the judge referred to Trump's 2021 lawsuit against the Pulitzer Board (which called on the board to "take immediate steps to strip the New York Times and the Washington Post of the 2018 Pulitzer Prize for National Reporting"), his 2021 lawsuit against New York Attorney General Letitia James, his 2021 lawsuit against Twitter for suspending his account, and his 2020 libel suit against CNN.
The judge awarded the defendants the nearly $1 million to cover fees and costs associated with defending themselves against Trump's lawsuit. "Almost all of Defendants' attorneys seek substantially discounted rates, ranging from 28% to 66% less than the rates actually billed," he pointed out.
---
FREE MINDS
An interesting First Amendment—and property rights?—question out of Jacksonville, Florida, where people keep projecting antisemitic imagery onto buildings. The city council is now discussing making this a crime. A proposal filed by City Council President Terrance Freeman would make it unlawful to project words or images onto a property without the owner's consent, reports First Coast News.
#HAPPENINGNOW Legislation being discussed to make it unlawful to project images onto buildings w/o consent

This legislation is separate from legislation City Councilmember Cumber has a presser on @ 10

Mayor @lennycurry & @JSOPIO sheriff: "We know who these people are."@FCN2go pic.twitter.com/P6FQaaUStO

— Renata Di Gregorio (@RenataFCNews) January 19, 2023
Council Member LeAnna Cumber introduced similar legislation on Wednesday. "Property owners and the city of Jacksonville should have the right to approve what's being presented and projected on buildings," she said in a statement.
But would these measures unconstitutionally restrict free speech by banning projections onto public buildings?
"When you get to a public building, it's a lot more complicated when it comes to the First Amendment because you could argue that it's a public forum," Council Member Rory Diamond told the Jacksonville Daily Record. The Daily Record writes that "there could be a second piece of legislation in the future that could define a permitted process addressing speech projected on publicly owned properties."
---
FREE MARKETS
Immaculate disinflation? Will the U.S. come out of this inflationary period without a recession after all? Economics writer Timothy B. Lee suggests we might:
In recent weeks, the Bureau of Labor Statistics has made a series of announcements that have made me more optimistic about America's economic prospects in 2023. On January 6, the Bureau of Labor Statistics (BLS) reported that the economy added a healthy 223,000 jobs in December, while the unemployment rate declined slightly to 3.5 percent.

A week later, the BLS announced that prices actually fell slightly between November and December. The annual inflation rate for December was 6.5 percent, the lowest it's been since October 2021.

Then on Wednesday, we learned that the situation is similar for the producer price index, which measures costs faced by businesses. It fell a surprisingly large 0.5 percent between November and December, while the annual inflation rate for producers was 6.2 percent. And on Thursday, the Labor Department announced that there were 190,000 new unemployment claims filed last week—the lowest number of new claims in several months.

In short, we're seeing two salutary trends at the same time: inflation is coming down, while the job market continues to boom.
This is all much better than experts expected things to be going right now.
"It's too early for Powell to take a victory lap," writes Lee. "The inflation situation is fluid, and the inflation rate could start to creep back up in the coming months. But it now looks like there's a real possibility that the recession everyone was dreading in 2023 won't happen. We might get an 'immaculate disinflation' instead."
---
QUICK HITS
Please judge my forthcoming book by its cover, because I absolutely love it! Out this fall. pic.twitter.com/jZPeVkaWqS

— Jeff Kosseff (@jkosseff) January 18, 2023
• "A rule that Attorney General Merrick Garland issued in 2021" says if people "have been convicted of a sex offense, they must register with their state, even when the state neither requires nor allows them to do so," and must also "supply the state with all the information required by federal law, even when the state does not collect that information," notes Jacob Sullum. A federal judge has just ruled that this violates the right to due process.
• A Virginia lawmaker wants to classify fentanyl as a "weapon of terrorism."
• Utah legislators are working on legislation that would make all social media age-verify users.
• "In his first move as governor of Pennsylvania, Democrat Josh Shapiro signed an executive order abolishing four-year-degree requirements for the vast majority of state government jobs," reports National Review.
On my first full day in office, I just announced that effective immediately, 92% of state government jobs – about 65,000 positions – do not require a four-year college degree.

We're not wasting a second. pic.twitter.com/lajbkKpt07

— Gov. Josh Shapiro (@GovernorShapiro) January 18, 2023
• A Mississippi bill would "require public schools and postsecondary institutions to install video surveillance cameras all over their campuses," require the cameras to record audio, and allow parents to view live feeds of these recordings.
• A fun fact from Eric Boehm's review of a podcast about 1990s music: 2 Live Crew "dropped the epic dis track 'Fuck Martinez,' a profanity-laden anthem aimed squarely, or so it would seem, at sitting Florida Gov. Bob Martinez. But, in what Ringer podcaster and music critic Rob Harvilla calls 'the greatest legal maneuver in the history of the concept of law,' the group got a guy in Miami also named Bob Martinez to sign an affidavit claiming the song was about him."
• North Dakota is considering legislation that would criminalize "sexually explicit" material in public libraries.
• If Kamala Harris is the future of the Democratic Party, it's doomed: