Elizabeth Warren, Jamaal Bowman Want To Give Lina Khan the Power To Impose Rent Control on the Whole Country
Warren and fellow progressive Democrats have asked President Joe Biden to use the FTC, HUD, or maybe the FHFA to impose nationwide rent control.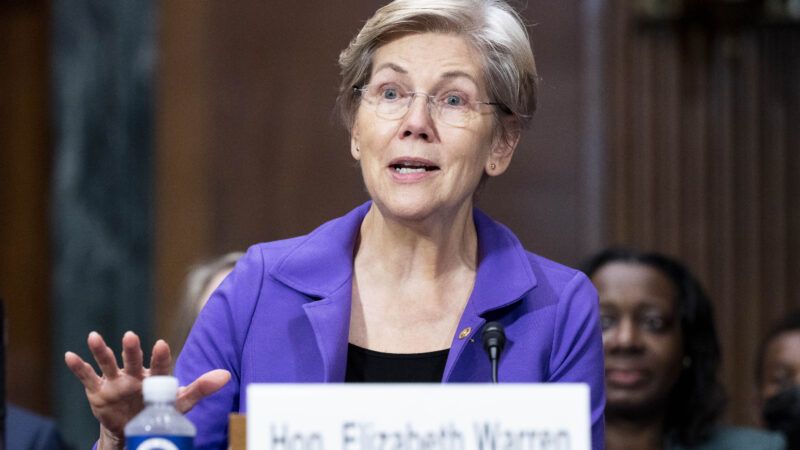 (Michael Brochstein/ZUMAPRESS/Newscom)
Progressive Democrats in Congress, led by Sen. Elizabeth Warren (D–Mass.) and Rep. Jamaal Bowman (D–N.Y.), are urging the White House to marshal all available organs of the regulatory state to impose rent control on the entire country.
A letter authored by the two, and signed by 50 members of Congress, proposes seven actions of varying radicalism and legality that President Joe Biden could take to cap rent increases.
"We urge your Administration to pursue all possible strategies to end corporate price gouging in the real estate sector," reads the January 9 letter to Biden. "Simply put, the rent is too high and millions of people across this country are struggling to stay stably housed as a result."
The pandemic saw the federal government dramatically expand its role in rental housing markets by imposing eviction moratoriums and allocating billions in funding for rent relief and housing for the homeless.
The letter from Democrats in Congress echoes demands by left-wing housing activists to retain and expand on those emergency interventions. The post-pandemic increase in rents, they argue, represents an ongoing emergency that demands a robust federal response.
In August 2022, the National Housing Law Project (NHLP) and the National Low-Income Housing Coalition (NLIHC) sent their own letter to Biden administration officials, making the case for many of the same interventions Congressional Democrats are calling for now.
Chief among them is a demand that the Federal Housing Finance Agency (FHFA), the independent regulator and conservator of Fannie Mae and Freddie Mac, impose anti-price gouging protections (aka rent control) and "just cause eviction standards" on properties with government-backed mortgages.
Where exactly the FHFA would get the legal power to impose rent control on properties with a Freddie- or Fannie-backed mortgage isn't discussed in Congressional Democrats' letter.
As precedent, the NHLP and NLIHC letter cite the FHFA's pandemic-era requirement that property owners voluntarily entering into FHFA's mortgage forbearance program not evict tenants during that time.
In that case, the eviction limits were limited to property owners voluntarily accepting a government benefit, i.e., mortgage forbearance.
Importantly, the FHFA justified its mortgage forbearance program as necessary for fulfilling its statutory mission of ensuring the financial soundness of Fannie and Freddie: it was not in the financial interest of either company to start mass foreclosure proceedings against homeowners who would likely be able to start making mortgage payments again in a few months.
In his new book Shelter From the Storm, former FHFA director Mark Calabria notes that private banks and even auto loan creditors also created voluntary mortgage forbearance programs.
The demand from Congressional Democrats today is that the FHFA enforce price controls on properties with federally backed mortgages solely as a subsidy to renters and not out of any concern for the financial health of the government-sponsored enterprises it controls. That is almost certainly outside the agency's legal powers.
Another idea floated in Congressional Democrats' letter is to direct the Federal Trade Commission (FTC) to create new regulations defining "excessive rent increases as a practice that unfairly affects commerce" and then bring enforcement actions against violators.
This demand would also require a novel reinterpretation of the FTC's existing powers. (Under its current chairwoman, Lina Khan, that wouldn't necessarily be a deterrent.)
The letter doesn't suggest what an excessive rent increase would be. State-level "anti-rent gouging" laws in California and Oregon limit rent increases to 5 percent and 7 percent, respectively, plus inflation. California's law puts a maximum 10 percent cap on rent increases, even when factoring for inflation. Older rent stabilization laws typically limit rent increases to 2 or 3 percent a year.
Imposing a similar standard on the whole nation would produce some strange results indeed, given huge regional variations in rental prices.
A landlord in an expensive city—where supply restrictions make the rental housing markets the least competitive—could raise rents by hundreds of dollars a year without issue. Meanwhile, a landlord in a part of the country where the ease of new construction keeps rents relatively cheap could get hit with a federal enforcement action for raising the rent by $50.
California and Oregon's laws exempt new construction from their rent controls so as not to deter new housing supply. Could the FTC do the same?
Suppose the commission is defining rent increases over a certain percentage as unfair. In that case, it's not clear what standard you could adopt that would exempt rent increases at newer properties from somehow being fairer.
And if there is no new construction exemption, we can expect a massive drop in the construction of new rental housing like what happened in St. Paul. In 2021, St. Paul voters passed a rent control initiative that didn't exempt new buildings, and developers predictably fled the town.
While this objection might sound quaint given the past 100 or so years of federal regulatory expansion, it's worth asking what about Congress' powers to regulate interstate commerce gives it the ability to regulate intrastate contracts between landlords and tenants.
"Real estate is inherently local. Residential buildings do not move across state lines," wrote Judge J. Campbell Barker for the U.S. District Court for the Eastern District of Texas when declaring the Center for Disease Control and Prevention's (CDC) eviction moratorium unconstitutional.
Congressional Democrats' letter also proposes having the U.S. Department of Housing and Urban Development (HUD) tell recipients of federal housing grants that adopting rent control is an important part of fulfilling their fair housing obligations.
This, too, would be a novel, sweeping reinterpretation of HUD's existing obligation to administer federal housing programs in a way that "affirmatively furthers fair housing." If adopted, the federal government would effectively say that allowing landlords to charge the market rate on their units is an inherently discriminatory practice.
Fortunately, even if HUD did adopt this suggestion, it would be relatively toothless. Congressional Democrats only call for it to be applied to "entitlement jurisdictions," which, as the name suggests, are entitled to federal housing funds. Depriving them of those funds would likely require an act of Congress. HUD's leverage to force them to adopt rent control is pretty limited.
Less radical proposals in the letter include demands that HUD, the Justice Department, and the Consumer Finance Protection Bureau investigate unlawful discrimination by "corporate landlords," that states use COVID relief money to extend emergency rent relief programs and build affordable housing, that FEMA use resources to move the homeless into permanent housing, and the establishment of a federal interagency council for tenants' rights.
Congressional Democrats' demands to impose rent control via HUD, FHFA, and the FTC aren't particularly realistic. Their letter is a wish list, yet it's still cause for concern. It shows how the legacy of the pandemic state has created a blueprint for a radical expansion of the federal government's role in regulating rental housing.
During COVID-19, the language of emergency was frequently invoked to justify novel interventions by the federal government into areas long the purview of state and local governments or no government.
The most obvious example of this was the CDC's eviction moratorium. And while that was eventually struck down by the Supreme Court, it looms large in the imaginations of left-wing lawmakers.
Their letter shows they've thought long and hard about which federal agencies' mission could be conceivably stretched to include "impose nationwide rent control."
It's probably not something the Biden Administration will go for now. Bloomberg reports today that the administration is considering announcing a much more modest set of tenant protections within the next month. But given a new crisis (or just a few more years of record rent hikes) and a more activist administration, today's wishcasting about federal rent control powers could become a reality.