Biden's Protectionist Regulations Undermine His Own Infrastructure Plans
The White House is making it harder for people to request waivers from cost-increasing Buy America requirements in the $1.2 trillion infrastructure law.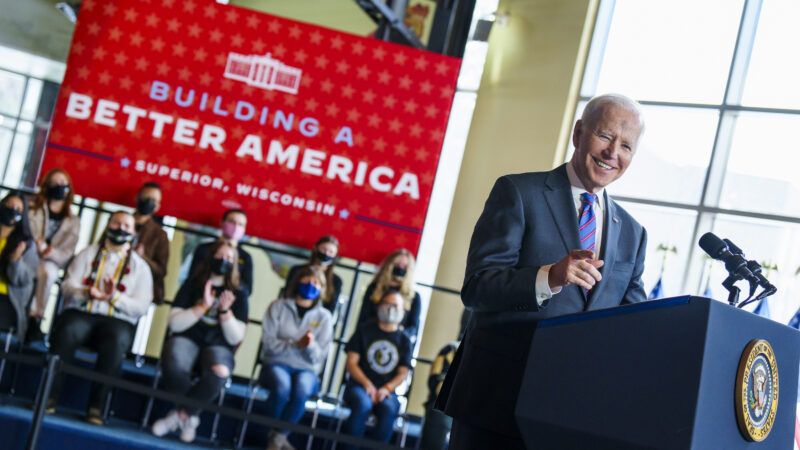 (White House/ZUMA Press/Newscom)
The $1.2 trillion infrastructure law signed by President Joe Biden in November expanded requirements that federally funded infrastructure projects purchase American-made goods and materials. Now, new rules from the administration will make it harder to get waivers from those cost-increasing mandates.
For decades, Buy America laws required that grantees receiving federal funds to build roads, bridges, and rail lines purchase domestically produced steel, iron, and manufactured goods—including rolling stock like buses and trains. The Infrastructure Investment and Jobs Act (IIJA) expanded those Buy America requirements to cover copper wiring, plastics, polymers, drywall, and lumber.
These requirements are known to raise costs and can even make some projects totally infeasible. For that reason, grantees have been allowed to request waivers from Buy America laws when they prove unworkable or raise costs too much.
But on Monday, the White House's Office of Management and Budget (OMB) issued guidance intended to narrow the use of those waivers for the Buy America provisions of the IIJA.
Typically, requests for those waivers are approved or denied by the federal agencies that provide a project's funding. Monday's guidance, in keeping with an earlier White House executive order, requires these agencies to consult with OMB's Made in America Office when considering waivers for grant awards made with IIJA funds. It also gives OMB's Made in America Office final say over whether these waivers are approved.
The explicit purpose of sending these waivers through OMB is to limit the number and extent of waivers granted. "The purpose of the consultation is to identify any opportunities to structure the waiver in order to maximize the use of goods, products, and materials produced in the United States to the greatest extent possible consistent with law," reads Monday's guidance.
The requirement has angered federal contractors, who argue it will only add more bureaucratic roadblocks to finishing infrastructure projects.
"This is like asking the U.S. Department of Education to verify every child's permission slip to miss a day of school," said Stephen Sandherr, CEO of the Associated General Contractors of America yesterday. "Firms will have to spend more time waiting for federal officials to decide whether a project is in compliance with the administration's latest layer of red tape."
Sandherr complains that these requirements are particularly inappropriate at a time when material costs are rising across the board.
Back in December, a Congressional Research Service (CRS) report flagged the expansion of Buy America provisions in IIJA as potentially at odds with other provisions of the law that make new funding available to jurisdictions like counties and municipal bus services. These smaller locales and agencies might lack the experience or staff needed to comply with complicated Buy America laws, the CRS report said. They will also likely have the most trouble navigating a new, more complicated waiver application process.
Making waivers for Buy America provisions harder to obtain reveals the contradictory aims of Biden's infrastructure policy. The president wants to make "historic" investments in infrastructure, but he's also deeply committed to regulations that ensure those investments will buy as little infrastructure as possible.
For instance, the IIJA increases spending on public transportation by some $50 billion over 5 years, a roughly 80 percent increase. Some U.S. transit agencies pay as much as a 70 percent premium on new rail cars compared to their European counterparts, according to transit cost researcher Alon Levy. The domestically manufactured cars they end up with are technologically inferior, says Levy. Getting rid of Buy America requirements for new rail cars and just letting transit agencies import modular products from Europe, as Levy suggests, would seemingly benefit transit agencies almost as much as all that new spending.
One could make a similar argument for the IIJA's stepped-up spending on roads, bridges, and other infrastructure projects, the costs and delivery times of which are increased by Buy America requirements.
Instead, the Biden administration has decided to get less bang for more buck. The new guidance it issued this week only doubles down on that approach.