71-Year-Old Pickleball Enthusiast Armed With Sharpie Arrested for Felony Criminal Mischief
Arslan Guney spent 10 hours in jail for making a few marks on a gym floor. He could still get three years in prison.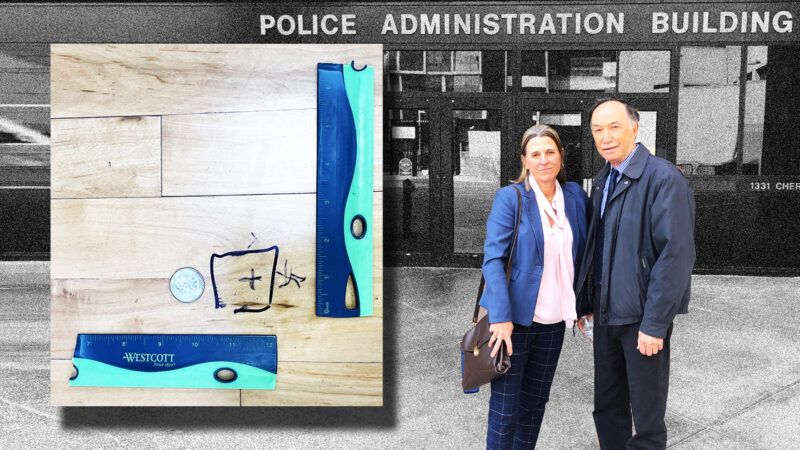 ((Source: Hollynd Hoskins/Illustration by Lex Villena.))
Arslan Guney worked as an engineer for Vlasic Pickles. In retirement, he became an avid pickleball enthusiast. Now, the 71-year-old Denver man finds himself in a legal pickle.
On Thursday, Guney was arrested for felony criminal mischief for allegedly defacing a gym floor at one of the city's Department of Parks and Recreation facilities. If convicted, he could face up to three years in prison. The Denver Parks Department has also banned Guney from its facilities and is demanding that he pay close to $10,000 to cover the costs of his vandalism.
The vandalism in question? Guney had used a permanent marker to draw small squares around preexisting black "x" marks made by a Parks Department employee to mark out a pickleball course.
"It's a horrible misunderstanding. He immediately apologized. He immediately wanted to sit down and resolve this issue," says Hollynd Hoskins, the Denver attorney and former public defender, representing Guney. "Why are you going to arrest this gentleman and put him in jail?"
People have long been playing pickleball—a kind of oversized table tennis game similar to tennis or badminton—at Denver's Central Park Recreation Center.
The center's multiuse gym floor had permanent lines for basketball and volleyball. But not pickleball. Instead, the center provided players with floppy, removable yellow markers that could be used to stake out a temporary pickleball court.
This was hardly ideal. Setting up the yellow markers was time-consuming, and they didn't do a great job of marking off a court. Some of the players also complained that the movable markers were a tripping hazard.
To make the setup easier, a Parks Department employee added black 'x' marks on the floor of the gym in the fall of 2021. But avid players were still eager for their own permanent markings.
At the beginning of 2022, they recruited Guney—affectionately known as the "mayor of pickleball" because of his enthusiasm for the game—to negotiate with the Parks Department.
Earlier this month, Guney and the Parks Department had a meeting where department staff said they'd work on expanding the number of hours that the Central Park gym could be used for pickleball and consider making permanent markings. They also told Guney to come up with a diagram for precisely where temporary markings should go, so that gym staff could more quickly get the court set up.
Guney agreed. After regularly scheduled pickleball play the following Monday, he surveyed the court in preparation for making his diagram. Noticing that some of the pre-existing 'x' marks on the gym floor were in the wrong spot, Guney borrowed a marker from recreation center staff and drew black squares around the correctly positioned 'x's.
"He doesn't think anything of it. He thinks he's doing the right thing," says Hoskins.
That's not how the Parks Department saw it. When people showed up to play the next day, they were greeted with a sign saying that pickleball had been canceled.
Later that night, Guney received an email from the Parks Department saying that because of markings he made on the gym floor—which they said couldn't be removed without damaging the floor's finish—he was no longer allowed to use department-run recreation facilities or participate in recreation programs.
Things only got worse from there. On Wednesday, he received a call from a detective with the Denver Police Department telling him that the Parks Department had filed a criminal complaint for felony criminal mischief and that they were going to issue an arrest warrant.
Guney, shocked and horrified, tried to contact the Parks Department to sort things out. He was met with silence.
At this point, people started contacting Hoskins—an avid pickleball player herself—to see if she could help Guney. Hoskins says she visited the Central Park rec center to examine the markings for herself, and didn't even notice them at first. People using the court for a basketball game told her that they weren't bothered by them.
Assuming there had been some big misunderstanding, Hoskins agreed to represent Guney pro bono. Immediately, she set about trying to get a meeting with the Parks Department to sort everything out. But the department didn't budge. They said that they wanted Guney arrested and were set on pursuing felony criminal charges.
The Parks Department proving implacable, Guney handed himself over to police on Thursday. "He had to turn himself in, be booked, arrested, with a mugshot, finger prints," says Hoskins.
Hoskins worked overtime to get her client a hearing where he was finally was given a $5,000 personal recognizance bond that allowed him to go home. He ended up spending 10 hours in jail.
Hoskins argues that the charges brought against Guney are totally inappropriate. "Criminal mischief requires criminal intent. You have to knowingly damage property," she says. Hoskins also says that Guney is willing to cover the costs of removing the markings he made, but that the $10,000 in damages is a wild overestimate.
The Parks Department did not return Reason's request for comment. In a statement to The Washington Post, a department spokesperson said "defacing or damaging public property is unacceptable, a criminal offense, and will not be tolerated in any of our public buildings or spaces."
No charges have been filed against Guney. Hoskins says the Denver District Attorney's Office should make a decision on whether to pursue charges against Guney either today or tomorrow.