U.S. Plans To Welcome 100,000 Fleeing Ukrainians
Officials must ensure that America's lethargic refugee processing and lengthy family-based visa backlogs can effectively handle the people they seek to help.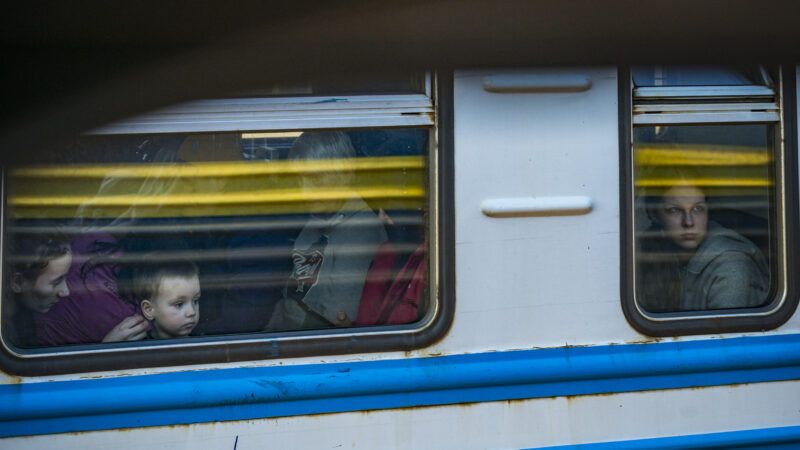 (Celestino Arce Lavin/ZUMAPRESS/Newscom)
The United States plans to accept up to 100,000 Ukrainians fleeing their war-torn country, the Biden administration announced today. The Russian invasion has forced some 10 million civilians to leave their homes, and around 3.5 million have settled in other countries just one month into the conflict.
Biden officials had previously indicated that the administration would accept fleeing Ukrainians, though it has been unclear which immigration pathways it would utilize. "To meet this commitment, we are considering the full range of legal pathways to the United States," said an administration official.
Not all Ukrainians accepted to the U.S. will technically be refugees. Under U.S. immigration law, refugees are a class of migrants who must apply from outside the U.S. and demonstrate persecution or fear of persecution based on one of several criteria. Refugees may also file for permanent residency one year after their arrival in the U.S. Administration officials have indicated that they would use the U.S. Refugee Admissions Program to accept Ukrainians, but precise details on that plan are unclear as of now.
Temporary pathways and family-based visas will bolster refugee admissions. Reuters reported on Tuesday that new immigration efforts would "speed up visa processing for relatives of U.S. citizens and permanent residents and detail more staff to handle applications for a temporary status known as 'humanitarian parole.'"
This announcement follows a series of modest measures the Biden administration has put in place to protect Ukrainians. The Department of Homeland Security designated Ukraine for temporary protected status in early March, preventing the deportation of Ukrainian nationals to Ukraine and allowing them to obtain employment authorization for the next 18 months. U.S. Immigration and Customs Enforcement also suspended deportation flights to Ukraine, Russia, and seven other nations in the region.
"By opening our country to these individuals, we will help relieve some of the pressure on the European host countries that are currently shouldering so much of the responsibility," said a Biden official. Now, the Biden administration will need to ensure that America's lethargic refugee processing and lengthy family-based visa application backlogs can effectively handle the people it seeks to help.