Two Republican Governors Veto Bans on Trans Athletes Competing Against Girls
Both argue that the bills open the state up to costly lawsuits for very little, if any, gain.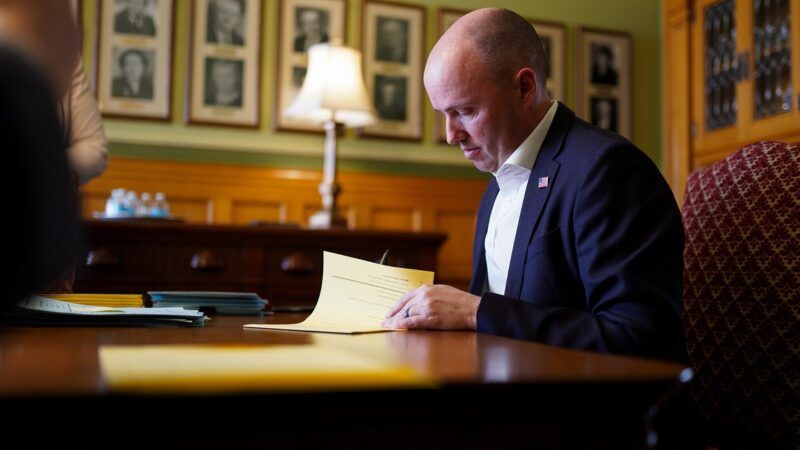 Two Republican governors have vetoed bills in Utah and Indiana that seek to ban trans teens from competing in school sports on girls' teams.
On Monday, Indiana Gov. Eric Holcomb vetoed House bill HEA 1041, which not only would have banned trans females from competing on girls teams, but also required schools (including some private schools) and athletic organizations to establish grievance procedures for people to complain, and established an authority for people to sue in civil court for alleged violations. The law included no similar ban on trans males who wished to compete with males or with females.
The vagueness of this enforcement is in part what prompted Holcomb's veto. In his veto letter he wrote, "[S]tudent-athletes could be treated differently according to which school they attend and compete for. Frustration of students, parents and administrators will likely follow. This of course only increases the likelihood of litigation against our schools with the courts having to adjudicate the uncertainty."
And all those risks are in the service of attempting to fight something that isn't happening in Indiana. Holcomb writes, "[The bill] implies that the goals of consistency and fairness in competitive female sports are not currently being met. After thorough review, I find no evidence to support either claim even if I support the overall goal."
In Utah, Gov. Spencer Cox's veto of H.B. 11 is a more complicated affair. H.B. 11 originally was not a ban on trans students competing in girls' sports at all. Instead, H.B. 11 sought to establish an eligibility commission to evaluate trans girls and determine whether they could compete based on the extent of their treatment. The goal was to make sure that any trans student who wanted to compete in girls' sports was actually committed and receiving treatments that suppressed the biological advantages of being born male. The commission would have had the authority to block individual athletes who still clearly had advantages of male biology. The bill was developed through a complex negotiation process over time with the participation of LGBT advocates. And Utah's current policy for trans students already requires a full year of transitional hormone therapy before they're allowed to compete against other girls.
But in the final hours of the legislative session, Utah state Sen. Daniel McCay (R–Riverton) introduced an amendment that changed the bill and transformed it to a full ban on trans girls competing with other girls. Furthermore, the amendment also struck down parts of H.B. 11 that provided indemnity to schools and athletic organizations from costs of lawsuits that could result from the enforcement of the bill. Under this amended H.B. 11, schools and the state's athletic associations (including the Utah High School Athletic Association, a private organization) would be obligated to enforce the law, but would not be protected from the costs of any lawsuits that resulted from its implementation.
In a lengthy letter released Tuesday night, Cox explained that part of the reason for his veto was because the amended version of the bill could expose schools and the athletic association to debilitating (or even bankrupting) lawsuits.
"[W]hy would we risk significant legal exposure for some of our poorest schools with no financial support when other states are already funding identical legal defenses across the country?" Cox writes. "If the state insists on a policy that encourages significant litigation, I believe the state should pay for the litigation."
And all of this, Cox details, is in the service of stopping exactly one trans girl from competing in sports in that state. He notes in the end of his veto letter that there are 75,000 student athletes in Utah, only four of which are trans, and only one of which is female (the bill does not care about trans students competing in boys' sports). All this culture war fighting is over what is currently a single girl competing.
But as Cox notes, this is not without potential massive financial costs—and those costs will fall upon the taxpayers. There is a certain fiscal conservatism in the decisions by both Cox and Holcomb to veto these bills. They are civil lawsuit factories, and it's becoming increasingly clear it's not an accident, given the amendment to H.B. 11 that deliberately removed the legal protections.
Both vetoes seem likely to be overridden. In Indiana, lawmakers need only a simple majority to override the veto. In Utah, some lawmakers are saying that they want to keep H.B. 11 because they believe the total ban will be struck down by the courts, but the commission—the part that was hammered out by compromise—could remain intact.
Utah's compromise (assuming the ban is indeed tossed out by courts) is about as smart a way of dealing with the complex challenges coming from trans participation in sports as we're likely to get. It doesn't make assumptions that a trans athlete has advantages over other girls, but it also doesn't dismiss the possibility, and creates a system to evaluate each trans athlete.