The Right and the Wrong Way To Address High Gas Prices
Plus: Jehovah's Witnesses abuse copyright process, millions more ditch cable, Russia bans Facebook, and more...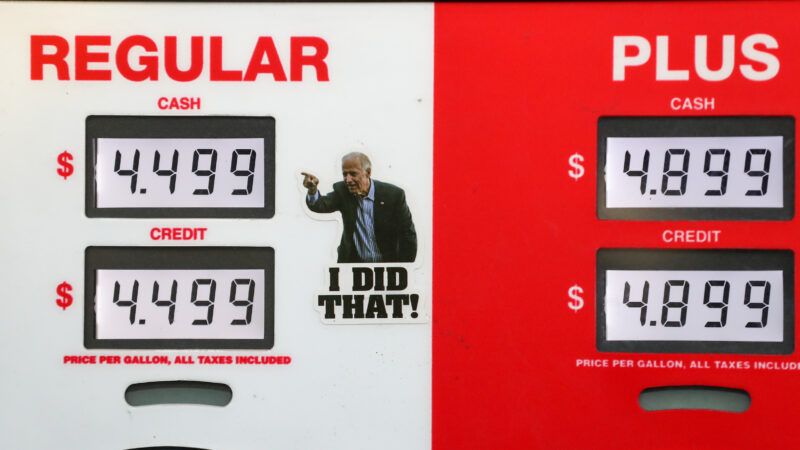 (Paul Weaver/ZUMAPRESS/Newscom)
With fuel costs near record highs, politicians are keen to help Americans save some money when filling up their fuel tanks. Two states provide a good model for how to do this…while the Biden administration and California consider going the wrong way.
In Maryland and Georgia, governments will temporarily forgo their cut of gas sales so that people can pay less when filling up their tanks.
Georgia Gov. Brian Kemp, a Republican, has signed a bill to pause the state's gasoline tax, which is $0.29 cents per gallon, and its diesel fuel tax, which is almost $0.33 cents per gallon, through May. And Maryland Gov. Larry Hogan, also a Republican, has approved a suspension of his state's gas and diesel fuel taxes—$0.36 cents per gallon and nearly $0.37 cents per gallon respectively—for the next 30 days.
They aren't the only two states considering a consumer break on gas taxes, either. "Lawmakers in Illinois, Massachusetts, Maine, Michigan, Minnesota, New York and Tennessee are also weighing whether to suspend their state taxes on gasoline," the Wall Street Journal reports. "Connecticut Gov. Ned Lamont, a Democrat, and legislative leaders have also reached an agreement to pause state collections on gasoline taxes through the end of June."
"And at the federal level, some members of Congress are calling on the Biden administration to suspend federal taxes on fuel," notes the Journal.
This is arguably the good side of government action to reduce fuel prices—saving consumers money by temporarily forgoing taking some of their money.
Gas taxes are relatively targeted at transportation and road-related spending, however, so decreasing that tax revenue without decreasing spending just means making up for it somewhere else. Drivers may save a little at the pump, but end up having to pay higher taxes later to close the deficit created by these tax holidays.
There's also something inherently gimmicky about temporarily suspending gas taxes in response to political pressure. (And it's a bit ironic that Democrats want to reduce gas prices now after arguing for years that higher gas prices were good for environmental reasons.) But saving consumers money by temporarily forgoing taking some of their money is arguably a better plan than simply handing out cash in hopes of stopping inflation.
Which bring us to the flip side, with some officials wanting to save consumers money by subsidizing gas purchases. The Biden administration briefly considered sending gas cards to people, though ultimately decided it was not a good idea.
Some have complained that suspending fuel taxes is too little help. But a break of some $0.30 per gallon—or more if the feds suspend gas taxes, too—adds up. It also tailors the price break toward the amount of gas purchased, instead of assuming everyone has the same fuel needs. It might not be a major break, or help drive gas prices down across the board, but it has the big advantage of being less likely to drive up gas prices even further.
But handing out government money to thwart high gas prices is like—pardon the pun—pouring gasoline on a fire. More government spending means more inflation. More consumers getting "free gas" means more gas purchases and, again, more inflation. Besides, the plan would be hard to target toward people who really need the help and not all sorts of people who can afford the higher prices and/or don't buy much or any gas. And it would be hard to prevent fraud.
The good news is that House Democrats "vehemently opposed" the gas card idea, according to Axios:
A House Democratic counsel on Wednesday laid out for the White House a list of reasons why gas cards would be a bad idea, including:

It would be expensive and poorly targeted.
It could worsen inflation and wouldn't do much to lower costs.
Delivering the cards would be a slow process that could bog down the IRS in the middle of the filing season, potentially delaying people's tax returns.
California, however, is still considering a $400 gas rebate which would functionally be like a "free gas" card, since it would go to anyone in the state who pays income taxes.
---
FREE MINDS
Jehovah's Witnesses are becoming copyright trolls:

We all owe the Jehovah's Witnesses a huge debt of gratitude for the First Amendment rights they've helped establish at the Supreme Court, though this turn is unfortunate for a number of reasons (via @mmasnick)https://t.co/w42Z7xyIkb pic.twitter.com/G5uV33WjD2

— Peter Bonilla (@pebonilla) March 21, 2022
---
FREE MARKETS
A triumph for consumer choice. If a pandemic can't stop "cord cutting," can anything? Cable TV companies lost more than 4.6 million subscribers in 2021. According to data from Leichtman Research Group, "the largest pay-TV providers in the U.S.—representing about 93% of the market—lost about 4,690,000 net video subscribers in 2021, compared to a pro forma net loss of about 4,870,000 in 2020."
"While the pay-TV industry continued to lose subscribers, net losses in 2021 were fairly similar to those in recent years," Bruce Leichtman, president and principal analyst for Leichtman Research Group, said in a statement. In 2019, cable subscriptions decreased by about 4.1 million.
Meanwhile, Hulu and Live TV gained 300,000 subscribers, Sling TV gained 12,000 subscribers, and fuboTV gained 581,927 subscribers. Leichtman did not provide statistics on streaming services like Netflix, Disney+, Amazon Prime, or Hulu without Live TV.
---
FOLLOWUP
Russia bans Facebook and Instagram after Meta announcement on violence against Russians. Facebook's parent company Meta announced earlier this month that it would allow some calls for violence against Russian soldiers invading Ukraine. In response, Russia has now banned Facebook and Instagram, citing laws against extremism. "Meta will now be prohibited from opening branches in Russia and from doing business in Russia," reports NBC News. "The order follows Russia's announcement March 4 that it would block access to Facebook and Twitter after Meta banned several state media accounts."
---
QUICK HITS
• Police aren't submitting crime data to the FBI:
The FBI reported today that they will not be releasing quarterly crime estimates for any quarter of 2021 because not enough agencies reported data to the FBI. pic.twitter.com/gzYTB34r5A

— Jeff Asher (@Crimealytics) March 21, 2022
• "The Supreme Court says it won't review the case of a Seattle-based Christian organization that was sued after declining to hire a bisexual lawyer who applied for a job," notes the Associated Press. "A lower court let the case go forward, and the high court said Monday it wouldn't intervene."
• "Anti-abortion states have a decision to make: If they want to strongly enforce criminal abortion bans, they will probably have to go after women," writes Mary Ziegler at The New York Times. "Missouri's recent bills suggest which way that decision will go."
• A new rule related to business emissions expands the Securities and Exchange Commission's role and "could transform the SEC into one of the nation's leading enforcers of climate-related disclosures."
• "The second trial stemming from the Jan. 6, 2021, attack on the Capitol shaped up Monday to be a lot less of a slam dunk for the Justice Department than the first," reports Politico.
• Schools in Minneapolis have been closed for 10 days due to a teachers strike.
• Abortion rights groups are trying a new tactic to challenge Texas' anti-abortion law.
• Indiana Gov. Eric Holcomb, a Republican, vetoed a bill that would have banned transgender girls from competing with girls sports teams at schools.
• Virginia has banned modifying cars so that the front bumper is higher than the rear.
• Some Chicago schools are reimposing mask mandates.
• Justin Amash on Ketanji Brown Jackson:
Happy to see President Biden nominate someone to the Supreme Court who holds more than a few truly liberal views. Compare Ketanji Brown Jackson, a public defender who fought the government, to the last Democratic nominee, Merrick Garland, a stalwart defender of government abuses.

— Justin Amash (@justinamash) March 21, 2022
• More on time-change proposals:
"If 7 am sunrises and 6 pm sunsets are reasonable — and if the time of sunrise matters significantly more, as sleep experts say — then…instituting permanent standard time is optimal for almost all cities" https://t.co/DWQDA5gGzU pic.twitter.com/0uQlEORQUc

— Scott Lincicome (@scottlincicome) March 21, 2022