30 Percent of Americans Still Oppose Same-Sex Marriage 
Plus: Research says neuroscience studies are largely unreliable, Elizabeth Warren's new antitrust bill, and more...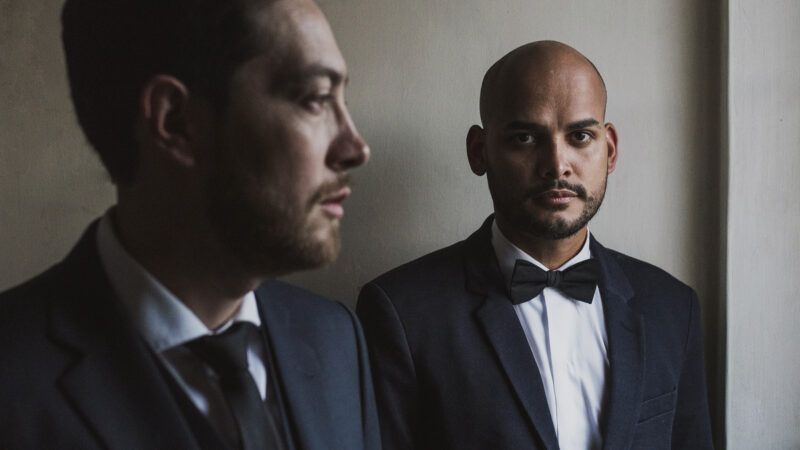 (Daniel Sierralta Westend61/Newscom)
Support lower among Republicans, black Americans, white evangelicals. After dominating the culture war and state legal battles throughout the aughts and the early 2010s, the issue of same-sex marriage's legality was suddenly put to rest by the Supreme Court in 2015. No longer a politically useful rallying point, it quickly faded from mainstream public view. So it's easy to imagine that beyond some hyper-religious communities, Americans today don't have a problem with same-sex marriage. But a new survey from the Public Religion Research Institute (PRRI) is a sobering reminder that's not so.
Some 30 percent of people surveyed by PRRI still think that gay and lesbian couples shouldn't be allowed to marry. Among Republicans only, this figure jumps to 50 percent. Yikes.
The good news is that 68 percent of those surveyed support same-sex marriage, and this figure has been steadily and quickly rising. In 2014, only 54 percent supported the right of same-sex couples to legally marry. This jumped to 58 percent in 2016, 61 percent in 2017, and 67 percent in 2020. Support among Republicans is up from 35 percent in 2014.
Support among older Americans has also grown, with almost 60 percent of those 65 and up saying same-sex marriage should be legal. Among those aged 50–64, support was at 64 percent, jumping to 72 percent for those aged 30–49 and 76 percent for those aged 18–29.
The figures come from the PRRI's American Values Atlas, a series of annual surveys on public attitudes. The 2021 sample included a total of 22,612 adults.
"Majorities of Americans of almost every major racial and ethnic group support same-sex marriage," notes the PRRI.
Support was lowest among black Americans (59 percent). Sixty-nine percent of white Americans support same-sex marriage.

Majorities of many major religious groups are also supportive. This includes Jewish Americans (83 percent), white Catholics (74 percent) and Catholics of color (80 percent), white mainline Protestants (76 percent), black Protestants (55 percent), Orthodox Christians (58 percent), Hindus (86 percent), Buddhists (81 percent), and Muslims (55 percent).
The only major religious groups without majority support were Latter-day Saints (46 percent), white evangelical Protestants (35 percent), and Jehovah's Witnesses (22 percent).
The PRRI survey also includes findings on anti-discrimination laws pertaining to sexuality and gender and religiously based service refusals. You can find the full results here.
Survey respondents were more likely to support nondiscrimination laws than to support same-sex marriage:
Nearly eight in ten Americans (79%) favor laws that would protect gay, lesbian, bisexual, and transgender people against discrimination in jobs, public accommodations, and housing, including 41% who strongly support them. One in five Americans (20%) oppose such laws, including just seven percent who strongly oppose them. Support for these protections has increased over the past few years, with around seven in ten Americans favoring nondiscrimination provisions in 2015 (71%), 2017 (70%), 2018 (69%), and 2019 (72%), up to 76% in 2020.
Nearly two-thirds opposed "religiously based refusals to serve gay and lesbian people." The survey did not drill deeper to see if this changed when a refusal was related to a same-sex marriage ceremony (as the cases that have been challenged in court have been) as opposed to just outright refusing to serve LGBTQ customers.
---
FREE MINDS
Neuroscience studies are largely unreliable, according to new research. "The results of most studies are unreliable because they involved too few participants," reports the Washington University School of Medicine in St. Louis, citing new research published on March 16 in the journal Nature.
Using publicly available data sets – involving a total of nearly 50,000 participants – the researchers analyzed a range of sample sizes and found that brainwide association studies need thousands of individuals to achieve higher reproducibility. Typical brainwide association studies enroll just a couple dozen people.

Such so-called underpowered studies are susceptible to uncovering strong but spurious associations by chance while missing real but weaker associations. Routinely underpowered brainwide association studies result in a glut of astonishingly strong yet irreproducible findings that slow progress toward understanding how the brain works, the researchers said.
The study was spurred by two researchers who couldn't replicate their own relatively large (1,000 kids) study. The median sample size in published neuroscience papers is 25.
"We were interested in finding out how cognitive ability is represented in the brain," said Scott Marek, a psychiatry instructor at Washington University. "We ran our analysis on a sample of 1,000 kids and found a significant correlation and were like, 'Great!' But then we thought, 'Can we reproduce this in another thousand kids?' And it turned out we couldn't. It just blew me away because a sample of a thousand should have been plenty big enough. We were scratching our heads, wondering what was going on."
So Marek and a team of other researchers from Washington University and the Masonic Institute for the Developing Brain at the University of Minnesota started looking at neuroimaging datasets and attempting to replicate results.
"Our findings reflect a systemic, structural problem with studies that are designed to find correlations between two complex things, such as the brain and behavior," said senior author Nico Dosenbach, an associate professor of neurology at Washington University. "It's not a problem with any individual researcher or study. It's not even unique to neuroimaging. The field of genomics discovered a similar problem about a decade ago with genomic data and took steps to address it."
---
FREE MARKETS
Democrats seek greater powers for antitrust enforcers and an end to the consumer welfare standard. New legislation from Sen. Elizabeth Warren (D–Mass.) and Rep. Mondaire Jones (D–N.Y.) would let antitrust enforcers with the Federal Trade Commission and the Department of Justice break up companies and block mergers without a court order. The terribly illiberal bill—dubbed the Prohibiting Anticompetitive Mergers Act—would let the DOJ and the FTC retroactively reject mergers that were already approved if they "materially harmed" competition or led to a market share above 50 percent. The bill effectively does away with the prevailing consumer welfare standard for antitrust enforcement, which relies on considering whether business antics actually harm consumers. The nonsensical replacement standard would consider whether activity harms competitors—a.k.a. exactly what business is meant to do.
The Prohibiting Anticompetitive Mergers Act would also automatically block mergers valued at more than $5 billion, those resulting in highly concentrated markets, or those resulting in market shares above a certain threshold.
"The proposal is backed by a coalition of progressives in both chambers, including Sen. Bernie Sanders (I-Vt.) and Alexandria Ocasio Cortez (D-N.Y.), and follows a series of proposals introduced in Congress targeting the market power of tech giants," reports The Hill. But the bill does not yet have any Republican co-sponsors.
---
QUICK HITS
You asked and it's back!

Servant of the People is once again available on Netflix in The US. The 2015 satirical comedy series stars Volodymyr Zelenskyy playing a teacher who unexpectedly becomes President after a video of him complaining about corruption suddenly goes viral. pic.twitter.com/Pp9f48jutF

— Netflix (@netflix) March 16, 2022
• In the three weeks since Russia invaded Ukraine, at least 7,000 Russian soldiers have been killed, per a U.S. intelligence estimate.
• The Federal Reserve has approved an interest rate hike—the first in three years—of a quarter percentage point. The Federal Open Market Committee "anticipates that ongoing increases" will be needed, it said in a Wednesday statement.
• Why is the U.S. so slow in processing Afghan refugees?
Thousands of Afghans have been waiting for more six months at a tightly secured camp in the U.A.E. hoping to be allowed into the U.S. With no progress on their cases, some are opting to return to dangers in Afghanistan to support families left behind https://t.co/uvyTJ2pFYS

— Catherine Rampell (@crampell) March 17, 2022
• Mississippi has passed a ban on critical race theory in education:
NEW: Gov. Tate Reeves signed a so-called "CRT ban" into law today, claiming that critical race theory serves only to "indoctrinate" children and "humiliate" white people.

But he admitted last June that CRT is not even taught in any Mississippi classrooms.https://t.co/C1igUMygPP

— Ashton Pittman ???? (@ashtonpittman) March 15, 2022