Marina Ovsyannikova's Russian TV Poster Protest Was Not 'Hooliganism,' but Bravery
Protesters aren't intimidated by Putin's threat of imprisonment for dissent.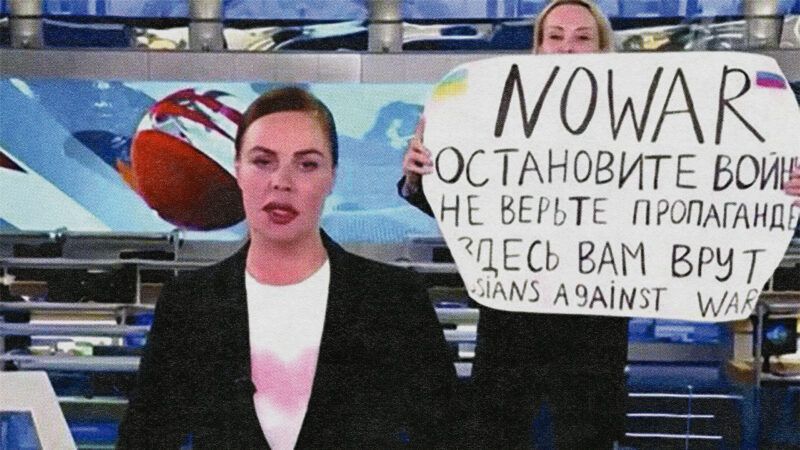 On March 14, President Vladimir Putin banned Instagram from being accessed within the country, cracking down on the dissemination of information to the app's 80 million users about the Russian invasion of Ukraine.
Later that same day, Marina Ovsyannikova, an editor and producer at the Russian state television's flagship Channel One decided enough was enough. 
With parents of both Ukrainian and Russian descent, Ovsyannikova said she was fed up with working for "Kremlin propaganda." So, during the live evening news program, she ran onto the set with a poster that read, "Don't believe the propaganda. They're lying to you here." The bottom of her poster read in English: "Russians against the war." While yelling those same sentiments, the camera darted away and the news anchor attempted to shout over Ovsyannikova, hoping to drown her out. Ovsyannikova was detained by Moscow police soon after. 
In early March, Putin enacted a law that punishes the "intentional spread of fake news" about the Russian military with 15 years in prison, thus prohibiting Russians from using the words invasion or assault to describe the conflict in Ukraine. Ovsyannikova's courage prevailed even when she knew she'd likely be imprisoned for speaking out so publicly against the Kremlin. 
Ovsyannikova pre-recorded a video (timed for release after her on-air protest) expressing shame for working at Channel One and for allowing "the zombification of the Russian people."
"We are just silently watching this anti-human regime," she said. "And now the whole world has turned away from us and the next 10 generations won't be able to clean themselves from the shame of this fratricidal war." At the end of her video she pleaded with Russians to join her and participate in anti-war protests. On Tuesday, she was found guilty of organizing an illegal protest and fined 30,000 rubles ($280) for circulating the video. After pleading not guilty to the charge, Ovsyannikova said she was interrogated for more than 14 hours and denied access to legal counsel.
It's still unclear what additional charges Ovsyannikova will face for her on-air protest since a representative for the Kremlin, Dmitry Peskov, deemed her actions as "hooliganism." Ravina Shamdasani, a spokesperson for the United Nations human rights office, told reporters in Geneva, Switzerland, that Russian authorities should make sure that Ovsyannikova "does not face any reprisals for exercising her right to freedom of expression." French President Emmanuel Macron has offered her "protection at the embassy or through asylum." The British government expressed concern for her safety and some members of Parliament have even called for Ovsyannikova to be nominated for the Nobel Peace Prize. 
Ovysannikova isn't the first Russian to protest Putin's war. Thousands of people have taken to the streets in recent weeks to denounce the Kremlin and their president's aggression. More than 4,300 people have been arrested during these demonstrations.
These courageous acts of defiance haven't gone unnoticed—Ukrainian President Volodymyr Zelenskyy thanked Ovysannikova, and other Russians who "do not cease trying to get the truth out, who fight against disinformation and tell the truth, tell real facts to their friends, relatives."