Transpartisan Coalition Agrees No-Fly Zone Over Ukraine Would Be Disastrous
Spanning many professions and political affiliations, the signatories to a new letter agree that a NATO-enforced no-fly zone over Ukraine would be a mistake.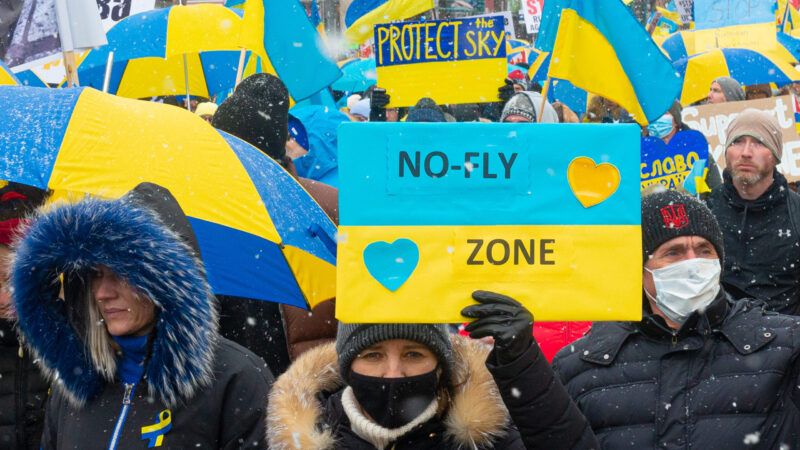 (Anatoliy Cherkasov/ZUMAPRESS/Newscom)
The continued Russian invasion of Ukraine and mounting civilian casualties have prompted calls for the U.S. and NATO to act. While NATO members are already providing ample military aid to Ukraine, heaping sanctions on Russia, and offering refuge to fleeing Ukrainians, many people in the U.S. are pushing for a no-fly zone to be imposed over parts of Ukraine.
The idea has found willing supporters in Sens. Joe Manchin (D–W.Va.) and Roger Wicker (R–Miss.), as well as Rep. Adam Kinzinger (R–Ill.). Last week, more than two-dozen foreign policy professionals and academics signed a letter calling for a "limited no-fly zone" over Ukraine, "starting with protection for humanitarian corridors that were agreed upon in talks between Russian and Ukrainian officials."
Since then, nearly three times as many foreign policy professionals and practitioners have signed a letter opposing a no-fly zone over Ukraine enforced by the U.S. and NATO. The 78 signatories include former ambassadors to Russia and the Soviet Union, dozens of professors, and former Republican and Democratic Hill staffers, all part of a transpartisan effort cautioning against escalation with Russia.
"A no-fly zone would commit the U.S. and NATO forces to shoot down any Russian aircraft that enter," reads the letter. "It would be naive to think that merely declaring a no-fly zone would convince the Russian military to comply voluntarily. In short, a no-fly zone would mean going to war with Russia."
The letter continues:
There must be a clear ceiling for escalation, as U.S. officials and experts appreciated during the Cold War, when the United States faced a more powerful adversary than Russia represents today. Russian President Vladimir Putin will pay for his reckless gamble in Ukraine. The United States should respond in responsible ways, not make a reckless gamble of its own.
Though implementing a no-fly zone may be emotionally appealing, the signatories recognize that announcing one would not deter Russian aggression. It must be enforced somehow, and even a "limited" no-fly zone could ultimately involve the U.S. and NATO using military force to counter Russian aggression.
This is really important:

Public support for a no-fly zone over Ukraine *plummets* if you actually explain that a no-fly zone would mean war between Russian and the United States pic.twitter.com/a3LapY4Tyr

— Alec Stapp (@AlecStapp) March 14, 2022
Vox's Zack Beauchamp outlined three reasons why even a "limited" no-fly zone would be counterproductive. First, they have a spotty track record as a deescalation tactic: "After NATO imposed a no-fly zone over Bosnia in 1993, its jets had to shoot down Bosnian Serb aircraft that flew into the protected airspace." Second, NATO would likely need to strike anti-aircraft batteries on Russian and Belarusian territory—an obvious escalation. And third, calls for a no-fly zone neglect the fact that Russia has primarily attacked civilian areas "using artillery rather than airstrikes." A no-fly zone misses the root of the offensive problem.
"The letter signers include a lot of individuals who regularly disagree with one another on other foreign policy issues," says Dan Caldwell, vice president of foreign policy for Stand Together and one of the letter's signatories. "The fact that they would come together in opposition to this proposal I think reinforces how insane an idea it is for NATO and the U.S. to try and impose a no-fly zone over Ukraine."
Foreign policy experts of all political stripes recognize the dangers of a no-fly zone, and thankfully, the Biden administration has been of a similar mind thus far. Imposing a no-fly zone would do nothing to deescalate tensions in Ukraine—rather, it would push two nuclear-armed global powers ever closer to lethal conflict.