Texas Plans To Execute a Mom for Killing Her 2-Year-Old, but the Case Has Numerous Problems
The district attorney who put Melissa Lucio away is now behind bars himself.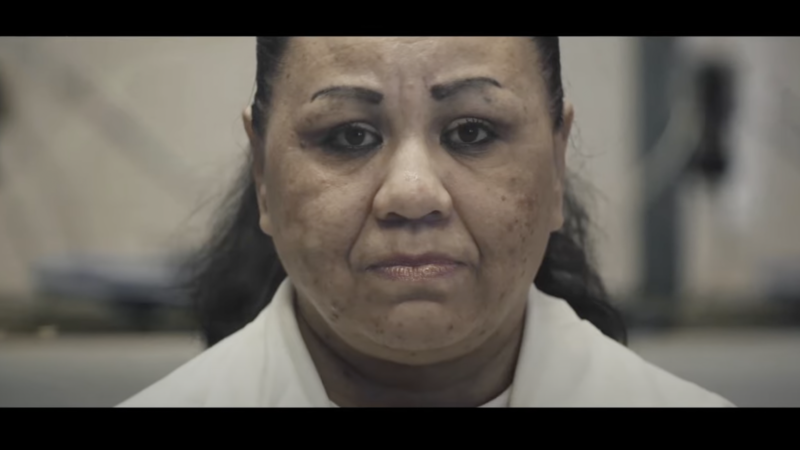 After 14 years in solitary confinement, Melissa Lucio will be put to death in Texas next month for murdering her 2-year-old daughter. Many independent observers think Lucio was wrongly convicted, and she is behind bars for a reason that resembles a moment in the Salem witch trials.
Accused of being a "dreadful wizard" in Salem, Massachusetts, in 1692, Reverend George Burroughs was said to have bitten several girls. To prove it, according to William James Malone in the New York State Dental Association's newsletter, the reverend's "mouth was pried open and the prosecution compared his teeth with the teeth marks left on the bodies of several injured girls present in the courtroom."
The ostensible match helped send Burroughs to the gallows. Two decades after his death, he was exonerated.
Three hundred years later, in 2007, Lucio and her family—one husband, 12 kids—were getting ready to move. Her youngest daughter, age two, tragically fell down the stairs. Over the course of two days she grew lethargic, barely ate, and eventually became unresponsive.
The family called 911, but the paramedics could not revive the girl. She was pronounced dead at the hospital. Within three hours of the daughter's death, police arrested Lucio.
Following a lengthy and intense interrogation, which involved Lucio being forced to spank a doll harder and harder at the interrogator's urging ("I wouldn't pound on her," Lucio protested), Lucio still maintained her innocence. But finally, she admitted, "I don't know what you want me to say…I guess I did it. I guess I did it."
At her trial in Cameron County, she was defended by Peter Gilman, who neglected to explain a few things, including that Lucio had confessed under duress and that sometimes people give false confessions. In fact, one out of every four cases of wrongful convictions overturned by the Innocence Project has involved a false confession.
The state had interviewed Lucio's other children on video; they all said their mom had never abused them, and one of the kids had even seen their sister fall down the stairs. Gilman never put the kids on the stand, but it's possible he was never given access to the videos.
When the medical examiner testified that the child's bruises were due to abuse, Gilman failed to probe whether there might have been other causes, including the fall. Nor did he present a pathologist for the defense to explain that what can sound like scientific proof is often subjective.
For instance, the examiner said that one mark on the girl was definitely a bite, made by an adult, and it must have been very painful when inflicted.
"That is so prejudicial and completely lacking in scientific basis," Vanessa Potkin, director of special litigation at the Innocence Project, tells Reason.
In fact, the science behind bite marks has been so thoroughly debunked since Lucio's case that the state of Texas has issued a moratorium on bite mark analysis in court.
The problem with many seemingly scientific pronouncements on things like bruise, bite, arson, and ballistic analysis, is that "often there are no standard protocols governing forensic practice in a given discipline." That's according to the National Academy of Sciences in a 2009 report, "Strengthening Forensic Science in the United States: A Path Forward."
"And even when protocols are in place," the report added, "they are often vague and not enforced."
With the exception of DNA analysis, the report concluded, "The simple reality is that the interpretation of forensic evidence is not always based on scientific studies to determine its validity. This is a serious problem."
Lucio appealed and lost. The case then went to a three judge panel on the Fifth Circuit Court of Appeals. Unanimously, they determined that Lucio had indeed been prevented from presenting a full and meaningful defense, and ordered a retrial.
At that point, the state of Texas asked that the full appeals court—17 judges—hear the case. A majority concurred that Lucio should get a retrial. But here it gets a little wonky, so Potkin walked me through it: The panel also ruled that, as a federal court, they had to show deference to the state court in this particular matter, so they had to uphold the conviction.
There is another disturbing wrinkle here. Three, in fact.
First, after the trial, Lucio's lawyer—Gilman—was hired by the district attorney, Armando Villalobos. This means, in the words of a motion recently filed by Lucio's appeals team, Gilman now has "dual loyalty" to the defense and to the prosecutor.
His duty to the D.A.'s office "denies Ms. Lucio due process, by preventing her from obtaining un-conflicted cooperation from Mr. Gilman as she investigates whether DA Villalobos suppressed exculpatory or mitigating evidence at the time of the trial."
The second wrinkle is that Gilman's wife, Irma Gilman—who served as his paralegal during the Lucio trial—was also hired by Cameron County. She is now the court administrator for Judge Gabriela Garcia, who is presiding over Lucio's case and signed her death warrant.
If Garcia would recuse herself, as Lucio's lawyers have requested, Lucio's death warrant would be rescinded too.
On that issue, the current D.A., Luis Saenz, has promised a "timely response."  He did not respond to a request for comment.
But wait: What happened to the former D.A., Villalobos, who put Lucio away?
That's wrinkle number three: He is serving a 13-year sentence in federal prison for bribery and extortion. He took $100,000 from defense attorneys to secure a favorable outcome in their cases.
Some questions do remain. A documentary about the case raised the possibility that the 2-year-old had been abused by one of Lucio's other daughters and that perhaps Lucio took the rap for her. In the meantime, it should be noted that Lucio, who was two months pregnant when arrested, gave birth to twin boys in prison while awaiting her trial. As her husband was serving four years for endangering a child—the 2-year-old who died—the twins were immediately put up for adoption.
So, in all, 13 children have grown up without their mother, who is behind bars, convicted in a case brought by a man now behind bars and defended by a man hired by the man now behind bars.
If nothing changes, she will die by lethal injection on April 27.