Court Says U.S. Cannot Expel Migrant Families to Countries Where They Face Harm
A federal judge wrote that migrants could face "horrific consequences" if expelled to certain places, particularly Mexico and Central American countries.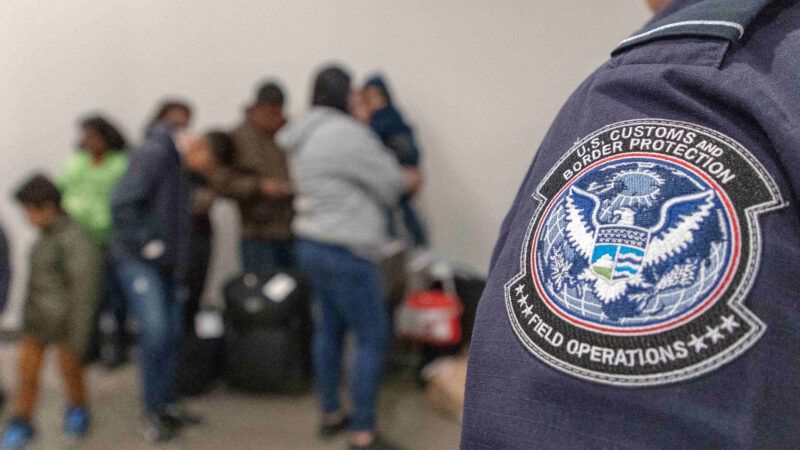 (Mani Albrecht/ZUMA Press/Newscom)
A federal appeals court has ruled that the government cannot use a pandemic public health order to expel migrant families back into countries, particularly Mexico and Central American countries, where they may face persecution or torture. 
Back in 2020, President Donald Trump invoked Title 42 of the Public Health Service Act, which gives federal health officials wide discretion to enact disease mitigation measures, to stop asylum-seeking migrants from Mexico or Canada from entering the U.S. under the pretext of stopping the spread of COVID-19. Title 42 allowed Customs and Border Patrol to expel migrants upon arrival. President Joe Biden kept the policy in place after his inauguration in 2021. The American Civil Liberties Union (ACLU) and other advocacy groups took the Biden administration to court after negotiations to put an immediate halt to Title 42 policy failed.
The United States Court of Appeals for the District of Columbia Circuit affirmed that the government can still expel migrant families under Title 42 but cannot send them to countries where they could face serious harm. Judge Justin Walker, who wrote the decision, said that even the Biden administration acknowledged "the quite horrific circumstances that non-citizens are in in some of the countries that are at issue here."  
Julia Neusner, an associate attorney in the Refugee Protection Program at Human Rights First, said in her written testimony that asylum seekers expelled to Mexico are targets for criminal organizations. Migrants often face kidnapping, extortion, and other violent attacks, she said. In one instance, Neusner noted that armed men kidnapped a woman and her daughter after the Department of Homeland Security (DHS) expelled them and held them for two months before they could escape. Neusner spoke to more than ten asylum seekers who were kidnapped after DHS expelled them, she said. 
Taylor Levy, an immigration attorney in Texas who also provided written testimony, said that of the 398 migrant families she's represented since May 2021 "41% experienced an actual or attempted kidnapping or both." 
Although most of the expulsions go to Mexico, migrants expelled to their Central American home countries, like El Salvador, Honduras, and Guatemala, are also likely to face persecution. Cecilia Menjivar, a sociology professor at UCLA who researches immigration in Central America and provided testimony for the case, cited a United Nations study that said 800,000 people in El Salvador, Honduras, and Guatemala sought protection in their home countries or crossed international borders to escape gang violence and persecution.
The deputy director of ACLU's Immigrants' Rights Project and the attorney who argued the appeal, Lee Gelernt, tells Reason that although the court's decision still upholds the government's ability under Title 42 to expel migrant families, the decision will force the federal government to set up a screening process. Gerlernt says any migrants that claim they could experience persecution or torture in a country cannot face immediate expulsion, and the government must ensure that they don't face harm. Gerlernt says the logistics of setting up such a screening process could force the Biden administration to get rid of the Title 42 order altogether. 
"The Title 42 policy is not only unlawful but has caused grave harm because it allowed people fleeing danger to be summarily expelled without any screening to determine whether they would be persecuted upon return," Gelernt tells Reason.
Gelernt also says the court's decision seriously calls into question Title 42's purpose because it acknowledges that the pandemic health order did not seriously deter against COVID-19. Judge Walker described the supposed protection from COVID-19 Title 42 provides as "questionable." He says it is far from clear whether the public health order serves any purpose. Gelernt says it doesn't make sense that the border continues to impose COVID-19 restrictions as the rest of the country eases its measures. 
The Biden administration has said nothing pertaining to the future of Title 42 at this time.