The Weird Politics of Biden's Ban on Russian Oil and Gas
Plus: Misconceptions about public opinion, suit challenging D.C. therapy rules moves forward, and more...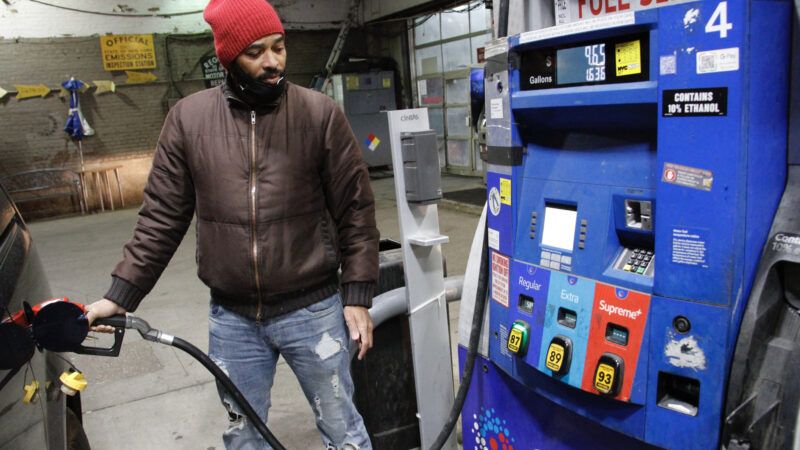 (Niyi Fote/ZUMAPRESS/Newscom)
Yesterday, President Joe Biden revealed plans to ban Russian oil and gas imports. "Today, I'm announcing that the United States is targeting a main artery of Russia's economy," said Biden. "We are banning all imports of Russian oil and gas." 
"Symbolically, it's an important move," said Director of National Intelligence Avril Haines.
The ban says, quite loudly, Americans don't want or need oil or gas from Vladimir Putin's warmongering, authoritarian regime. OK. But it's not exactly a bright moral stance, since the U.S. gets much of its oil and gas from other not-so-great regimes and banning Russian imports will only up our reliance on those other countries.
"The reality is if we're not getting this oil from Russia, we're likely going to be importing more from another brutal dictator," Sen. Chris Murphy (D–Conn.) told CNN's Jake Tapper.
"Instead of buying 3% of our oil from Russia, helping fund their aggression against Ukraine, we'll likely increase on the 8% of our oil we import from Saudi Arabia and UAE, helping fund their Yemeni genocide," commented economist Tarnell Brown.
U.S. officials have been talking to Venezuelan President Nicolas Maduro and may ease oil trading sanctions on Venezuela. And "Biden may travel to Saudi Arabia as the US works to convince the kingdom to increase its production," CNN reports.
The majority of our oil—around 65 percent—is produced domestically, with Canada, Mexico, and Saudi Arabia as our next biggest suppliers. "Russia last year accounted for about 3 percent of U.S. foreign imports of crude oil, and about 1 percent of the U.S. supply overall," reports The Hill.
Still, oil and gas prices in the U.S. are now likely to go up. "In Russia, the damage is likely to be large and immediate," reports Reuters. "JPMorgan estimates that its economy will contract by 12.5% from peak to trough."
Lawmakers from both parties have been calling for a Russian oil and gas ban.
But some—like Rep. Ilhan Omar (D–Minn.)—have been speaking out against it. "That's not only going to have a devastating impact on the people of Russia, but on Europe as well," Omar said on Rising. "When we're having these conversations, they can't be about just the immediate, gratifying response that we want to come up with."
Already, climate activists—and Biden—see this as supporting environmental protections and shifts to electric vehicles. "Transforming our economy to run on electric vehicles, powered by clean energy, will mean that no one will have to worry about gas prices," tweeted Biden.  "It will mean tyrants like Putin won't be able to use fossil fuels as a weapon."
But supporters of the Keystone XL pipeline and fewer regulations on energy production also see the ban as bolstering these positions. "Now Biden must immediately lift every roadblock to American energy production!" tweeted U.S. Rep. Andy Biggs (R–Ariz.). "Banning Russian oil without unleashing American energy will only further hurt us."

Meanwhile, Sen. Elizabeth Warren (D–Mass.) has found a way to make this about corporate profits and raising taxes.
Putin's war is causing gas prices to rise, but this is no excuse for large oil companies to pad their bottom line with war-fueled profits.

Senate Democrats are watching closely — and already working on a windfall profits tax. pic.twitter.com/J5pwkLrgrd

— Elizabeth Warren (@SenWarren) March 8, 2022
---
FREE MINDS
New research suggests public perceptions about public perceptions are off:
Published today in PNAS: people don't know how American public opinion has changed. I've been working on this for a very long time and I'm excited to share it. Here's a thread so you don't have to read the paper. https://t.co/YlHp6qAx9y

— Adam Mastroianni (@a_m_mastroianni) March 7, 2022
---
FREE MARKETS
Virtual therapy case can proceed. A challenge to D.C.'s strict rules surrounding professional counseling can move forward, a federal court said. The city does not allow out-of-state therapists to provide counseling to people in D.C. under most circumstances. The lawsuit, which I wrote about in 2020, was brought by licensed professional counselor Elizabeth Brokamp—who wanted to counsel patients in D.C. remotely from her home in Northern Virginia as the pandemic started—and the libertarian public interest firm Institute for Justice. The U.S. District Court for the District of Columbia on Monday denied the city's motion to dismiss the suit.
---
QUICK HITS
• Rep. Jamie Raskin (D–Md.) and Rep. Nancy Mace (R–S.C.) are calling on the Government Accountability Office to "conduct a comprehensive review of Federal Bureau of Investigation's (FBI) practice of surveilling individuals and groups through activities it classifies as 'assessments.'"
• U.S. lawmakers have reintroduced a bill (stalled in 2019) to study the effects of the federal sex-ads ban known as FOSTA.
• A federal court has ruled that "authorities in Virginia violated the Constitution when they used Google location data to find people who were near the scene of a 2019 bank robbery," NBC News reports.