Companies and Private Citizens Are Stepping Up To Help Ukrainians
Private actors often provide more efficient and localized help in times of need, and they're doing so in full force right now.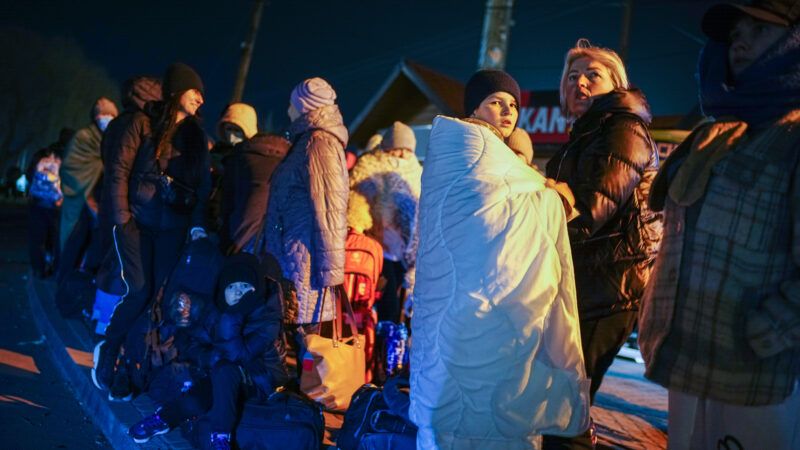 (Kay Nietfeld/dpa/picture-alliance/Newscom)
In response to the Russian invasion of Ukraine that has already driven 1.7 million Ukrainians from their country, companies and private citizens are stepping up to provide urgent humanitarian assistance. Their efforts are a reminder that individuals and businesses are key to relief efforts, especially during crises that demand quick and localized responses.
Companies are helping to bolster evacuation efforts at the Ukrainian border and beyond. Uber is "providing unlimited free trips between the Ukrainian border and Polish cities to support refugees and their families," the company announced in a statement last week. The Hungarian airline Wizz Air is offering Ukrainian refugees 100,000 free seats aboard flights departing from Poland, Slovakia, Hungary, and Romania, and it will offer "rescue fare" to Ukrainians stuck elsewhere.
Businesses big and small are also stepping up to house Ukrainians who have fled. Airbnb announced last week that it would "offer free, short-term housing to up to 100,000 refugees fleeing Ukraine." An official statement from the company noted that Airbnb would also "work closely with governments to best support the specific needs in each country, including by providing longer-term stays." Marketing agency Stay the Night has launched a database through which hotels and hostels can advertise available accommodations for refugees. Hotels in neighboring countries are opening their doors to thousands of fleeing Ukrainians.
For those still in Ukraine, international companies are hoping to provide important goods that are now difficult to come by. Cosmetics company L'Oreal says it will deliver 300,000 hygiene products to Ukraine in the next few weeks. Drugmaker Eli Lilly will send over $9 million of insulin and COVID-19 supplies to Ukraine, while General Electric will provide $4 million worth of critical medical equipment. Ryanair, an Irish budget airline, is filling planes to Poland with medical supplies.
Private citizens are providing a staggering amount of support as well. A couple from Apex, North Carolina, started a campaign to collect frequent flyer miles to assist fleeing Ukrainians, gathering 3.6 million miles in donations so far. "The miles are being used to send people all over the world," reported ABC 11, a Raleigh-Durham affiliate. There are already countless stories of people in Europe who are driving to the Ukrainian border to bring supplies there, help provide accommodation in neighboring countries, and transport refugees to safety.
In addition to Airbnb's humanitarian assistance being offered from above, the company is at the center of a social media campaign launched by good samaritans with spare cash and a desire to help. "On March 2 and March 3, guests from around the world booked more than 61,000 nights in Ukraine," an Airbnb spokesperson told CNN. Americans account for more than half of that total. These people have no plans to stay in the apartments they've reserved, but their financial support will help keep many Ukrainian hosts financially afloat. The bookings in Ukraine have grossed nearly $2 million so far. (Airbnb, for its part, is waiving all guest and host fees on all bookings in Ukraine.)
People are offering rides or lodging to Ukrainians arriving at train stations across central and Eastern Europe. In the Polish border town of Przemysl, BBC reports that helpers, both local and not, displayed signs to those coming from Lviv: "Hostel for eight in Gdansk"; "Can take a family—Warsaw"; "40 places available on bus to Germany." In Germany, volunteers have launched social media campaigns to facilitate transportation and translation for refugees; in the capital, "the number of Berliners offering to help has been so great that volunteers are being turned away," according to The New York Times. Berlin's nightclubs—which reopened this past weekend after COVID-related closures—devoted their relaunch to fundraising for Ukraine.
The situation in Ukraine is dire and may well become worse as the fighting continues and more Ukrainians are forced to leave home. But there is comfort in the number of individuals and companies offering to provide assistance, no matter how far-removed from the conflict they may be.