Cities Force Businesses to Oversupply Parking Spaces. A Lawsuit Says That's Unconstitutional.
Azael Sepulveda is suing the city of Pasadena, Texas over its requirement that his autobody shop add 23 parking spaces he insists he doesn't need and can't afford.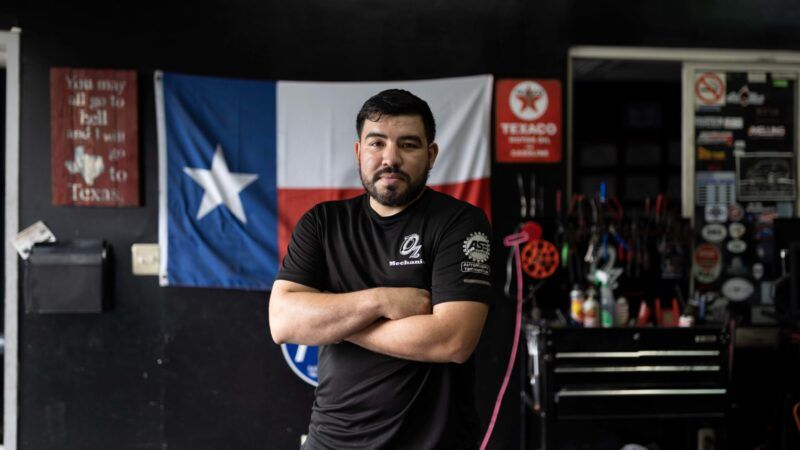 Zoning laws have gotten a lot of (well-deserved) bad press lately for driving up housing costs, driving out residents, and generally forbidding people from putting their properties to their highest and best uses. Even in those few precious municipalities that lack a comprehensive zoning code, city officials still have plenty of tools to make life difficult for budding entrepreneurs.
That includes unzoned Pasadena, Texas. The city won't allow local business owner Azael Sepulveda to open an auto body shop on his own property unless he adds an additional 23 parking spaces. Sepulveda says that much parking won't fit on his property, and even if it did, the cost of creating it would be ruinous.
"I've put everything on the line to grow my business and provide for my family," he said. "I've operated with a handful of parking spaces for years and had no problem. Now the city is stopping me from achieving my dream and threatening to put me out of business."
In December, Sepulveda sued Pasadena in the District Court for Harris County. His complaint argues that the city's parking regulations violate the Texas Constitution's guarantees of economic liberty and equal protection.
Earlier this week, a Harris County judge granted Sepulveda a temporary injunction against the city, allowing him to open up at his new location while the lawsuit plays out. That's a good sign for the lawsuit and a welcome break for his business, says Tori Clark, an attorney with the Institute for Justice—the public interest law firm representing Sepulveda.
"It gives him a reprieve of paying both the mortgage on his property and the lease on the property that he's currently operating," Clark tells Reason. "It is true that this is just a temporary injunction. There is a risk that our client will open his new shop and then ultimately have to shut down."
Sepulveda started his first auto body shop, Oz Mechanics, back in 2013 at a rented storefront in Pasadena. In July 2021, he poured all his savings into purchasing a garage of his own.
The previous owner also had a body shop that had operated unmolested by the city for decades, leading Sepulveda to assume he wouldn't have any problems moving his own business there.
But when he applied for the permit he needed to open his business, the city told him that Pasadena's recently updated parking ordinance required auto body shops to contain 5.5 spaces for every 1,000 feet of floor space. That meant his business would have to come with 28 spaces total, or 23 more than it currently has.
According to his complaint, Sepulveda's customers rarely take up more than two parking spaces per day, something his property's existing five spaces could easily accommodate. Adding the additional 23 spaces would cost $40,000 he doesn't have, and they wouldn't even fit on the property.
That economic burden those parking requirements placed on Sepulveda's business and the physical impossibility of complying with them should have been enough to earn him a variance from the city. Indeed, city planning staff encouraged him to apply for one, which he dutifully did in October 2021.
That's when things started to get weird.
City staff initially wouldn't confirm that they'd received his application. When Sepulveda tried to drop off a $400 application fee, the city refused to accept it. That initial silence precipitated a month of back-and-forth communication between Sepulveda's attorneys and the city; the former continually asking what the status of the application was, and the latter refusing to say why it wasn't being considered.
Left with no other options, Sepulveda sued Pasadena in December. The lawsuit comes at a time when parking requirements are coming under increased scrutiny.
Libertarian-leaning experts argue these regulations force developers and business owners to create more parking spaces than a free market would supply. Regulation-friendly progressives dislike them for allegedly encouraging people to drive more and ride transit less.
Either way, the result of parking minimums is the overconsumption of land and higher development costs overall. Some projects, whether that's a new apartment complex or a new restaurant, are made completely uneconomical.
Because of these ill effects, cities are starting to scale back or even completely repeal their parking minimum regulations. The results are lower rents and more commercially viable properties.
Clark notes that neighboring Houston manages to get by just fine while requiring half the amount of parking for auto repair shops. The fact that other cities survive with much lower parking minimums makes Pasadena's regulations not just unnecessary but also unconstitutional, she says.
"The city can't point to any evidence for why auto repair shops in general, and specifically Mr. Sepulveda's shop, needs as many parking spaces as it's demanding," she says.
That lack of evidence combined with the burden being placed on Sepulveda's business amount to a violation of the Texas Constitution's guarantees of economic liberty and private property rights, argues his lawsuit. The complaint also claims that the city's requirement that his business comes with more parking than hotels or gyms violates Texas's guarantee of equal protection under the law.
Clark says a trial date is set for early June. The case offers an opportunity to protect her client and other Pasadena business owns from regulations that impose significant costs without any real benefits.
"The city doesn't have a good reason for making these demands" on Sepulveda, she says. "Complying with these demands is physically impossible, and it's preventing him from opening his shop and ensuring his family is taken care of."