The New York Times Spreads Misinformation About COVID-19
Patiently waiting for senators and whistleblowers to freak out over this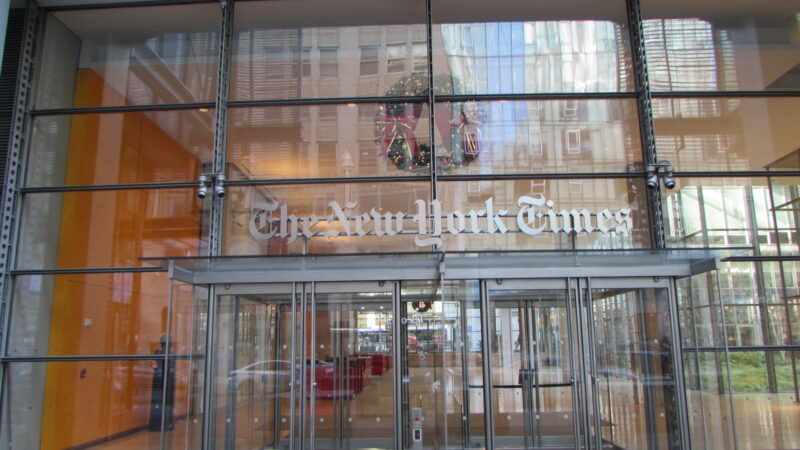 The purported threat of social media has emerged once again as a top concern of senators, whistleblowers, and members of the press. They are very, very worried about Facebook fanning the flames of hate, compromising U.S. democracy, and spreading COVID misinformation.
How many of them are worried about the COVID misinformation being spread by The New York Times?
The paper of record had to print a lengthy correction to a big error in a Thursday news article. The story was about other countries' approaches to vaccinating young people, and whether one shot would be better than two given the risks of heart inflammation in teenagers. The article wrongly claimed that nearly one million U.S. children—900,000 to be precise—had been hospitalized with COVID-19 since the start of the pandemic.
The actual number? About 63,000 since August 2020, when stats first became available.
And while that was the biggest error, it wasn't the only mistake in the story. According to the correction, the reporter "described incorrectly the actions taken by regulators in Sweden and Denmark" and misstated the timing of a crucial Food and Drug Administration meeting.
This wasn't a junior reporter new to the job. The author was the paper's lead coronavirus correspondent, Apoorva Mandavilli. (Her bio, which notes that she won the Victor Cohn Prize for Excellence in Medical Science Reporting in 2019, appears under the correction.)
This isn't Mandavilli's first questionable article. In early August, FiveThirtyEight's Nate Silver accused her of framing the Provincetown study of the delta variant's spread in a "misleading and sensationalist way."
There has been an awful lot of stealth editing and backtracking from the way you and NYT initially framed the Provincetown findings, which both experts and laypeople found misleading and hyperbolic. pic.twitter.com/U2FfjromAl

— Nate Silver (@NateSilver538) August 4, 2021
Mandavilli also tweeted, as recently as May of 2021, that the lab leak theory of COVID-19's origins is "racist" at its roots. She eventually deleted that tweet but doubled down on the sentiment.
In general, her pandemic reporting has manifested a paranoid slant. But the Thursday article wasn't just slanted; it was wrong, wrong, wrong.
Congress is not likely to call Mandavilli before a hearing to answer questions about the threat posed by the Times misleading its readers. People generally accept that traditional media get things wrong some of the time, or even a lot of the time. And indeed, it would be wrong—morally, constitutionally, and practically—for the federal government to try to clamp down on misinformation in the mainstream media. That is precisely what the First Amendment exists to prohibit. Facebook's reach may be larger than The New York Times', but the principle is not all that different.
For more on this subject, check out my new book Tech Panic (here) or my monologue from today's episode of Rising (below):