Joe Biden Wants To Spend Trillions on Infrastructure. His Environmental Reforms Ensure He'll Have To.
The White House is undoing changes to the National Environmental Policy Act that were supposed to speed up the delivery of infrastructure projects.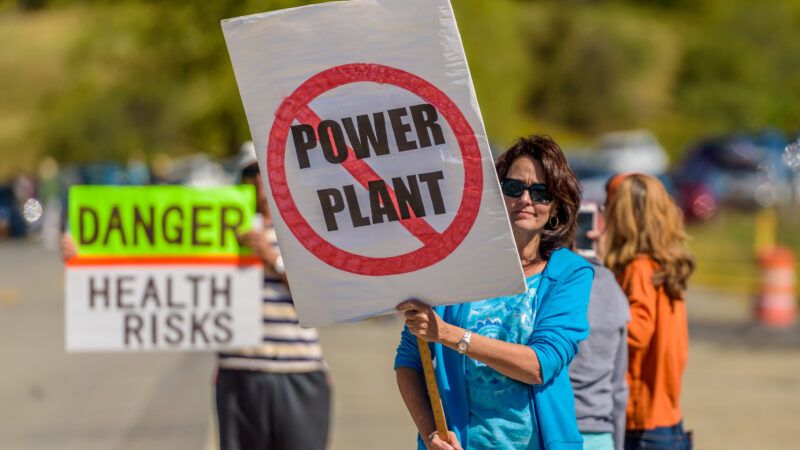 (Erik McGregor/Pacific Press/Newscom)
President Joe Biden has ambitious plans to "Build Back Better" by spending trillions more on a broad array of infrastructure projects. At the same time, his administration wants to reverse regulatory reforms that tried to speed up the delivery of those projects.
Late last week, the White House's Council on Environmental Quality (CEQ) announced that it intends to undo the prior president's changes to the regulations implementing the National Environmental Policy Act (NEPA).
Passed in 1969, NEPA requires federal agencies to study the environmental impacts of actions they take, whether that's funding a new highway or approving a new pipeline. Over the decades, the burden imposed by NEPA has grown: The environmental reviews it mandates take years on average to complete and can run hundreds if not thousands of pages.
Donald Trump's administration tried to streamline things a bit by limiting the environmental effects that agencies had to examine and by putting definitive time and page limits on NEPA reviews.
Even those marginal changes, implemented in September 2020, proved controversial with many environmentalists. Their concerns have resonated with the Biden administration.
"The basic community safeguards we are proposing to restore would help ensure that American infrastructure gets built right the first time, and delivers real benefits—not harms—to people who live nearby," said CEQ Chair Brenda Mallory on Thursday.
The proposed rule published by the CEQ in the Federal Register would make a number of changes.
Most significantly, it would restore requirements that agencies' NEPA reviews take into account the indirect and cumulative effects of projects.
The short-lived Trump changes said agencies generally didn't have to study impacts of projects that are "remote in time, geographically remote, or the product of a lengthy causal chain." According to the Biden administration, that narrower requirement prevented agencies from properly accounting for longer-run climate change impacts.
The Trump administration's NEPA reforms also treated CEQ rules as a ceiling, meaning agencies couldn't impose additional requirements of their own. The Biden administration would instead treat CEQ rules as a floor, giving agencies the power to perform reviews that go beyond what the council requires.
Environmentalist groups have generally praised these changes.
"Restoring the obligation to consider direct, indirect, and cumulative emissions is critical for disclosure of climate and environmental justice impacts," the Sierra Club announced last week. "Reviews that don't look at indirect and cumulative effects of fossil fuel projects (such as coal mines, gas leases, pipelines), miss 95 percent of climate emissions and their impact on communities."
Other NEPA experts are more critical, arguing that this is an ineffective and potentially counterproductive way to address climate change.
"All it does is create a little more paperwork," says Eli Dourado, a senior research fellow at Utah State University's Center for Growth and Opportunity. "Given the need to build a lot of infrastructure and new technologies and physical stuff in the world, NEPA is probably on net harming our response to climate change."
Indeed, NEPA has slowed down a number of projects that environmentalists would typically support for their emission-reducing potential.
The U.S. Bureau of Ocean Energy Management's 2019 decision to perform a cumulative impact analysis under NEPA of a massive wind farm being constructed off the coast of Massachusetts has significantly delayed that project.
It will likewise take years for the federal government to perform a NEPA-mandated review of a plan to charge drivers a toll to enter lower Manhattan. Environmentalists and transit advocates have generally praised that congestion pricing plan for its potential to reduce carbon emissions and to raise money for public transit. The tolls were supposed to be up and running in January 2021. The need to perform an environmental assessment for the project will mean that it now won't start until 2023 at the earliest.
All the additional green investments the Biden administration and Democrats in Congress want to fund with their $1 trillion infrastructure bill and $3.5 trillion Build Back Better legislation could run into a similar fate.
"It's making some of the infrastructure projects they want to do radically more expensive," says Neil Chilson, a senior research fellow at Stand Together. He says the regulatory changes will also empower the nation's NIMBYs to slow down projects they dislike.
The NEPA process allows third parties to file complaints with federal agencies claiming that the environmental impacts of a project haven't been thoroughly studied enough. Once that complaint is raised, the agency then has to decide if there's any merit to it.
"That process just takes forever," says Chilson, during which time project sponsors are prevented from moving ahead with whatever they're trying to build. NEPA also allows third parties to sue over supposedly inadequate environmental reviews, which can drag things out even longer.
By expanding the number of effects that have to be considered in the NEPA process, the Biden administration is giving project opponents more room to claim that an environmental review is insufficient.
Federal agencies and private project sponsors, in turn, will have to spend more time preparing litigation-proof environmental documents to preempt these complaints, says Chilson.
That could be particularly damaging for solar plants that are proposed to be constructed on public lands in the American west, and which have attracted fierce opposition from local groups concerned about their impact on endangered species and recreational lands.
The White House isn't getting rid of every Trump NEPA reform. The new rule doesn't touch requirements that environmental assessments be no more than 75 pages long and environmental impact statements no longer than 300 pages. "Shot clock" requirements that these reviews be completed in one to two years are also left in place.
CEQ has said that reversing those Trump-era tweaks is only the first phase of its planned rulemaking. In a second phase, the administration says, it plans to make more substantive changes that create "efficient and effective environmental reviews."
That leaves open the possibility that we'll get more productive reforms later on, says Dourado.
"Nobody says everything is fine in permitting world. I expect [the administration] to at least have some constructive ideas for how to improve permitting," he tells Reason.
The average Environmental Impact Statement—the most stringent level of review mandated by NEPA—takes 4.5 years to complete and runs around 669 pages. That's up from 2.2 years in the 1970s.
Dourado thinks the federal government should expand the use of categorical exclusions that allow projects to skip the NEPA process entirely. Chilson says Congress should take still more sweeping action if it really wants to pare back NEPA—which, he notes, can trip up a lot more than just infrastructure projects.
Everything from approval of new vaping products to forest management programs has to go through the NEPA process. Every year, federal agencies produce roughly 176 environmental impact statements and 10,000 environmental assessments (a less onerous version of NEPA review that can still take years).
Because "it's been interpreted so broadly, and because the federal government has a hand in the approval of so many things, many things that would otherwise be private changes now implicate NEPA and all the red tape that comes with it," says Chilson.
Sens. Mike Lee (R–Utah), Ted Cruz (R–Texas), and Kevin Cramer (R–N.D.) have proposed a package of bills that would permanently streamline the NEPA process. The infrastructure bill passed by the Senate also includes an extension of some temporary NEPA streamlining measures.
Not all, or even most, of the new infrastructure spending Congress is mulling should be considered a wise investment. But Biden's proposed NEPA changes only ensure that more federal money will be spent on red tape.