Craft Alcohol Makers Thrive as Government Launches Antitrust Investigation
The Prohibition-era three-tier system is causing consolidation, not the market.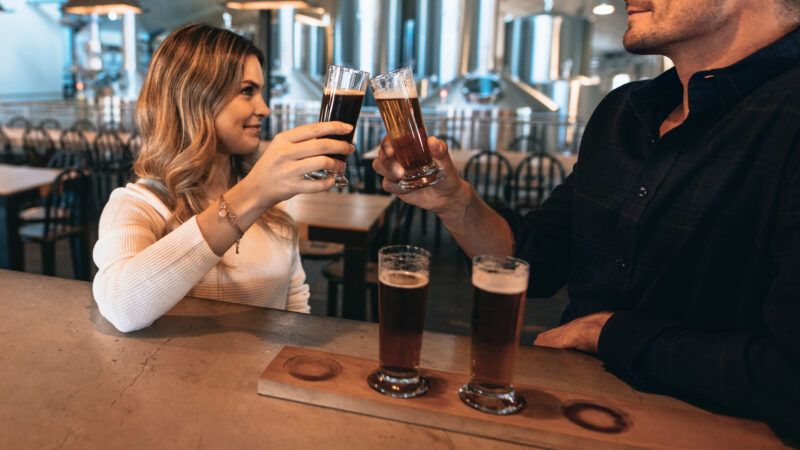 (ID 96820322 © Ammentorp | Dreamstime.com)
The recent executive order on economic competition issued by the Biden administration this summer directed agencies across the federal government to look into anticompetitive barriers in dozens of industries. While the order's potential ramifications for Big Tech dominated the headlines, it also included America's favorite pastime: alcohol.
Under the executive order, the Alcohol and Tobacco Tax and Trade Bureau (TTB) is tasked with investigating "the conditions of competition" in the drinks industry. On cue, TTB in July called for public feedback on whether there are competition concerns in the alcohol sector. Now that the comment period has closed and TTB regulators begin to consider any actions, they should quickly realize that the real competition issues in alcohol are not what they seem at first blush.
Calls for enhanced antitrust scrutiny of American alcohol markets have been a consistent theme in many left-leaning political circles for years now. This hand-wringing largely stems from Anheuser-Busch's high-profile 2016 acquisition of SAB-Miller, as well as splashy news stories about Big Beer buying up microbreweries.
But before jumping on this antitrust bandwagon, alcohol regulators should take a hard look at the facts. The American alcohol industry is unique in our economy in that it is artificially divided between three sub-sectors: producers, wholesalers, and retailers. This tiered system is a vestige from the aftermath of Prohibition, and government laws in every state require these tiers to operate as legally separate entities.
These rules make it nearly impossible for a producer, such as a craft brewery, to also own a retail store or restaurant. Instead, that brewery is legally required to sell its beer to a wholesaler, who then turns around and sells it to a retail outlet, who then can finally sell it to consumers.
The upshot of this convoluted system is that when competition concerns are evaluated within the industry, each of these three tiers needs to be scrutinized independently to determine where problems may exist. Any honest effort to do so quickly leads to only one conclusion: Alcohol markets are more competitive than ever—with the exception of the wholesale tier.
The first tier is producers such as breweries, wineries, and distilleries. The rise of the craft alcohol movement has created an increasingly diverse variety of alcohol producers. Contrary to hyperbolic headlines about Big Beer gobbling up microbreweries, the overall market share has shifted by 5 percent from larger brewers to small brewers since 2010.
The sheer number of new breweries that opened in America over the last several decades also underscores just how dynamic the American brewery sector is: In 1991, there were 312 breweries in America; in 2020, there were 8,884—only 120 of these are categorized as non-craft/large breweries. If anything, Big Beer's power is declining, not increasing. The distillery and winery sectors tell a similar story as more craft producers enter the marketplace.
The retail tier of alcohol is also incredibly competitive. Alcohol can be purchased everywhere from football stadiums and grocery stores to the neighborhood bar. As a result, the top 50 alcohol retailing companies account for only 25 percent of market sales, making it virtually impossible for any single entity to exert undue control at the retail level.
In contrast to producers and retailers, however, the wholesale tier has been rapidly consolidating. The number of wine and spirits wholesalers declined from 3,000 in 1995 to 1,200 as of 2017, while the number of beer wholesalers fell from 4,595 in 1980 to only 3,000 in 2020. Large wholesalers are also increasing their dominance: The top 10 wine and spirits distributors accounted for 59 percent of the market share in 2010, but now comprise 75 percent of the market. Worse yet, alcohol producers often note that they effectively only have one or two choices for wholesalers in most local markets, creating a de facto duopoly in many regions.
No one wants American alcohol markets to become monolithic and concentrated in a few large companies. But times have changed and breweries, wineries, and distilleries are operating in a robust and healthy marketplace, as are alcohol retailers.
While wholesaler consolidation is a real concern, the best answer could be to break up the artificial three-tier system entirely to remove the wholesaler bottleneck. This would mean that producers could sell and deliver their products directly to retailers and consumers, thereby reducing the influence of the consolidated wholesale tier. While some defend the three-tier system as vital, it's merely one of many potential regulatory options that could be used to ensure alcohol is safely handled and sold.
Increasing competition in American alcohol markets can best be accomplished by reducing the role of government through three-tier system reforms, rather than via enhanced antitrust scrutiny.