AOC Uses Facebook Outage To Make the (Unrelated) Case for Antitrust
"Maybe one billionaire with a penchant for destroying democracies shouldn't be allowed to own so much of the internet," says the representative from New York.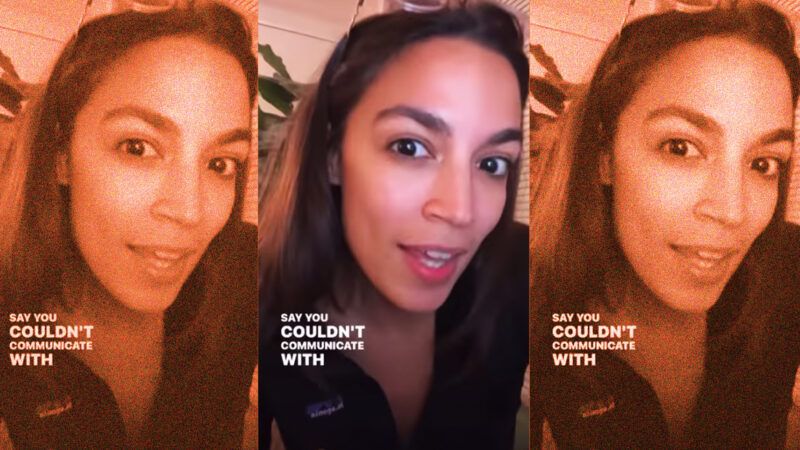 (Illustration: Lex Villena; Instagram Reel https://www.instagram.com/p/CUoVmYRrsuP/)
"Say you couldn't communicate with loved ones because WhatsApp was down," Rep. Alexandria Ocasio-Cortez (D–N.Y.) said last night on Instagram Reels. "Maybe your career or small business took a hit because Instagram was down."
Both WhatsApp and Instagram "were successful, independent apps until Facebook identified them as a competitive threat and decided to purchase them due to monopolistic anticompetitive behavior," she continued later. "Maybe we should be asking ourselves why one company is trying to monopolize the internet, communications platforms, and digital commerce and maybe we should break them up." She moved closer to the camera for the final three words, lingering on each for emphasis.
In another Instagram caption last night, the congresswoman mused that "maybe one billionaire with a penchant for destroying democracies shouldn't be allowed to own so much of the internet and maybe that's why antitrust laws exist that officials who do not take lobbyist money from said billionaire-owned interests should enforce." But Facebook's purported monopoly power is unrelated to Monday's outage, which was due to "configuration changes on the backbone routers that coordinate network traffic between our data centers," according to the company.
For politicians who are chomping at the bit to regulate Facebook, the outage is yet another opportunity to make their case. But this case is rooted more in moral panic and general antitrust sentiment than in a legitimate argument that such acquisitions harm consumer welfare.
Ocasio-Cortez is right that products like Instagram and WhatsApp, which are owned by Facebook, are essential for small business owners and people in the developing world who rely on these messaging services. But she seems to be assuming that, if independent, these platforms would never experience outages—an assertion that defies logic, and for which she supplies no proof.
There might be other reasons to break up Facebook, though I'm skeptical. But saying "Many people use WhatsApp, and when FB goes down, it takes down WhatsApp. Therefore break up Facebook" is only a good argument if you think an independent WhatsApp would never suffer downtime.

— Aaron Ross Powell (@ARossP) October 5, 2021
Ocasio-Cortez calls Facebook CEO Mark Zuckerberg a "billionaire with a penchant for destroying democracies." This may be an allusion to the fact that moderators have not stopped divisive political rhetoric from finding a home on Facebook, and it may be an allusion to the fact that Frances Haugen, a Facebook "whistleblower," recently told 60 Minutes that Facebook was used to organize the January 6 Capitol riot. But that would histrionically oversell both the impact of Facebook's content moderation decisions and the degree to which Zuck is personally orchestrating them. To quote Masnick's Impossibility Theorem: "Content moderation at scale is impossible to do well." Bad people will use communications technologies to do bad things. That doesn't mean companies should abstain from trying to stop them, but content moderators are going to make mistakes, and riots are (disturbingly!) going to happen whether or not the rioters are on Facebook.
As for mergers and acquisitions, they're a standard part of doing business and should not be reflexively opposed; in many cases, they do not harm consumers. Ocasio-Cortez's allegations that Facebook is trying to gobble up the whole internet, and that outages would somehow never affect WhatsApp if it were not owned by Facebook, are not backed up by the facts.