New York Firing Health Care Workers as COVID-19 Heads Northeast
The vaccine mandate on health care workers, ahead of the broader mandate on the rest of us, is putting America in uncharted territory.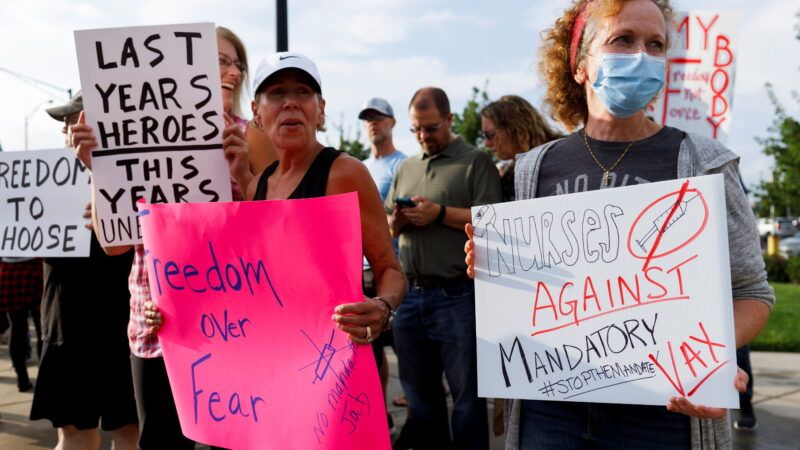 (STEPHEN ZENNER/REUTERS/Newscom)
For most of spring 2020, rattled New Yorkers trudged out onto their stoops and balconies every night at 7 p.m. sharp to bang their pots and pans and holler appreciation for the first responders—cops, nurses, doctors, EMTs, firefighters—who, unlike them, did not really have the choice to stay home from work while the deadly coronavirus ripped through the five boroughs.
As of Tuesday, those same New Yorkers, through their representative government, are telling those same essential workers to go look for a new job, unless they have been vaccinated for COVID-19 or have filed for a religious exception from the statewide mandate.
"The only way we can move past this pandemic is to ensure that everyone eligible is vaccinated, and that includes those who are taking care of our vulnerable family members and loved ones," Gov. Kathy Hochul said in a statement on Monday, while signing an executive order easing various licensing requirements in order to expand the pool of potential health care workers. The governor is keeping open the option of calling on the National Guard to cover for expected hospital staffing shortages.
New York's vaccine mandate, which covers 600,000 health care workers, is one of scores across the country affecting nurses, doctors, teachers, and cops. North Carolina–based hospital company Novant Health announced Monday that it had fired 175 noncompliant workers. According to The Washington Post, "More than 150 health-care workers who did not comply with a vaccine mandate at Houston Methodist—one of the first health systems to require the coronavirus shots—were fired or resigned in June after a federal judge upheld the policy. ChristianaCare, a Delaware health system, announced this week that 150 employees were fired for not adhering to its vaccine mandate."
The requirements are exacerbating existing staff shortages in the health care sector 19 months into the pandemic. But are they increasing vaccinations? Yes appears to be the answer.
New York announced its mandate August 16; between then and late Monday, vaccinations of at least one shot among staff at nursing homes increased from 70 percent to 92 percent, at adult care facilities from 76 percent to 89 percent.  The hospital-worker vaccination rate rose from 77 percent in mid-August to 84 percent as of September 22 (there has been widespread reporting of a rush of health-sector vaccinations in the final hours before the deadline).
According to a soon-to-be-published nationwide poll of 1,036 Americans that was funded by the Robert Wood Johnson Foundation, 16 percent of employed respondents said they would quit or start looking for new work if required by their employer to get a vaccine. "Among those who said they were 'vaccine hesitant'—almost a quarter of respondents—we found that 48% would quit or look for another job," pollsters Jack J. Barry, Ann Christiano, and Annie Neimand wrote. "Other polls have shown similar results. A Kaiser Family Foundation survey put the share of workers who would quit at 50%."
Yet, those same authors conclude, "the actual number who do resign rather than get the vaccine is much smaller than the survey data suggest."
This week will be the test of those theories, as Connecticut's statewide health care vax mandate took effect Monday (for public hospitals), California's kicks in Thursday, and Rhode Island's on Friday.
As the Associated Press notes, in a development that mirrors COVID-related educational restrictions, "States that have set such requirements tend to have high vaccination rates already. The highest rates are concentrated in the Northeast, the lowest ones in the South and Midwest." This raises in particular some uncomfortable issues of class, as six-figure big-city professionals cheer on or at least shrug at the firing of working-class nurses, EMTs, and support staff. Spring 2020, this ain't.
Soon, however, the impact will be spread out all over the country, after the rollout of President Joe Biden's mandates on private employers with more than 100 workers, plus all 17 million employees at health care providers that receive Medicare and Medicaid, and every federal employee (including military). The Centers for Disease Control and Prevention estimates that 77 percent of Americans age 18 and old have received at least one shot, with 67 percent being fully vaccinated. The U.S. one-shot vaccination rate of 64 percent overall ranks just 45th in the world.
The most compelling arguments for government to mandate injections into people's bodies is when those people A) work for the government, and/or B) work in close proximity to at-risk populations, which disproportionately means the elderly, the sick, the immunocompromised, and the unvaccinated (particularly those falling in the prior categories). The state is on far shakier ground—legally, morally, and medically—when mandating jabs for low-risk populations outside its employ.
For an explanation of why someone might not want to take the vaccine, go no further than professional basketball player Jonathan Isaac of the Orlando Magic:
Jonathan Isaac ????????????????

— Art TakingBack ???????? (@ArtValley818_) September 28, 2021
The National Basketball Association does not have a league vaccine mandate on its players, but government mandates in New York City and San Francisco mean that three teams (the New York Knicks, the Brooklyn Nets, and the Golden State Warriors) will be subject to the requirement. Brooklyn star point guard Kyrie Irving and Golden State forward Andrew Wiggins have been talking about missing all of their home games rather than acceding to the mandate.
Far more consequentially, public school districts are beginning to adopt and enforce vaccine mandates on all eligible students. Culver City, California, started the trend, followed by the Los Angeles Unified School District, the country's second-largest. San Diego Unified was set to vote on a mandate Tuesday night.
In a sign of blue-state policies to come, Education Secretary Miguel Cardona endorsed student vaccines last week. "I wholeheartedly support it," Cardona said during a visit to Detroit. "It's the best tool that we have to safely reopen schools and keep them open. We don't want to have the yo-yo effect that many districts had last year, and we can prevent that by getting vaccinated."
Yet even unvaccinated kids remain overwhelmingly less likely to contract, spread, or suffer from COVID-19. Fears of the new school year generating a new surge of cases have proven unfounded so far. And the situation that Cardona is trying desperately to avoid—remote learning, which has proven educationally calamitous—will likely increase in communities where parents are skeptical about the cost/benefit ratio of vaccinating their kids.
In fact, the LAUSD—where in addition to the vaccination mandate, all students and staff are tested weekly regardless of vax status—new enrollment figures for 2021-22 just came out, and they were three times worse than the district expected: a drop of 6 percent in just one year, after already falling 4 percent the year before that. Forcing vaccines on the unwilling has more consequences than merely increasing vaccination.
So we're in uncharted territory here. If even 3 percent of any given population decides not to comply with vax mandates even under threat of government reprisal, that could have huge impacts on the public education system, the economy, and on hospital capacity.
It's on that latter point in particular that policy makers should be looking at closely over the coming weeks, as they fire nurses and mobilize the National Guard. After the brutal COVID-19 wave in the South this summer, the 10 states with the biggest percentage increase in hospitalizations over the past two weeks, led by highly-vaccinated Vermont and Maine, are all in the north.
Vaccine mandates may well be the last illiberal push that results in the U.S. reaching some mythical pandemic off-ramp. But they may also create health care shortages in the Northeast right as the virus once again rears its seasonal and regional head.