Viral Video of White Woman Allegedly Telling Black Couple To 'Stay in Your Hood' Was Recorded by a Known Fabulist
Emma Sarley's employer might come to regret instantly firing her.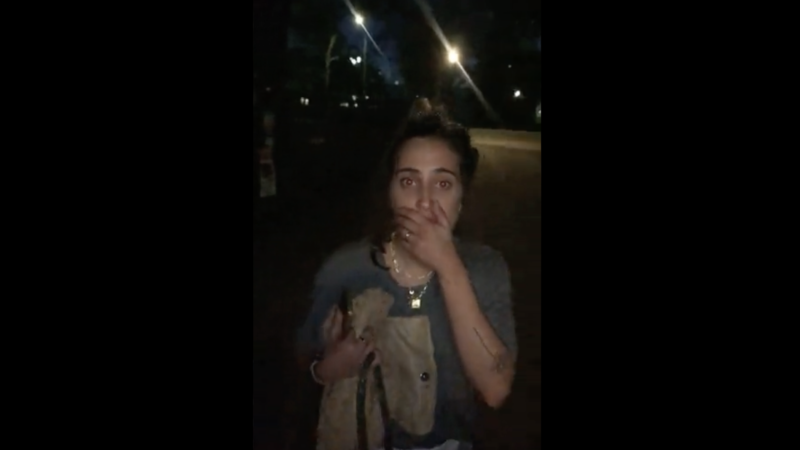 Frederick Joseph is a marketing guru, an Elizabeth Warren campaign surrogate, and the author of a 2020 book, The Black Friend: On Being a Better White Person. He is black.
Over the weekend, he took his dog for a walk with his fiance in a New York City park, in the Williamsburg neighborhood of Brooklyn. There the couple encountered a white woman, later identified as Emma Sarley. It's not clear exactly what happened, but a disagreement broke out—Joseph claims that Sarley wrongly thought the dog was barking too loudly—and Sarley flipped Joseph the bird before stomping off.
But according to Joseph, she also told him to "stay in your hood." He filmed part of the altercation and posted it on Twitter. Within 48 hours, social media sleuths had identified Sarley, notified her employer, and gotten her fired.
At the dog park in Brooklyn with my fiancé and this white woman was threatening to call police and told us to "stay in our hood" because she had our dog confused with another dog who had been barking loudly. So, I started recording and she tried to slap the phone out my hand. pic.twitter.com/9MXwMiU3Qb

— Frederick Joseph (@FredTJoseph) September 26, 2021
Joseph called on Bevy, a virtual conferencing company, to prove its commitment to race and equity by immediately doing something about its employee Sarley.
"I'm hoping Black colleagues and peers don't have to face this sort of racism from Emma," he tweeted.
Bevy CEO Derek Andersen swiftly complied.
"Yesterday an employee engaged in behavior contrary to our values and has been terminated," he said. "We apologize deeply to all involved."
There is already a New York Post article about the incident, and considerable furor on Twitter. Sarley's name will probably always be associated with the "Karen" racist white woman trope, as assuredly as Amy Cooper's is—even though the Central Park dog walker story turned out to be much more complicated than was initially believed. (See Kmele Foster's subsequent reporting on that.) Many in the media will say that Sarley is being held accountable for a racist act; others will call this a clear case of cancel culture run amok. (The park where the incident occurred is actually called, McCarren Park.)
But there's two vital—and little-discussed—details to keep in mind here. The first is that the video footage of the incident is just 30 seconds long, and at no point in it can Sarley be heard to say "stay in your hood." Joseph asserts that she says this, and a random passer-by agrees that she said it, but we don't know for sure that she did. Nor do we know what did or didn't precede such a remark. We have no idea what actually transpired at all. It's literally impossible to tell, based on this short clip, who wronged who.
This is important, because viral videos often lack important context. Many people rushed to condemn the Covington Catholic High School teenagers for supposedly harassing a Native American man on the steps of the Lincoln Memorial, but additional footage of the encounter showed that there was much else going on—and completely acquitted Nick Sandmann, the main object of social media's ire, of wrongdoing. A company ought to be more careful about swiftly heeding a demand to fire an employee based on a possibly misleading video on Twitter.
The second issue is more specific to this case: Joseph is not a reliable narrator. Indeed, he has a history of fabulist social media behavior. As Reason's Liz Wolfe pointed out on Twitter, Joseph previously went viral for accusing an Airbnb host of performing Satanist rituals on the property:
This guy? He has a history of spinning yarns, making big deals out of things that aren't, looking for attention & fame, being rewarded for that behavior. An enlightening read about Frederick Joseph from Sept. '20: https://t.co/P0OAG0eIF9 https://t.co/xzswgcfxEu

— Liz Wolfe (@lizzywol) September 27, 2021
Yes, you read that correctly.
Last September, Joseph rented an Airbnb for a weekend getaway, but he was extremely perturbed by the property's kitsch art and posted about it on Twitter. Some of the art was indeed weird—there was a small statute of Baphomet the winged goat, and some mildly pornographic images—but Joseph took this to mean his very life was in danger.
"As we walked through the two rooms we found a bunch of imagery, candles, books, etc for rituals and what looked like devil worship," he tweeted. "My brother was terrified, as were we. We called Airbnb and told them we couldn't stay there and explained the situation."
There was also a bridge from the woods behind the house to the back patio.

Needless to say, we left because we are Black and not dealing with something that was:

1. advertised completely different
2. Looks like a scene from Hereditary
3. Made the entire family feel unsafe

— Frederick Joseph (@FredTJoseph) September 7, 2020
Joseph took advantage of the situation to receive a refund, claiming imminent peril.
Vice's Anna Merlan (yes, that Anna Merlan) interviewed the property owner, "Alex," and toured the house virtually. The idea that it was some kind of Satanist temple was of course absurd, as was Joseph's notion that his life was in danger:
"There's a speaker stand for a DJ setup," Alex said, showing us an object with a triangular base that was, clearly, a speaker stand. "I think maybe he looked at it and thought it was an altar."

While the imagery, and the presence of a bridge across the water, may certainly have made Joseph and his family feel unsafe, the images he specifically posted on Twitter do not appear to be particularly menacing. All these elements, even the sexualized ones, seem relatively par for the course for a kitschy cabin in the woods. (Per Airbnb rules, "pervasive" sexual imagery isn't allowed; that is, sexual images that are in plain sight; erotic or suggestive art is permitted; those lines are clearly a judgment call in many cases.)
Joseph did not respond to Merlan's request for comment; he also declined interviews with other news outlets that covered the story. Suffice it to say, Joseph appears to be inclined to make mountains out of molehills. He did not immediately respond to my request for comment either.
If someone has a record of exaggerating his own victimhood and weaponizing social media to gain attention—well, maybe it's wise to approach his claims with a certain level of skepticism.
Bonus link: For more on social media and cancel culture, order my new book Tech Panic: Why We Shouldn't Fear Facebook and the Future, which will be released later this week.