When the 'Native Son' Became 'The Man Who Lived Underground'
One of Richard Wright's best books went unpublished in his lifetime, due to "unbearable" scenes of police brutality. Now at last it is in print.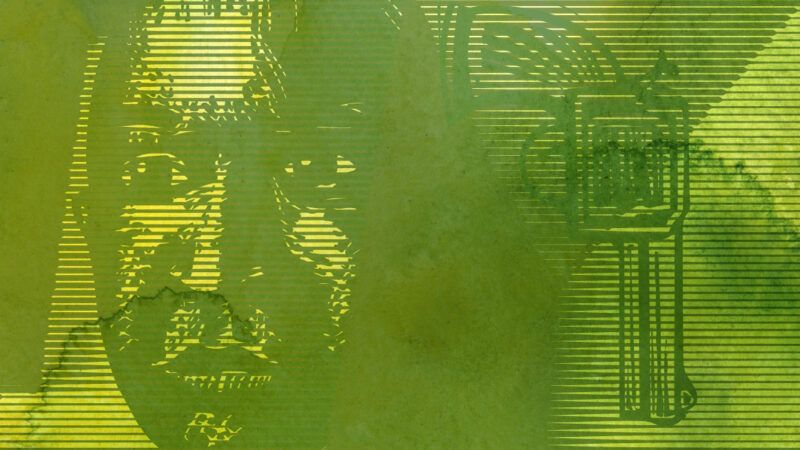 (Illustration: Joanna Andreasson)
On December 12, 1941, the literary agent Paul Reynolds contacted Edward Asner, one of the top editors at the publishing house Harper & Brothers, with what should have come as welcome news. "Here," Reynolds announced, "is the new novel by Richard Wright."
A year earlier, Harper & Brothers had published Native Son, Wright's searing novel of racism and violence, and watched as the book ascended the bestseller lists and launched its author into literary stardom. "Few other recent novels have been preceded by more advanced critical acclamation, or lived up to the expectations they aroused so well," gushed The New York Times. Expectations were running even higher for Wright's next fictional outing.
Yet Asner was aghast at what his star author had just submitted. The Man Who Lived Underground told the story of Fred Daniels, a black laborer thrust into a Kafkaesque waking nightmare after he is falsely accused of murdering the white couple that employs him and then tortured by the police until he signs a confession. Able to briefly evade his captors, Daniels escapes into the sewer system of his unnamed city, from which he tunnels into various basements and cellars to secretly observe "the dead world of sunshine and rain he had left, the world that had condemned him." The book begins as a gritty work of realism before taking an unexpected turn toward the weird and surrealistic.
Asner and his colleagues disliked the manuscript and refused to publish it. Wright's lengthy depiction of police brutality was "unbearable," declared one internal reviewer. Though parts of the tale did eventually see print in short-story form, the full novel would remain unpublished during Wright's lifetime. In the words of biographer Hazel Rowley, "Wright's novel portrayed all too clearly the madness and arbitrary 'justice' of the world at a time when publishers were looking for more rousing stories."
It would not be the last time that Wright butted heads with the literary powers that be. In 1944, he reluctantly agreed to make substantial cuts to his forthcoming autobiography in order to appease left-wing objectors. Black Boy, as the work came to be titled, would hit the shelves in 1945 minus the original manuscript's lengthy account of Wright's dismaying experiences as a fledgling Communist Party member in Chicago during the 1930s. His unflattering portrait of the Windy City's wannabe Stalins had simply ruffled too many feathers in publishing circles. It was not until 1977—a full 17 years after Wright's untimely death at the age of 52—that the Chicago section was released in book form under the title American Hunger. Wright's complete autobiography (anti-Communist warts and all) was not published as a single volume until 1991.
The Man Who Lived Underground finally emerged from the darkness earlier this year. In April, the Library of America, a nonprofit publisher "dedicated to preserving America's best and most significant writing," released the previously unseen novel in a handsome hardcover edition, complete with an illuminating accompanying essay written by Wright in 1941 about the work's genesis and meaning. Critics are already calling it one of his best books.
Today, Wright is remembered as one of the great literary voices of 20th century America. What is more, his influence has reverberated across the ideological spectrum. Ta-Nehisi Coates, perhaps the most celebrated progressive writer at work today, borrowed the title for his 2015 bestseller, Between the World and Me, from a 1935 Wright poem of the same name. To say the least, it was a high-profile tip of the hat.
And then there is Clarence Thomas. In 1987, the conservative justice-to-be told Reason that Wright was the "No. 1, numero uno" writer who had influenced him. "Both Native Son and Black Boy really woke me up," Thomas declared. "He captured a lot of the feelings that I had inside that you learn how to suppress." Furthermore, reading Wright's "autobiographical flirtation with communism was really good for me, because when I got to college, you had a lot of radical groups that were trying to attract black students who were upset—and I was really upset—and that…sort of prepared me to not be swept away by this kind of recruitment."
Any writer who can count both Ta-Nehisi Coates and Clarence Thomas among his biggest fans is surely worth reading.
'Words as a Weapon'
Richard Wright was born on a farm near Roxie, Mississippi, on September 4, 1908. His mother taught school; his father, an illiterate sharecropper, abandoned the family when Wright was still a child. All four of his grandparents had been born into slavery.
Wright grew up poor and repeatedly experienced the racist violence and terrorism of the Jim Crow era at close range. When he was 8, for example, his uncle, Silas Hoskins, the owner of a successful saloon in Elaine, Arkansas, was murdered while Wright was staying with him. The killer was said to be the local sheriff. "Don't you-all go to that saloon," a black witness warned. "White folks say they'll kill all his kinfolks!" Wright's aunt and mother packed up what belongings they could and fled town with the children that same night. "This was the culture from which I sprang," Wright would later write of his childhood. "This was the terror from which I fled." He would fictionalize that terror again and again throughout his writing career.
In 1927, a chance literary encounter changed the course of Wright's life. He was living in Memphis, Tennessee, at the time, and he happened to be reading the Memphis Commercial Appeal on a lunch break when his eyes fell upon a "furious" editorial attacking a man whose name rang a bell. "The only people I had ever heard denounced in the South were Negroes," Wright later wrote, "and this man was not a Negro." So "I wondered what on earth this Mencken had done to call down upon him the scorn of the South."
H.L. Mencken was perhaps the most famous—many would have said infamous—journalist and literary critic of the day. An outspoken atheist and individualist, Mencken's self-described goal was to "insert some rat-poison" into American politics and culture. Wright recognized the name but otherwise knew only a little about him. So Wright paid a visit to the local library. It was segregated, but by pretending to request books on behalf of his white boss, Wright succeeded in getting his hands on two of Mencken's works, A Book of Prefaces and Prejudices.
What he read left him thunderstruck. "I pictured the man as a raging demon, slashing with his pen, consumed with hate, denouncing everything American," Wright remembered. "Why did he write like that? And how did one write like that?"
Among the essays that Wright may have encountered in Prejudices was Mencken's "The Sahara of the Bozart," a sweeping attack on the South's "worn-out farms, shoddy cities and paralyzed cerebrums." According to Mencken, "if the whole of the late Confederacy were to be engulfed by a tidal wave tomorrow, the effect upon the civilized minority of men in the world" would be practically nil. Wright would have eaten that sort of stuff up.
Mencken was "using words as a weapon," Wright marveled. "Could words be weapons? Well, yes, for here they were. Then, maybe, perhaps, I could use them as a weapon." From that point forward, Wright would devote himself to the craft of writing.
'I Wanted To Be a Communist'
On April 2, 1938, the great Harlem Renaissance author, critic, and cultural anthropologist Zora Neale Hurston reviewed Wright's first book, the short story collection Uncle Tom's Children, for the Saturday Review of Literature. She loathed it.
The book did contain "some beautiful writing," Hurston conceded. The problem was the thinking behind it. "Mr. Wright's author's solution," she observed, "is the solution of the [Communist] Party—state responsibility for everything and individual responsibility for nothing, not even feeding one's self."
Wright was undeniably a left-winger. After leaving the South in 1927, he had emigrated north to the South Side of Chicago. Five years later, he was an active participant in the city's chapter of the John Reed Club, a national organization for "proletarian" writers and artists. The club's namesake was an American journalist who wrote a glowing firsthand account of the 1917 Bolshevik triumph in Russia, Ten Days That Shook the World, and then returned home to help found the American Communist Party. It did not take long before Wright's byline was appearing in the chapter's magazine, Left Front, as well as in the Communist-backed Daily Worker. Wright officially joined the Communist Party in 1934.
He would spend the next few years publicly parroting the party line. In 1938, when many of his fellow party members were quitting in protest against the notorious Moscow show trials, in which veteran Bolsheviks were executed after "confessing" to alleged crimes that they plainly did not commit, Wright signed a public statement in support of Soviet dictator Josef Stalin. A year later, Wright would publicly cheer the Nazi-Soviet nonaggression pact as "a great step toward peace."
Still, Wright's days as a party man were clearly numbered. "I wanted to be a Communist," he would later explain. "But my kind of Communist." What he wanted to do was write, to express himself through fiction, to battle racism and other injustices through his stories. But the party had other plans for him. Wright was told to put aside his novel-in-progress and start cranking out political pamphlets about organized labor. He balked.
Soon Wright would be accused of committing thoughtcrimes and related political sins. "I discovered that it was not wise to be seen reading books that were not endorsed by the Communist party," he recalled. One comrade even delivered a none-too-subtle warning. "Intellectuals don't fit well into the party, Wright," the man said. "The Soviet Union has had to shoot a lot of intellectuals."
Because he wanted to prioritize his "revolutionary" fiction over mere party propaganda, Wright would say, he was denounced by his supposed allies as an "incipient Trotskyite" and a "bastard intellectual." "The slightest sign of any independence of thought or feeling, even if it aided the party in its work, was enough to make one suspect," Wright realized. "I knew that if they had held state power I would have been declared guilty of treason and my execution would have followed."
'The World Aboveground'
The Man Who Lived Underground has a plot that its author ripped from the headlines. The August 1941 issue of True Detective magazine featured an article about a burglar who committed a string of crimes in Los Angeles while living in a secret underground lair. That abnormal saga took hold of Wright's imagination. The man "dug his way beneath buildings from vacant space in the earth," Wright later explained. "At intervals he came out; but he prepared himself a rather comfortable room." According to Wright, "at once the idea struck me as possessing literary possibilities."
The protagonist of Wright's novel, Fred Daniels, would be driven underground by criminal activity of a different sort. Daniels would be the innocent victim of the ostensible forces of law and order. "We'll break you, even if we have to kill you!" one officer declares as the cops are beating a false confession out of him. The officers "lifted him bodily and swung him upside-down and hoisted his [shackled] feet to a steel hook on the wall," the novel states. "Blood pounded in his temples and his heart and lungs sagged heavily in his chest. He could barely breathe."
Daniels catches a lucky break and makes his escape into the sewers, where he prepares a comfortable room of his own, stocked with random items he snatches while digging and tunneling around. "The world aboveground now seemed to him," the novel explains, like "a wild forest filled with death, stalked by blind animals." Without giving anything more away, let's just say that the novel, like most of Wright's books, does not have a happy ending.
Wright was immensely proud of it. "I have never written anything in my life that stemmed more from sheer inspiration," he wrote in 1941, "or expressed myself in a way that flowed more naturally from my own personal background, reading, experiences, and feelings than The Man Who Lived Underground." Alas, the complete manuscript would remain unpublished for 80 years.
'The Horror and the Glory'
By 1943, Wright was an acclaimed bestselling author hard at work on his autobiography. He organized the book into two distinct parts. The first, titled "Southern Night," would cover his life from his birth until 1927, when he left for the North. Readers have long since noted its structural and thematic similarities to the great 19th century escape-from-slavery memoirs, such as the Narrative of the Life of Frederick Douglass, which chronicled the famed abolitionist's remarkable journey from bondage to freedom.
The second part of Wright's planned autobiography was titled "The Horror and the Glory." It covered his early years in Chicago, with a heavy focus on his profound disillusionment with Communism and his ugly break with the party. In effect, it was a work of left-wing anti-Communist writing, not unlike George Orwell's extraordinary 1938 memoir of the Spanish Civil War, Homage to Catalonia.
Harper & Brothers' Asner liked the manuscript but told Wright that there was a problem: The Book-of-the-Month Club was interested in offering Black Boy as a main selection, but it would only do so if Wright agreed to completely eliminate the Chicago section.
Started in 1926, the Book-of-the-Month Club was a vast mail-order operation that enjoyed massive influence over the publishing world at the time. To be picked as a main selection in those days guaranteed not only big sales but also a great deal of favorable media coverage, both of which are major boons to any author. And Wright knew firsthand just how valuable the club's endorsement could be. In 1941, Native Son was the Book-of-the-Month Club's first main selection by a black author. He was still dining out on that.
Unfortunately for Wright, his shifting political stance had now become an impediment. As the Pulitzer Prize–winning literary scholar Arnold Rampersad has observed, "though Wright was pleased with the book's selection by the club and the income it generated, he wrote in his journal that pressure from communists had led the book club to ask him to drop the second section." From behind the scenes, some of Wright's ex-comrades had worked their own literary connections in order to kill the offending passages.
Although his autobiography was disfigured, Wright did get some payback. In 1944, The Atlantic published his essay "I Tried To Be a Communist," which was drawn from the suppressed Chicago section of Black Boy. In 1945, an expanded version of that essay was featured alongside the works of other famous ex-Communists, including Arthur Koestler, Stephen Spender, and Louis Fischer, in the landmark anti-Communist collection, The God That Failed. Writing in The Nation, the liberal theologian and theorist Reinhold Niebuhr praised that collection not only for its "moving power" but also for sparking "the reader's sense that [its contributors] are recording a tragedy in which all of us have been involved." The God That Failed would go on to become one of the most influential literary documents of the Cold War era.
"I know how it feels to be accused without cause," Wright would say about the Communist smear campaign against him. "Fred Daniels' feeling of being accused without cause [in The Man Who Lived Underground] was woven out of my memories of having been accused without cause." That experience is as resonant as ever, and it's good that it is finally having its day in print.