'Domestic Terrorism' Fears Will Be Used To Justify Increased Snooping and Harassment
The Biden administration is greatly increasing FBI caseloads and agents. That's bad news for anybody who is worried about federal overreach.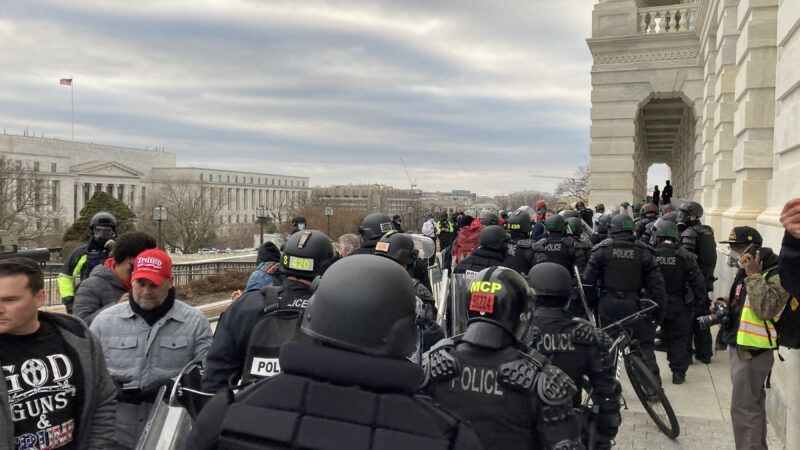 (zz/STRF/starmaxinc.com/Newscom)
After the pro-Trump demonstrations and breach of the Capitol on January 6, the Biden administration is promising a new era of FBI snooping, harassment, and provocateuring.
FBI Director Christopher Wray told the Senate Committee on Homeland Security and Governmental Affairs in a statement released on Tuesday that his FBI "has surged resources to our domestic terrorism investigations in the last year, increasing personnel by 260 percent." Those remarks are bad news for anybody who is worried about federal overreach.
The events of January 6, Wray said, prove "a willingness by some to use violence against the government in furtherance of their political and social goals." Furthermore, "the insular nature of their radicalization and mobilization to violence and limited discussions with others regarding their plans," Wray said, "increases the challenge faced by law enforcement to detect and disrupt the activities of lone actors before they occur."
Of course, experience shows us that when it comes to the FBI, "detect and disrupt" often means "encourage and then arrest" people who were no real threat until the FBI itself goaded them. Deciding beforehand that a set of people with certain beliefs inherently require more probing federal investigatory eyes all but guarantees a repeat of the sort of harassment of Muslims in the U.S. that followed 9/11.
As reported in The Huffington Post:
The FBI has more than doubled its domestic terrorism caseload in little more than a year and a half…"from about 1,000 to around 2,700 investigations," Wray said….The Biden administration is seeking more than $100 million in new Justice Department spending to address "emerging domestic terrorism threats," including $45 million for the FBI to add more than 80 new special agents and nearly 100 new FBI positions to help "detect and disrupt domestic terrorism (DT) threats nationwide."
Federal law enforcement officials and their allies often fret about the lack in many cases of specific "domestic terrorism" statutes that can be brought to bear when people commit certain crimes against a person or property. But in America, this is as it ought to be: Crimes against persons or property should be punished by law without worrying overmuch whether someone had a particular political thought or belief that motivated the crime.
Indeed, despite how the protests and Capitol breach on January 6 have been used as a prime example of a domestic terror threat and inspired Wray's anxieties, the 650 arrested so far for their actions on that day have been charged just with the specific crimes they are alleged to have committed, without being formally characterized as domestic terror. For the 62 who have pled guilty already, the majority pled to "Parading, demonstrating, or picketing in a Capitol building" (though at least 50 of the other arrested face charges related to violent assaults on officers). That the charges for January 6 involved what the accused did and not what they believed is the right approach.
Still, increased law enforcement focus on domestic terrorism predates January 6 and the Biden administration. America already saw in fiscal year 2020, as reported by Syracuse University's Transactional Records Access Clearinghouse (TRAC), "183 domestic terrorism prosecutions filed by U.S. Attorneys' offices around the country—the highest total since government tracking began a quarter of a century ago. This compares with 69 such prosecutions in fiscal 2017, the first year of the Trump Administration, 63 domestic terrorism prosecutions during FY 2018, and 90 such prosecutions during FY 2019."
Those prosecutions involved a variety of underlying behaviors for which the "terror" designation was basically an add-on. As Syracuse's TRAC reported, "cases U.S. Attorneys' offices categorized as domestic terrorism were brought using a variety of lead charges, including….assaulting, resisting, or impeding officers or employees….threats against the President and successors….knowingly entering or remaining in any restricted building or grounds….the importation and storage of explosives….civil disorders….interstate communications; and…making threatening communications. In addition, regulatory violations were sometimes the lead charge, such as failure to comply with official signs or creating any hazard on property to persons or things."
In other words, most of these "domestic terror" cases did not involve acts that the average citizen would fear as on par with the colloquial definition: actual deliberate destruction of life or property for a political cause.
A discussion from earlier this summer on the Lawfare blog helpfully summed up just how intrusive federal law enforcement is going to be in the name of fighting domestic terrorism:
the newly established Center for Prevention Programs and Partnerships (CP3) [within the Department of Homeland Security] is intended to leverage community relationships in order to empower neighbors, friends, and family to recognize the signs of radicalization and report them to the appropriate authorities…. Along with the newly minted CP3, DHS established a new domestic terrorism branch within its Office of Intelligence and Analysis in May. The primary goal of the branch is to improve intelligence gathering on domestic terrorism, especially through social media monitoring.… [T]he department is now working to survey social media postings for indications of domestic attacks or DVE-related activities.
That this sort of law enforcement, concerned as it is with crimes that have not yet occurred, requires unlovely levels of snooping is clear from Wray's statement to the Senate on Tuesday that "the problems caused by law enforcement agencies' inability to access electronic evidence continue to grow." In other words, Wray is worried that any citizen can communicate to anyone anywhere without the FBI snooping on them.
These are worrying developments that can and should be checked before Americans find themselves the victims of a massive expansion of the national security state just as they did after 9/11.